Venice Biennale 2009 Part 3: Martin Boyce, Susan MacWilliam and Kennedy Browne
Rupert White describes some of the collateral events at the 2009 Biennale.
Away from the Giardini and scattered across the city are a huge number of spin-off shows, or 'collateral events', some of which are only of a week or two's duration. Interestingly, as well as having a 'Great Britain' pavilion, there are also dedicated exhibitions for Scotland, Wales, Northern Ireland and Ireland. As an artist based in Cornwall I tend to feel a natural kinship with artists of the other Celtic regions - and also with artists who are interested in the legacy of modernism - so it was with enthusiasm that I set off to find Martin Boyce's show: 'No Reflections'.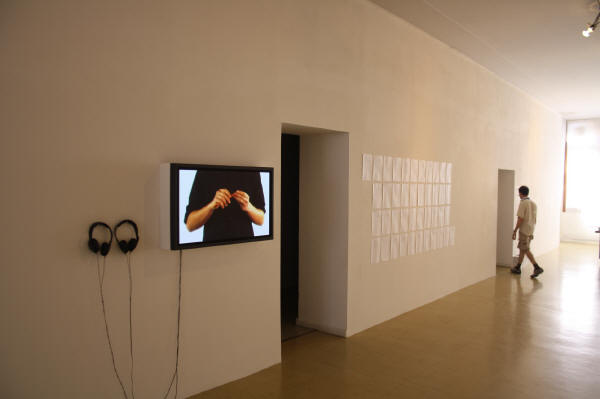 The ancient streets, canals and alleyways of Venice are difficult to navigate at the best of times, and finding any of the collateral events can be more a matter of luck than judgment. In what turned out to be an unplanned derive brought on by dehydration and, quite possibly sunstroke, I came across shows hosted by countries as diverse as Hong Kong, Taiwan, Morocco, Monaco and Latvia. By the time I had stumbled into the Montenegran show I thought I was hallucinating: inside was a sunlit venetian courtyard filled with nightmarish sculptures of blackened skulls and dead babies.
I was relieved to find the Irish pavilion which was a cool upstairs space containing works by Sarah Browne and Gareth Kennedy. These were clever, though somewhat familiar (Gillian Wearing comes to mind) conceptual pieces recorded on video, the strongest of which was probably 'Milton Friedman on the Wonder of the Free Market Pencil' (above). Here a text by the celebrated economist was translated into 41 different languages using Google-translate. There were also two associated videos. It is significant that Dublin, the artists' home town, is also a centre for IT industries and the site of Google's European offices.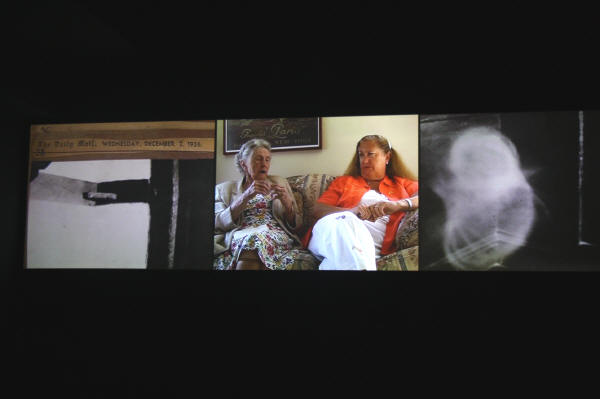 Next door were three works by Susan MacWilliam from Northern Ireland. Titled Flammarion, Dermo-optics and Eileen (latter: picture above), all could be described as quasi-documentaries. All comprised interviews with mediums, mystics and parapsychologists which were edited such that most of the dialogue was fragmented and incomprehensible. This sound-mangling didn't seem very respectful of the artist's subjects. It was as if the content of their speech didn't matter: as if MacWilliam felt that it was more important to reassert her presence in the work by attending only to the material qualities of the films. Considered in this way they were impressive enough, but there was also the problem of the context. Was there, at any level, a link to Venice?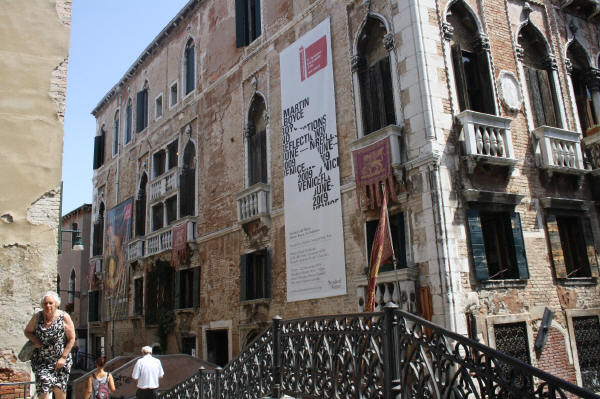 Martin Boyce's work, when I eventually found it, connected to the city in a way that was much more rewarding, but then he had had the advantage of being able to choose his exhibition space, having visited some months earlier. Inspired partly by the idea of a garden brought indoors, and partly by Scarpa, the modernist architect, the show was spread between the 7 upstairs rooms of an abandoned Palazzio. Each of the rooms were strewn with geometric paper leaves which looked to have fallen from 7 strange tree-like chandeliers. There were also sculptures unique to each room that were mostly geometric and angular, and suggestive of Bruce Nauman or Mona Hatoum (both showing elsewhere in the city) at their most bleak. With darkly poetic titles like 'Crimson Blossom' or 'A Raft in the Roof', some looked like operating tables, others like accoutrements from an S&M dungeon, and others like contorted park benches and bins.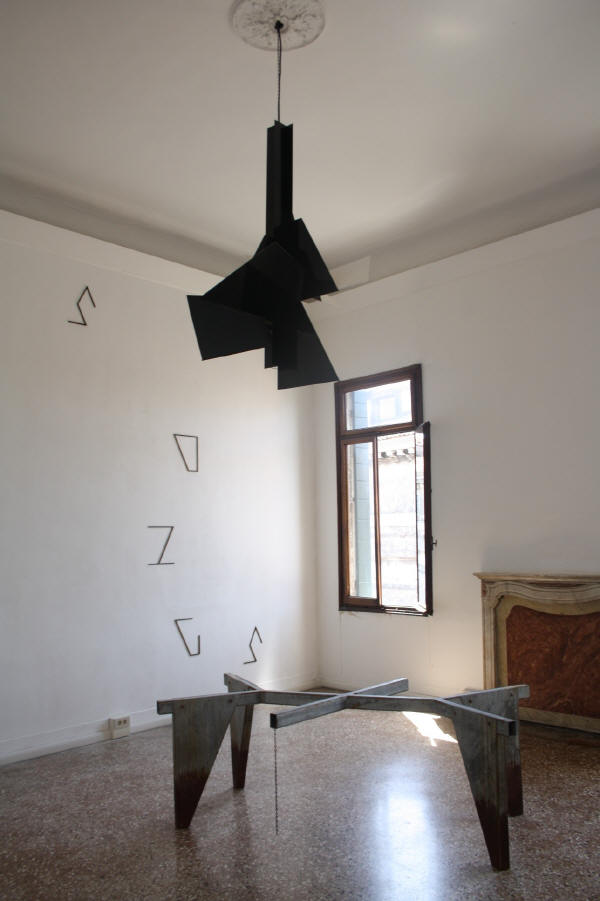 Boyce takes modernist forms, and design elements borrowed from civic architecture, and uses them to tell stories. Here in Venice his works' weathered surfaces echoed the weathering present throughout the city, but Boyce's garden had none of the easy softness of Steve McQueen's treatment of the Giardini, which were made to look moist and fertile in comparison. Instead Boyce's gardens seemed more complex, claustrophobic and anguished.
25/7/09