The Museum of Witchcraft: a short history
Graham King
The Museum of Witchcraft in Boscastle has the largest collection of witchcraft and Wiccan-related artifacts in the world. The museum currently also holds the Richell collection of witchcraft regalia that was loaned to the museum in 2000. Boscastle was hit by flash floods in August 2004, and though the Museum was severely affected it opened again at Easter 2005.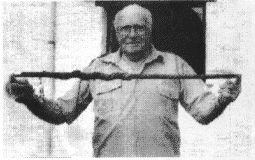 In 1951 Cecil Williamson (picture left) opened the Museum of Witchcraft in Castletown in the Isle of Man. Cecil had previously tried to open in Stratford-on-Avon but was overpowered by bureaucracy; it was made clear to him that Stratford did not want anything to do with witchcraft!
Cecil was a West Country man, born in Paignton, Devon. His father was a military officer often posted abroad, and Cecil was looked after by a nanny and often sent to stay with relatives. Some holidays were spent with his uncle, the vicar of North Bovey in Devon. It was here that he had his first encounter with witchcraft. Cecil apparently intervened to stop some local thugs persecuting a local witch, who later befriended the young Williamson.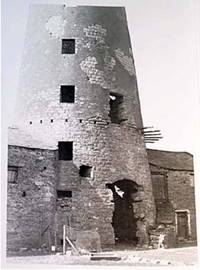 Cecil was later sent to an upmarket prep school in Norfolk and then to Malvern College. In an interview Cecil related how he had met a 'Wise Woman' who lived in the school grounds; she taught him some simple but effective spell craft that he used against a school bully. Williamson's magical education continued in Rhodesia where he went to grow tobacco. It was here that he realised that the principles of village witchcraft are universal - the African witchdoctors were using similar techniques to English wayside witches.
In 1930 Williamson returned to Britain where his study of the occult was now becoming known. He was meeting and exchanging letters with the country's leading experts including Wallis Budge of the British Museum, anthropologist Margaret Murray, and historian Montague Summers.
A few years later he was approached by MI6, to work as an undercover agent collecting data on the occult interests of leading military personnel in Nazi Germany. Cecil's involvement with MI6 and the occult continued through World War II and his occult knowledge was apparently used to lure Rudolf Hess to fly to Scotland.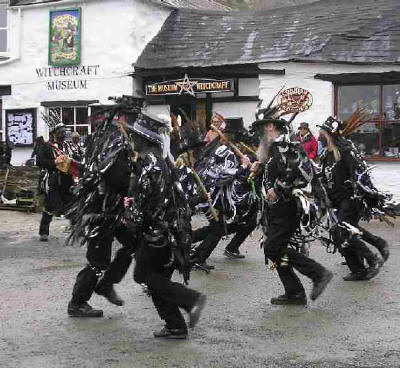 It was in 1946 that Williamson first met Gerald Gardner in London. Over the next few years they were to become friends and business partners but as so often happens, the relationship ended in fighting, mistrust and bitterness. The Museum archives have a collection of letters from Gardner to Williamson that demonstrate the rise and fall of their relationship. In 1948 Williamson purchased the Witches' Mill in the Isle of Man (picture above right) and converted it into a museum and restaurant.
The museum opened in 1951 and Gardner was employed as 'resident witch'. Gardner courted publicity and succeeded in persuading several newspapers journalists to cover witchcraft along with radio and television stations. This publicity coincided with the repeal of the Witchcraft Act in 1951.Williamson wanted the Museum to show the way of the 'Wayside Witch' and folk magic but knew that the public demanded sensational displays. Gerald did not approve of Cecil's displays and was not at all happy that Cecil removed a photograph of him from the exhibition.
Eventually Cecil decided to move his museum back to England and in 1954 he moved in his collection to Windsor. The Witches' Mill building was sold to Gardner who continued to run it as a museum of witchcraft.
Witchcraft and Royal Windsor were not good partners and Cecil was forced to move the collection to the beautiful Cotswold village of Bourton-on-the-Water.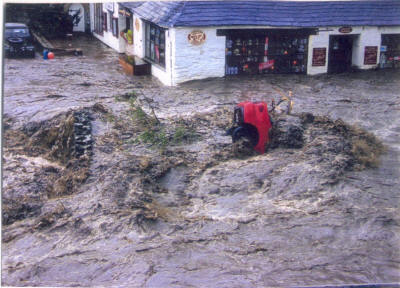 The Christian community of village was not pleased with the arrival of Williamson and his museum. Villagers held protests outside the museum and ranted about evil and Satanism. Cecil received death threats, fire bombs, and found dead cats hung from trees in the garden; eventually an arson attack burned out one wing of the museum. It was time to move yet again.
This time Cecil moved back to his beloved West Country and in 1961 the museum relocated to Boscastle where it has remained for over forty years (picture above left - and during floods right). Cecil ran the Museum until 1996 when at midnight on 31st October he sold it to the current owners. Sadly, Cecil Williamson died in 1996 aged 90. We hope that the museum will remain a lasting tribute to a remarkable man.
The museum now shows many of the Williamson's magical tools and equipment along with his private collection of magical artifacts.
http://www.museumofwitchcraft.com/