My old man said be an Arsenal fan, I said fuck off, bollocks, you're a c**t
Rupert White responds to 'The land we Live in - the land we left behind' curated by Adam Sutherland at Hauser and Wirth, Somerset.
I drove up to Hauser & Wirth in Bruton, to see 'The Land we Live in...' as a fan of Adam Sutherland's work. During the 20 years that he has worked at Grizedale Arts in the Lake District, no-one in the UK has done more as a curator to explore, and engage with, notions of rurality in the 21st century.
I first met him at Teresa Gleadowe's first Falmouth Convention (2010) where I found him sitting next to me, unrecognised by many of the participants, but later an important contributor to the panel discussions. Since first setting up artcornwall.org I have often had reason to ponder the similarities between Cornwall and Cumbria, and this was a feature of several discussions in the early days of the website. Sutherland and Steve Messam of Fold Gallery and Fred (both now defunkt) were part of this exchange of views, and at one point Messam also travelled down to Cornwall to visit.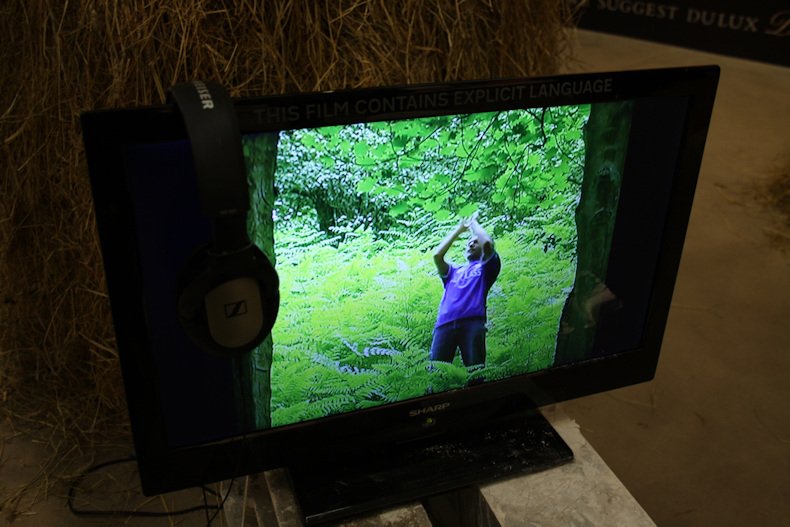 Grizedale under Adam Sutherland's stewardship has, I know, been a big influence on many in Cornwall, and not only artists. Field Notes have visited him as local curators seeking insights into ways of presenting art in a rural setting, and when Karen Townshend was setting up Kestle Barton, flagship rural arts centre on the Lizard, I remember visiting her on a day when the builders had only just started work and the ground was freshly churned up by caterpillar tracks. She too had recently returned from a trip to consult Sutherland.
Depictions of rurality itself can quickly descend into cliché, or into trite, facile images of the picturesque landscape. It was succumbing to blandness that ultimately did for Andy Goldsworthy's brand of 1980's land art, and as a curator working in and with the landscape, Sutherland has gone to great lengths to ensure this did n't happen again. He has always sought ways to undercut, destabilise, and critique the spectacle of the picturesque, and unlike Goldsworthy whose mission was to make sculptures that were in harmony with the natural environment, the artists that have worked with Grizedale have often created deliberately jarring, irreverent or tasteless works. In so doing they have tended to confront traditional ideas of rurality and the picturesque, in order to test their durability and relevance now.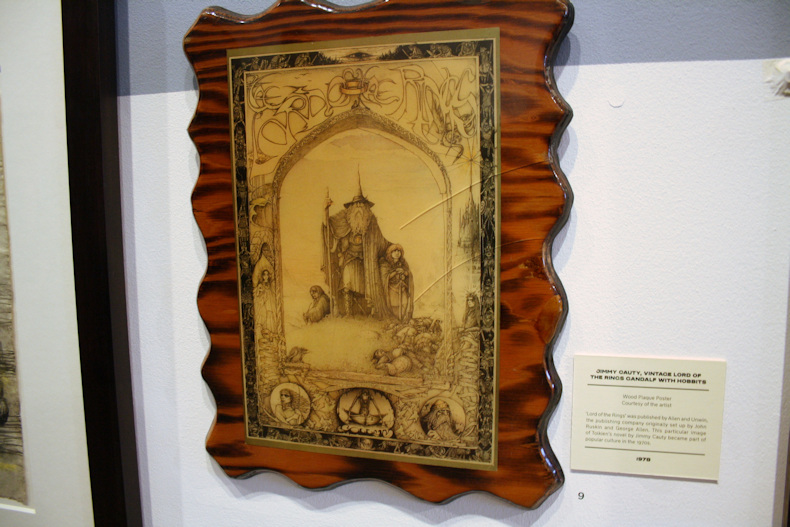 This approach is typified by a video by Marcus Coates found on a low-lying monitor in the last room at Hauser and Wirth. 'Out of Season' (2000 - pictured above), made early in Sutherland's tenure at Grizedale, features a football fan in a blue Chelsea shirt standing incongruously in the leafy green forest. He is singing football chants, and one of them includes the memorable tune: "my old man said be an Arsenal fan, I said fuck off, bollocks, you're a c**t".
The video provided, for me, a laugh out loud moment but actually the work is a fascinating head-on collision of nature and culture. This technique of testing, by forcing together, binary opposites that are usually kept apart, was evident all over the Somerset show. Juxtapositions of old and new, high and low, sublime and ridiculous quietly sizzled away everywhere, and helped create questions about the rural that were lively and challenging.
So, for example, I particularly liked the contrast between Jimmy Cauty's amazingly kitsch drawing of Gandalf from Lord of the Rings (above), completed when he was still a teenager in the 60's and a watercolour, probably from the 1930s, by David Jones, who is best known as one of the war poets. This section of the exhibition was dedicated to 'rural revolutions', and though works were thematically linked, the jarring effect was even more evident on the opposite wall, where 'Landscape of the Malvern' (1943) an oil painting by Paul Nash, was paired with a colour-drenched image of Bambi by Thomas Kinklade. This room also included the work 'Use a shovel to throw dirt in the air' (1972) by Paul McCarthy (that I could have sworn was by Goldsworthy), and 'Desert Epochs' (2014) a tiny nugget of a painting by Anj Smith: another Hauser & Wirth artist.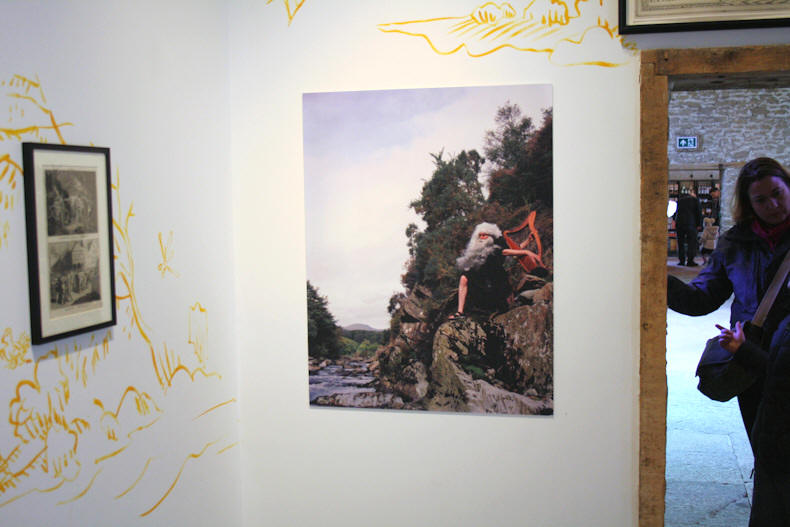 In the adjacent gallery, also dedicated to 'rural revolutions', I liked the bronze animal poos by Marcus Coates placed irreverently around texts by Ruskin and Morris, and the juxtaposition of some William Blake woodcuts with Bedwyr Williams' druid impersonation 'Bard Attitude' (2005 - above). Blake, of course has been claimed as one of their own by a number of modern British druid orders, whilst Williams' instantly recognisable work references important ideas about Celtic history, even if the jokey-title-false-beard malarkey is a shade irritating.

In the darkened Rhoades gallery, there was nothing jokey about the painting 'Sadak in Search of the Waters of Oblivion' (1812) by John Martin, and its arch-seriousness was matched by the large screen projection of Nikolaus Geyrhalter's 'Our Daily Bread' from 2005. The video's documentary-like footage of animal husbandry and slaughter was highly emotive, but it was images of cabbage-pickers at work, crouching low in a field at night that seemed most poignant: an uncomfortable reminder that fine art is a luxury that only a certain sector of the population - probably those who aren't picking cabbages - can afford.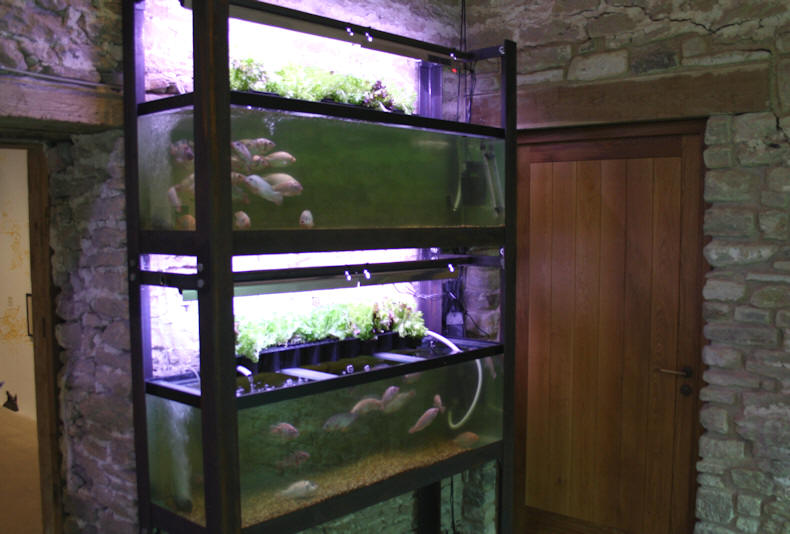 In what was a very full show, which included whole sections dedicated to food production (eg Sweet Water Foundation' s hydroponic tanks (above), and Tom Philipson's 'Egg Rack Calendar') and contemporary craft (the Honesty Shop was a highlight), bits of Cornwall were in evidence too. This was in expected ways (eg Bernard Leach's ceramic tankards), and unexpected too (eg a still from the extraordinary Dustin Hoffman film Straw Dogs, filmed on location in West Cornwall).
Seeing Edward Carpenter's famous gay sandals (pictured below) also reminded me that one of his best friends, Havelock Ellis, did all his writing about sexuality and 'sexual inversion' in Cornwall, looking out over the crystalline waters of Carbis Bay. Both men, as members of the 'Fellowship of the New Life' - a radical precursor to Fabianism - inherited Ruskin and Morris' aversion to industrialisation and favoured forms of guild socialism. They were also both partial to a bit of 'political naturism'; their enthusiasm for nude sunbathing being inseparable from their promotion of 'natural sexuality'.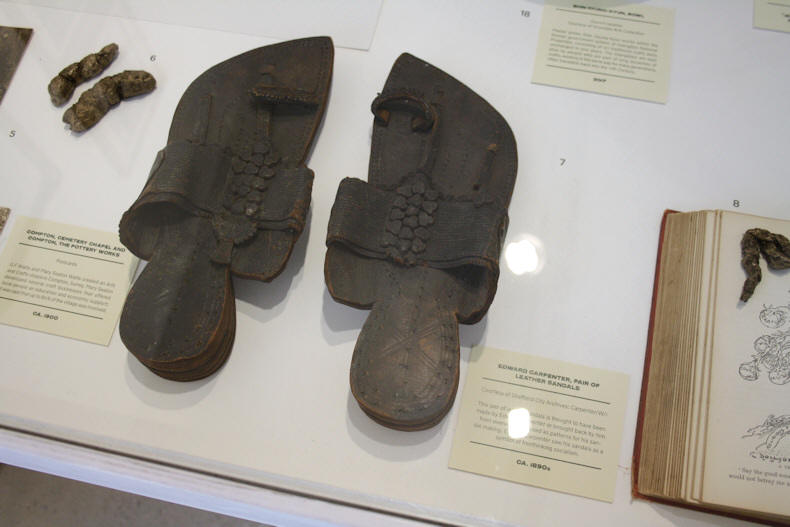 Adrian Searle wrote a rather sniffy review of Sutherland's show in The Guardian, but for me Searle's response confirms the view that our perceptions of rurality, and the importance of debates on rurality, depend very much on where we live. Because I live in rural Cornwall 'The Land we Live in..' mattered to me, and I felt fully invested in the arguments that it presented so eloquently.
And it is the case that huge numbers of people in the UK still live in the countryside. For all of them, the debate is a live one. Its one that matters. So thank you Adam Sutherland for contributing to it so often with such insight, for flying the flag for rural art, and for holding out against the onslaught of noisy but often vacuous art chatter from the metropolis.



See 'exhibitions' for more installation shots. Click here for Adam Sutherland's artcornwall.org interview from 2010: http://artcornwall.org/interviews/Adam_Sutherland_Grizedale2.htm