Partou Zia: Painter of Dreams
Helen Hoyle



In March 2003, No. 5 Porthmeor Studios opened its doors to Partou Zia. For the next six months this would be her working space, under the terms of the pioneering Tate St Ives Artists' Residency Programme. Partou was the first recipient of the award, initiated to support the development of young artists in Cornwall. She was also the first woman to occupy this historically significant studio, previously inhabited by Borlase Smart, Ben Nicholson and then Patrick Heron. These iconic figures of twentieth century art had each left in their wake a reputation larger than life, together with liberal splatters of paint decorating every available surface.

After the domestic homeliness of the Cottage Studio where she was accustomed to working, Partou found the 100 square metres of the sky lit No. 5 daunting. In her 'Artist's Journal' she wrote: 'I am not used to the almost masculine spirit that pervades this room.' However she soon made the space her own, beginning with a series of large interiors in which a red sofa, abandoned by Patrick Heron, became the central focus. A few weeks later, her journal records: 'The days pass like slow waves, as I work in the great white studio.'

Each day Partou travelled by bus to the studio in St Ives from the Newlyn home which she shared with her husband, the painter Richard Cook. He told me that working in the Porthmeor Studios marked a 'shift' in Partou's career. The experience endowed her with a sense of self-assurance. Here, for the first time, she had the freedom to tackle large scale canvases which revealed a strongly developing sense of her individuality.

Artistic partnerships can be fraught with pitfalls but Richard and Partou were careful not to encroach on each other's space, and always maintained separate studios. Theirs was a mutually supportive relationship underpinned by a deep understanding of their partner's work. Respecting each other's artistic judgement, they shared in the joy of one another's success. Whereas Richard's work evolves out of a direct engagement with the confluence of earth, sea and sky, Partou's affinity with nature is merged with an interior dreamscape whose recurring motifs articulate a journey of self-discovery. Many of their paintings include images of each other.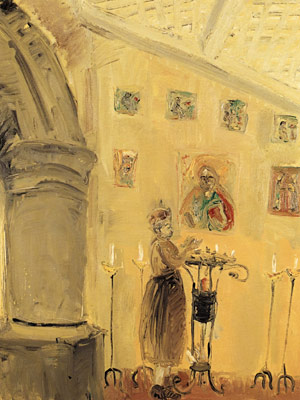 Cornwall became Partou's home in 1993. She was born in 1958 in Persia, experiencing a childhood rooted in the culture and traditions of an ancient civilisation. From her grandmother she assimilated the epic poems and fables, rich in mythological allusion, which had been handed down the generations. In contrast, Partou's father turned his back on tradition and became a communist, with no time for the mystical. When in 1970 his dissident activities attracted the attention of the Shah's regime, the family fled Tehran for a new life in London, under the guise of a holiday. To the eleven-year old Partou this experience was traumatic, since she had no idea that she would never return to live in the country of her birth.

Torn from her roots and suffering from a sense of displacement in her new environment, Partou sought solace in the literary and philosophical riches of her Eastern cultural heritage. She also steeped herself in the works of western writers including Virginia Woolf, Luce Irigary, Carl Jung and the poetry of W B Yeats. Her innate linguistic fluency developed over the years into a highly original talent. With a lightness of touch, Partou imbued her writings - which included prose poetry, short stories, plays and philosophical reflections - with the truth of universal wisdom.

After completing her schooling in north London, Partou obtained a degree in Art History at the University of Warwick. This was followed in 1991 by a BA Hons. in Fine Art at the Slade. After moving to Cornwall she continued her studies at Falmouth College of Art, where she was awarded a PhD in 2001.

Partou's first group exhibition took place in Manchester in 1989. From then on her work was seen in Southampton, Liverpool and Exeter, as well as a variety of venues in London and Cornwall. In 1997 her growing reputation was acknowledged with an inaugural solo exhibition in London, followed by solo shows at Newlyn Art Gallery, the Royal Cornwall Museum, Plymouth Arts Centre and several galleries in the capital.

Early in Partou's career, landscape provided the main inspiration for her work. The quest of the individual for the divine was a developing theme. A fascination for religious iconography was manifested in depictions of the overlooked corners of church interiors. Everyday objects such as books, lamps and chairs inhabited her images of domestic scenes, suggesting a desire to capture the essence of her long-lost childhood home. Her canvases at this time were dominated by an energetic application of heavily impastoed yellow, which for her represented the spiritual (eg 'Morning Prayer' above). Self-portraits, some of them nude, also formed an important part of her oeuvre, not only as a means of asserting her identity as a woman and a painter, but in order to reveal her intuitive self.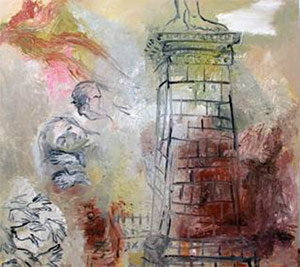 The opportunity of working at Porthmeor Studios gave Partou a tremendous boost in confidence. Under the terms of the residency, she was required to select the work of an artist from the Tate collection to use as a framework for her output. Partou had first encountered the paintings of William Blake in the Tate. Their visionary timelessness, emanating from a different reality, resonated with the sense of dislocation she was experiencing as a cultural and linguistic émigré. Appropriately, the choice for her residency was Blake's epic poem, 'The Four Zoas', rich in symbolism and classical references. As a consequence of the expulsion from the Garden of Eden, the individual shatters into the four Zoas – passion, reason, sensation and instincts – setting up a creative conflict. The concept of the 'shattered individual' chimed with Jung's idea of the split personality.

Embarking on her project, Partou abandoned the security of doing preparatory drawings. The dominant yellow of her earlier works gave way to a stronger palette employing colours which related to her interior world. Painting directly onto large canvases endowed her work with fluency and rhythm. She incorporated aspects of the landscape idiom into 'dreamscapes' which strove to capture the intangible, poised between memory and the present. She described this as an attempt to 'paint thought'. While clues to her iconography can be found in her writing, Partou's paintings resist easy interpretation. Interviewed about the residency canvases, she said: 'In a way the paintings themselves must remain locked mysteries … otherwise they are playing to an audience.'

'The Sleep of Hands' (right above) pays homage to classical civilisation in its depiction of a monument. The presence of a pair of bare feet on the plinth introduces a note of irreverence. Here Partou employs imagery such as multiple pairs of hands, together with the head of a sleeping woman, watched over by a mysterious, ethereal figure which has been described as her 'alter ego' and which makes an appearance in much of her work. Pairs of eyes – a reference to one of Blake's illustrations – feature in her paintings from this period onwards, as does a bird (sometimes an owl) in the guise of a messenger.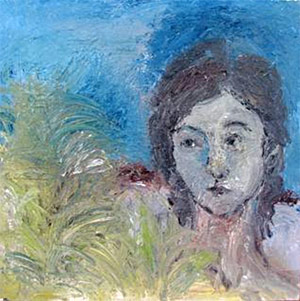 Partou's occupation of No. 5 culminated in a solo show at Tate St Ives in October 2003, entitled 'Entering the Visionary Zone'. The canvases she had produced during her time at Porthmeor Studios were praised for their 'episodic, cinematic quality'.

The Tate residency marked the start of the mature phase of Partou's career. A few months afterwards, the British Museum purchased one of her self-portrait drawings. This was a significant moment for her, as she felt for the first time a sense of belonging in her adopted country. Solo and group exhibitions followed at the London gallery, Art First.

In 2004 her greatly loved grandmother died, aged 94. Partou's sorrow at her passing was all the more acute for the realisation that the last remaining link with her 'beloved Iran' was finally severed. She wrote that the old lady's death left a 'great abyss which will not be traversed in my lifetime'.

In 2005 Partou was diagnosed with cancer. Instead of succumbing to the inevitable, she redoubled her efforts, determined to make the most of the time left to her. On a visit to her favourite island, Tresco, which reminded her of childhood holidays on the Caspian Sea, she produced a particularly beautiful self-portrait (left above).

The paintings from the last few months of her life reflect a change of mood. The intense energy of her earlier canvases has given way to a more contemplative application of paint, as a consequence of her failing strength. In '40 Nights and 40 Days' (below) she reclines, in classical garb, resting her elbow on a pile of books – an indication, perhaps, that her work is done. She seems to be gazing beyond the present, the outstretched hand ready to guide her on the next step of her journey.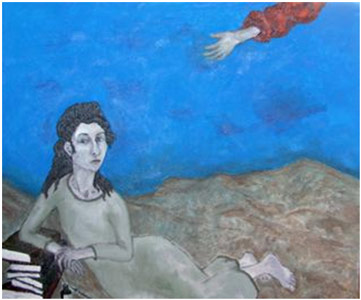 Partou Zia died in 2008, on 19th March, the eve of the Iranian New Year, Noruz, which also celebrates the arrival of spring. She was forty-nine. For a month following her death, '40 Nights and 40 Days' was hung in the entrance to Tate St Ives, as a tribute. Later that year a posthumous exhibition of her work entitled 'In the Face of Wonder' took place at the Exchange Gallery. More recently, in October 2010, Partou and Richard's work was shown together in 'Meetings of Dreams' at the Wills Lane Gallery in St Ives.

Partou was a highly gifted individual of charm and vitality, whose compassion and sense of fun enriched the lives of those who knew her. For Richard, her loss has been hard to bear. However, he says that the force of bereavement has transformed his own art practice in such a way as to enable him to find Partou once more within it. Her paintings and writings live on, as testament to an extraordinary talent.





Partou and Richard's work can be seen at ArtFirst and Wills Lane Gallery. Special thanks to Richard Cook.

© 2011 Helen Hoyle www.cornishmuse.blogspot.com
Richard Cook is the copyright holder of images by Partou Zia.