Patrick Woodroffe: Mythopoieken
Marcus Williamson on the late Cornwall-based fantasy artist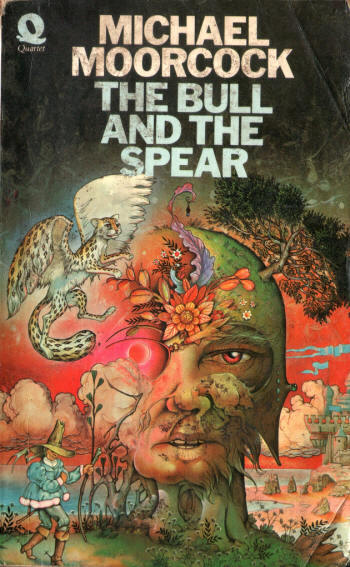 Patrick Woodroffe was a prolific artist whose fantastical illustrations adorned paintings, innumerable science-fiction books, record sleeves and posters. He likened his work to the "cartography of a nowhere-land", a picture map of a "world enclosed within the walls of his skull, a world confined to tiny electric pathways between billions of minute brain cells".

Woodroffe was born in Halifax in 1940, the second son of Beatrice and Daniel Woodroffe, an electrical engineer. The family moved several times during his childhood, eventually settling at Coalbrookdale, Shropshire. He studied French and German at Leeds University.

He married his childhood sweetheart, Jean Pardoe, in 1964. They travelled to Cornwall on honeymoon, staying on The Lizard. His daughter, Rosie Woodroffe, told The Independent, "They loved the area so much they decided not to leave and within three weeks of marriage had found jobs (he as a teacher of French and German, she as an optician) and a flat in Falmouth... So, essentially in this, their 50th year of marriage, they were still on honeymoon." His artistic influences came, he said, from "...the work of Salvador Dali, the Viennese school of 'fantastic realism', and above all the work of Dutch and Flemish so-called 'primitives' of the Middle Ages and Renaissance." An early painting, Birth of Animated Nature (1965), shows clearly these inspirations from Brueghel and especially from Bosch's The Garden of Earthly Delights.

Having initially imitated the surrealist master in his drawings, he soon arrived at a style of his own. "Gradually I started to invent for myself, to comment in my own words on the beauties and follies around me... I followed my first drawings with a series entitled Conflict which attempted to understand the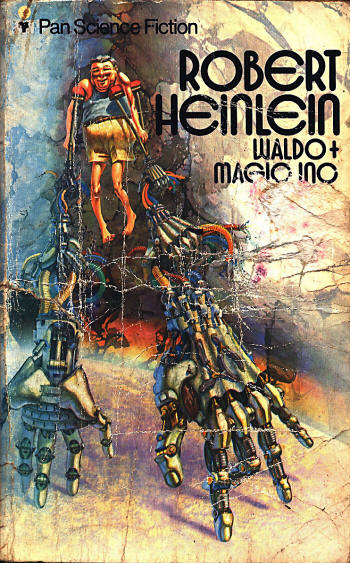 painful necessity of death and destruction." The result was an exhibition in 1966 at the Institute of Contemporary Arts on The Mall, London, a selection from this series, chosen by the surrealist artist Roland Penrose.

By 1972 Woodroffe had abandoned teaching to concentrate full-time on his illustration work. "Evan Anthony, at that time art critic for The Spectator, offered me an exhibition at his Covent Garden Gallery," he recalled. "The show was a great success, and was twice extended. I sold quite a number of paintings and drawings and several hundred etchings."

As a result of this exhibition, Woodroffe was commissioned by Pan Books' art director David Larkin to create covers for around 100 science-fiction and fantasy books over the next few years, including works by Robert Heinlein and Arthur C. Clarke. A similar commission led to Woodroffe producing jackets for almost all Michael Moorcock's publications, through Quartet Books. He noted of Moorcock's work that "...nothing is impossible, nothing unacceptable. His monsters, machines and improbable worlds do not need to be feasible" – observations that could apply equally well to the artist's own landscapes of the imagination.

During the 1970s and '80s he was one of the artists in most demand for this genre of illustration. Working with the musician Dave Greenslade, Woodroffe illustrated a book to accompany The Pentateuch of the Cosmogony: The Birth and Death of a World (1979), a concept double album imagining an alien Book of Genesis, which sold more than 50,000 copies. He also created album covers for Judas Priest's LP Sad Wings of Destiny (1976) and for The Sentinel (1984), by progressive rock band Pallas.

In the early 1990s his career took a new direction when a retrospective was held at the Chateau de Gruyères in Switzerland, covering the walls of the former Prison Tower, and attracting 150,000 visitors. A permanent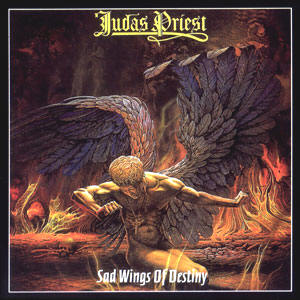 exhibition of his work now resides there. Following the success of the 1992 exhibition, he had since shown widely in Switzerland, Germany and France.

Four of his works were selected for an exhibition at the National Maritime Museum in Falmouth in 2002. A one-man show, Patrick Woodroffe – Master of Fantasy, followed at the town's art gallery three years later. In 2009 Falmouth acquired Mountain Dragons of British Columbia (1977 - pictured below), a piece as notable for its content as for its magnificent altarpiece-like frame and alpine-style shutters, designed by Woodroffe and commissioned by the gallery's director Brian Stewart (Independent obituary, 10 February 2011). Seven years ago Woodroffe had been diagnosed with Pick's disease, a form of dementia. His friend, the artist Paul Spooner, told The Independent, "Even though his memory for names had pretty much gone, he was able to find his way to places with ease. His heyday was the 70s and 80s, making meticulous paintings of impossible scenes and objects... He was an extraordinary artist with a Renaissance artist's capacity for creative techniques."

In the epilogue to his book Mythopoeikon, Woodroffe wrote: "And when you have finished your little flight around the park, you who would have walked around the world, bequeath to your children your myths and your fantasies, that the richness of human experience may become a book for all to read, a testament from the dying eye, a picture of the inside of the dying brain, a Mythopoeikon."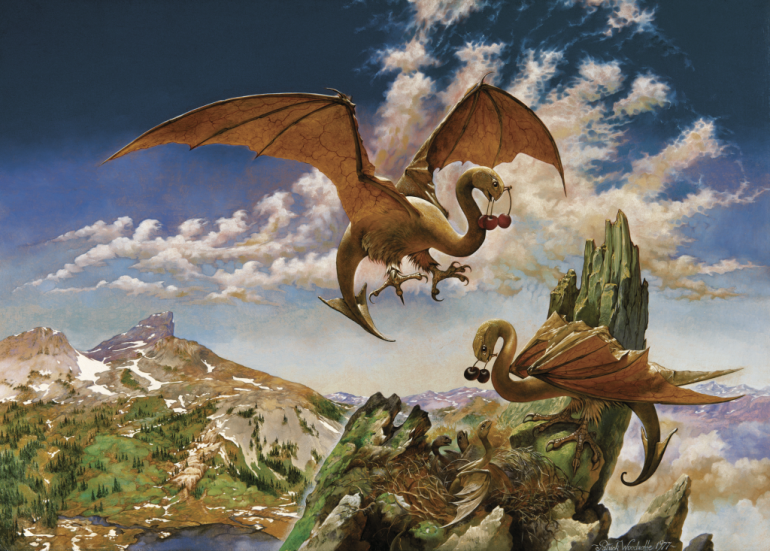 Patrick Woodroffe, artist: born 27 October 1940; married 1964 Jean Pardoe (one son, one daughter); died Truro 10 May 2014.