Paul Francis: Memoirs
Artist Paul Francis lived and worked in St Ives temporarily in the early 60's, before moving to Cornwall more permanently in 1970. Part of the progressive 'counter-culture' as it manifested both in London and Cornwall, he was an original founder of the London Film-maker's Co-op, contributor to IT (International Times) and, with long-term collaborator, the notorious Tony 'Doc' Shiels, member of 'Tom Fool's Theatre'.
I was born 1940 in Shropshire, where my father was an R.A.F. flying instructor at Ternhill. His unit was subsequently moved to Canada, and my mother (of Cornish stock) took my elder sister and I to join him in Saskatchewan in '42. We returned to England after the war, and lived in Penn, Wolverhampton, where I attended the Grammar School from the age of 11 - two of my contemporaries being Glyn Williams and David Watkins, both of whom went on to teach at the Royal College of Art. My interest in film began here, where there was a very good film club, showing foreign avant-garde and classic movies. I also became involved in music, studying the violin, and singing in the church choir. Developing an interest in pop music (skiffle, then modern jazz) I joined a close-harmony vocal group and played a tea-chest bass. In 1957, my father was posted to Blackpool, and I was accepted at the Art School there. I had studied art at A-level, intending to follow my father into the Airforce, but failed the medical exam for flying, so decided to continue my Art studies instead. It was here, in 1958, that I met Tony Shiels...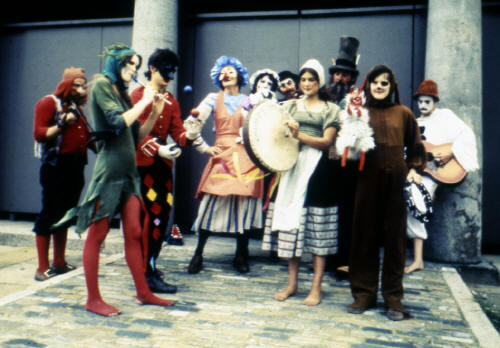 I soon realised that Blackpool was an ideal place to be a student, with its 'West Coast' atmosphere and multiplicity of visual stimulation. I had passed the Intermediate exam for N.D.D.(my painting for this was shown in the touring exhibition for that year) and was becoming more involved with the Student's Union, as well as joining the Dramatic Society and Jazz Club, having taken up the trumpet. An occasional 'sitter-in' was a young Roy Harper. Tony Shiels had signed on at the Art School to avoid being forced to do National Service - he was already (2 years older than I) a practising artist, married with a young son, so didn't take being a student too seriously. We went to an illustrated talk by Alan Davie, at that time Gregory Fellowship holder at Leeds, which I think had a big influence on us both. I visited Tony at home in St. Anne's, where he showed me his work, and also his amazing boogie (or barrelhouse!) piano style in a nearby hostelry, accompanied by a selection of his favourite music-hall songs. He left for St. Ives, where he had lived the year before, and I told him I'd 'look him up' which I did, via a curious set of circumstances...
Two other long-term friends I made in Blackpool were Dave Clarke (who was at school with Tony) and Trevor Walters, both of whom I was to work with later, in London, and in Cornwall. We had been on several trips together, to Manchester, Birmingham and London, to see exhibitions and jazz concerts, and on one memorable occasion, a live recording of the 'Goon Show'!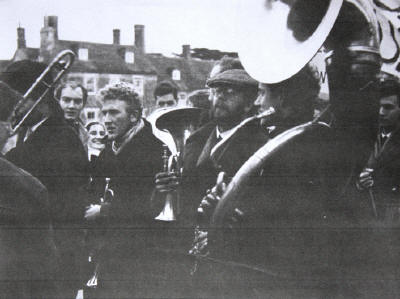 Trevor and I were in Soho in '59 and looking for somewhere to stay when we met a young actor, John Porter-Davison, in the Partisan coffee house, who invited us to his shared flat in Notting Hill. His fellow tenants were Graham Keen (later to edit International Times), Larry Lewis, an American poet & painter, and Beris Rey, another painter: all four from Cheltenham, to where they were returning shortly. Later that year, back in Blackpool, I learned that my father had been posted again, and the family would be moving - guess where? To Cheltenham, where I already had friends.
My parents had moved into a big farmhouse in Cheltenham, with room for a studio, where I began painting seriously. I arrived at the Art School on my scooter, on which I had painted a CND logo (as a sympathiser) and fellow-student Colin Parker introduced himself as a member of the local branch. He encouraged me to join up, which I did, becoming involved in the marches to Aldermaston, Brize Norton, etc. playing trumpet alongside The Alberts (picture above: Paul Francis and The Alberts 1961 Brize Norton), Wizz Jones, and many other musicians. Colin also took me to the Jazz Club, where a young Brian Jones occasionally 'sat in'. Other friends at Art School were Peter Berry, a sculptor, and John Brampton, another painter and jazz musician. We were to hold a 3-man show at the John Walker gallery in 1962, Peter going on to study at the Slade and teach at Birmingham, where he later got me a job (1963).
In early 1960, the Art School put on a student exhibition at the Town Gallery where I sold half of the 12 paintings I had shown, which encouraged me leave Art School behind, and go to St Ives, where I had already visited Tony Shiels, with his expanding family, having had another son, Ewan (picture below left: Tony Shiels and family: St Ives 1961).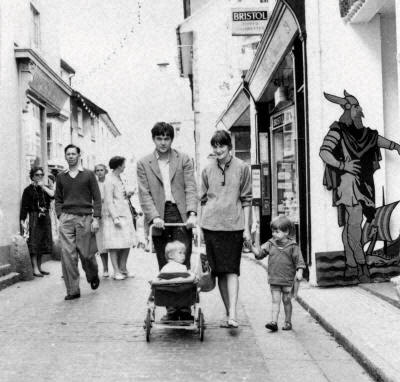 I had taken a summer job back in Blackpool, and met a wild 17 year old Irish girl, Pat Mulligan. We 'eloped' in the autumn, and made our way South. Tony was now at Westcott's Quay, (picture below right - with Vernon Rose (left) and Derek Barrington (right) and a young Gareth Shiels) he arranged for us to stay at The Cabin, next door. Their landlady was Isobel Heath, and she advised us to see 'Pop' Short, who owned some 'winter let' properties. We ended up at St. David's, in Back Rd. West, until the following May (1961).
In the words of Paddy Leigh-Fermor, "It would be impossible to exaggerate the passionate excitement and delight that infected every moment" of that 8-9 months in St. Ives. There seemed to be parties happening every few days (even though 'everyone was working!'). The first, and consequently most memorable one was at the Battery on the Island where Nancy Wynn-Jones had invited us (Tony, Chris, Pat and I) to her studio. We met Sydney and Nessie Graham, Tony O'Malley, Karl Weschke, and Alan Lowndes, among others.
Tony had a studio in Fore St., and I had the top room at St. David's, where we painted our socks off - mainly influenced by our surroundings, and the 'big boys'- Lanyon, Wynter, Frost, etc. We collaborated on some themes, sketched, and made sculptures. Other friends and acquaintances included Dick Gilbert, Ken Coutts-Smith, Vernon Rose, Brian Wall, Pat Dolan, Benny Serota, and Bill & Boots Redgrave. We met Bryan Wynter, Arthur Caddick and Peter Lanyon, and Tony & I were invited to his studio at Little Parc Owles. Isobel Heath very kindly gave me some financial assistance, by way of part-time gardening and sitting for some portrait drawings. Pat got a job in a shoe shop in town, and later I worked at Tempest studios, Lelant, again part-time. Colin Parker and Barry Miles visited from Cheltenham.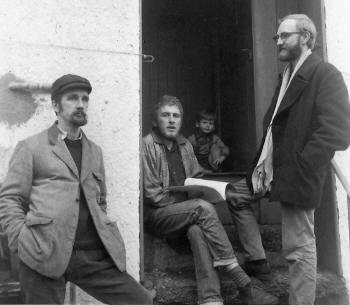 Pat and I got married that spring, when we realised our first child was on the way, and when the cottage had to be vacated we moved back to Gloucestershire. I got work as a bus-conductor, (which I had done for 2 summers in Blackpool) and we eventually found a cottage to rent near Stroud, where our daughter, Claragh, was born. I painted a large canvas 'Moon Shadow' in celebration, which was accepted for the 3rd John Moore's exhibition in Liverpool.
In 1962 I had my first one-man show at the Fimbarrus Gallery, Bath, followed by another at the Everyman Theatre, in Cheltenham (picture below with 'Odessa Run' (left) and 'Birdlip Ride' (right)), and various other group shows, in Bradford, St. Ives, Newlyn, etc.
Friends and associates at this time in Stroud included my former teacher Paul Harris, our near neighbour Lynn Chadwick, John Furnival, who was also teaching at the Art School, and Barry Miles, Colin Parker & Larry Lewis, who were renting a house together (see 'In the Sixties' by Miles). I was commissioned to paint a portrait of a friend's fiancee who was living in a cottage owned by Laurie Lee, who I also met.
In March '63, after an extremely hard winter, when we stayed with my parents in Cheltenham (the cottage was completely cut off by snowdrifts) our son Morgan was born. Later that year Tony Shiels moved to Gloucestershire, renting a large farmhouse near Dursley, about 10 miles away. We moved into a large house in Stroud, previously let by a builder friend, Alan Lloyd who bought the cottage we were in, to develop for himself and his family. I decided to complete my qualifications to enable me to teach, and got a grant for a year at Gloucester. Tony and I resumed our association and discussed making some films together. I bought a 16mm. Bolex camera, and started experimenting. Tony helped me write my N.D.D. thesis (on painting and film) and we also worked together on some ideas for sculpture. I had a painting (Health & Strength) accepted again for John Moore's.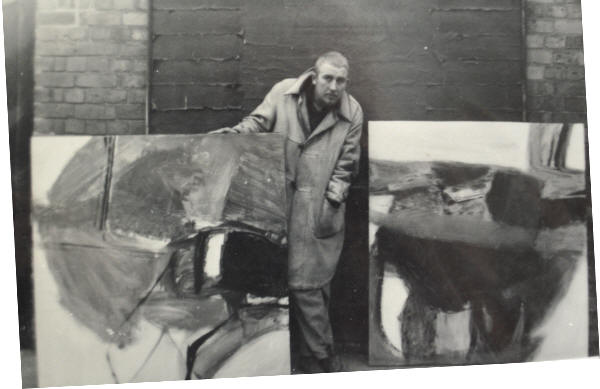 Early in '64 John Furnival offered to let us stay in a cottage he shared at Heligan, and we met neighbours Ivor De Courcy and Lionel Miskin and his wife. We also stayed with Vernon Rose, who had moved to Flushing, nr. Falmouth. Peter Berry had started teaching at Birmingham Art School, and recommended me for a part-time job on the Foundation course at King's Norton, which I took up after qualifying, in September, for 3 days a week.
Tony held his second one-man show at Rawinsky's in Soho, which was attended, among others by Peter Blake, who afterwards took a group of us to the Establishment Club, where we saw Lenny Bruce, then on to Michael Chow's famous restaurant in S. Kensington - a night to remember! Several other friends had moved to London: Trevor from Blackpool, Paul Harris a lecturer from Stroud, with whom we had become good friends, and Miles, from Cheltenham, all of whom I visited, and after a few months teaching I applied for another grant to study at the London School of Film Technique.
I had managed to introduce a film exercise (in stop-frame animation) into the course at Birmingham, using my Bolex, and was keen to move more in this direction. We moved in '65 and rented a small flat in Bloomsbury, where Colin Parker had been living while doing a teacher-training course. I commuted to Birmingham until the end of term, and got a job 'street trading' for Tony's friend Kevin McGlue, from Blackpool. One of our 'competitors' at that time was Mick Farren, later to form the Deviants band, and edit I.T. I started at the L.S.F.T. in Sept. and the next month our 3rd. child, Eleanor was born.
The first film project I led was a silent B&W romance (very much in the 'nouvelle vague' style) featuring Paul Harris and Trevor Walter's beautiful wife Glenys, shot around Lincoln's Inn and the Barbican. I had arranged a show of paintings at the Ikon Gallery in B'ham., and Paul H. had lent me his studio in Chalk Farm to complete the work. Since the shocking early death of Peter Lanyon my style had changed more into the Pop format, more figurative, using 'pin-up' imagery and written words. This was to have unforeseen results when the show opened.
1966 was my own annus horribilis (et mirabilis!). Musically I had given up playing, but with Trevor was still sharing our interest in Blues, Jazz & Folk, going to many clubs and concerts, even filming some sessions, one, memorably, at the Whisky A-go-go where my old friends from Wolverhampton, now Tony Knight's Chessmen, were supporting John Mayall and Screaming Jay Hawkins. Trevor & Glenys were living in Fulham, in a basement flat belonging to Philip Harrison, the Art Director, and had become friends with Ossie Clarke and Mo McDermott in Manchester, before he moved to London, and I often met them there, to listen to the latest U.S. imports of the new 'soul music' and go clubbing.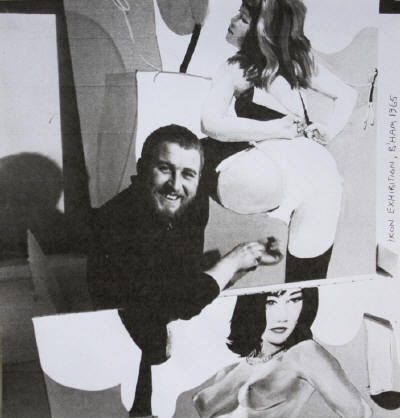 The film course was going well, we were allocated tickets for trade shows of new films, often seeing 2 or 3 a day, and had lectures by professionals in the industry, sometimes analysing classics, almost frame by frame! The second exercise I was involved with was a studio production, in 35 mm. about the life of a professional boxer. It was during the making of this film I learned that my show at the Ikon in Birmingham (picture right) had been closed down by the police, following complaints by members of the public that it was 'obscene', which naturally made the local press! Figuring that 'there's no such thing as bad publicity' I didn't mind too much, especially as the gallery bought some work 'in compensation' - however, they singularly failed to defend my position, which has put me off 'dealers' to this day.
I also learned that Pat had formed a relationship with our neighbour, Peter Arthy, and was proposing to leave, taking the children, to live in Hampstead with him. I realised, too late, that my neglect had led to this situation, and went to stay, that Easter, with Tony and Chris (now with 5 children!) in Gloucestershire. I also stayed with Colin and Alan, who had gone into business together, in Cheltenham, where I met Lynne, Jean's (Colin's wife's) cousin, who I had met once before, at their wedding, and who, some 5 years later, would become my second wife!
On returning to my last term at the L.S.F.T., our 3rd. film exercise was a colour 16 mm. 'gangster' movie, shot on location, partly, thanks to Trevor, at David Hockney's flat in Notting Hill. Trevor had been doing some modelling for him, and knew he was in L.A. at the time.
Many of the students at LSFT were Americans avoiding the Vietnam draft, and I had become friendly with several of them (during the 'Boxer' project we went to see the re-match of Cooper v. Ali at Highbury) and it was at a party held by one of them we met Caroline Coon and Marsha Hunt, who agreed to be in our 'gangster' movie (see Marsha Hunt's autobiography 'Real Life' - pp.86-90. She was one-time girlfriend of Mick Jagger.) We used my paintings from Birmingham to decorate the flat, along with some Hockneys.
At the end of the term I went to stay in Mevagissey, and spent the summer break drawing portraits for the tourists in a gift shop window by the harbour. I renewed my friendships with Lionel, Ivor, and Vernon Rose, in Falmouth. He was working at Greatwood, near Mylor, which was a guesthouse at that time. At the beginning of August I went to the beach with Vernon and his wife Sheila, and a family who were staying there. They had arranged to go on a cruise the next day to Fowey and Mevagissey and said they would come and see me. I learnt later that the skipper had decided to go back from Fowey owing to worsening weather. The 'Darlwyn' never made it - all 32 people on board were drowned, somewhere off the Dodman. I returned to London very aware of the uncertainty of life!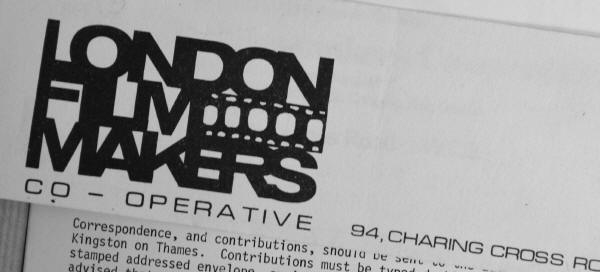 Barry Miles had been managing 'Better Books' in Charing Cross Road for a year or so since moving from Chelt-enham. It had rapidly become a cultural centre, and I used to 'pop in' there frequently, living nearby, to check out the latest imports, and what was happening, as Miles seemed to have his finger right on the pulse of 'Swinging London'. He'd organised the famous poetry event featuring Allen Ginsberg and others at the Albert Hall the previous year (which I'd attended), and was about to leave Better Books to set up his own bookshop and gallery (Indica) with John Dunbar (son of Robert, the principal of the LSFT) and Peter Asher, the music producer, (brother of Jane, then Paul McCartney's girlfriend. It was at Indica, famously, that John Lennon first met Yoko). He (Miles) had held poetry readings and shown 'underground' films (literally) in the basement at Better Books, and Bob Cobbing, the poet, who took over as manager, continued to do so. At one of these events it was suggested that a Film Co-op be set up, along the lines of the New York one, led by Jonas Mekas. Eager to be involved, I offered to act as secretary and another American, Harvey Matusow, also offered his support.
Harvey & I worked on publicity for the Co-op, writing letters, and answering enquiries. I designed a letter-head and posters, and we attended monthly committee meetings. He had known Yoko Ono and her husband Tony Cox in NY, and we went to one of her first appearances in London, at the Architectural Association. I didn't find out until years later that he had been a hated figure in NY, having testified against several com-munist sympathisers, including Pete Seeger, at the House 'un-American Activities' hearings.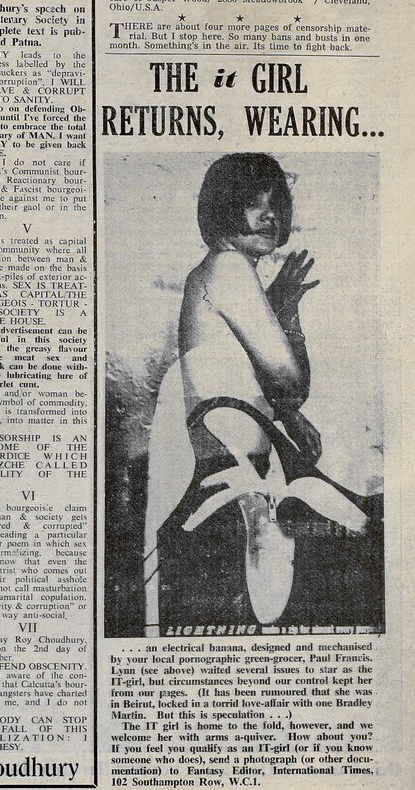 I had hoped to continue at the LSFT for a 2nd. year, but not having a family to support, a grant was no longer available. One of my American fellow-students, Paul Boorstin, (son of the eminent historian Daniel B.) shared the flat with me while he continued there. (Also beginning a course there was Andrew Lanyon, although we never met at that time.) I found a job helping to build a film studio for Robin Cecil-Wright (also to move to Cornwall, later on) in the old Collet's book warehouse in Covent Garden. I was offered some teaching work (evening classes) at Walthamstow, by Paul Harris, who was lecturing at the National Gallery. I remember going to meet him there after hours, and also there was Patrick Heron, who wanted to discuss the recently-cleaned Titians, which the three of us went to see, in the deserted gallery! It was around this time (winter '66-67) I met John Peel, recently returned from the US, at Trevor's flat. Trevor had been working for his manager, Clive Selwood, and he'd come to listen to some of Trevor's extensive record collection. He mentioned that Clive was looking for a graphic designer to handle some publicity. I went to see him, at the offices of Elektra Records, and agreed to do some sample designs. I regretfully resigned from the Co-op position, feeling I had my 'fingers in too many pies' and needed to concentrate on making a regular income.
In the latter part of 1966, I also had the good fortune to begin a relationship with Lynne, who had visited me from her home in Camberley, at my invitation, when we had met in Cheltenham. I had decided, for the sake of the children, to maintain a cordial association with Pat and Pete Arthy, who had retained his apartment next door, which was equipped with a darkroom. I took several photos of Lynne, and Pete helped me to enlarge and print them.
Miles had opened the new Indica bookshop in Southampton Row, and begun to publish the International Times. One of my photos of Lynne was used as the 'IT' girl in their first month (picture above), along with articles about the Film Co-op, and I became friends with several of the staff, including John Hopkins (Hoppy), who I had met previously in Stroud, David Mairowitz, and Jim Haynes. Hoppy and Joe Boyd, (who worked for Elektra as well ), having started the London Free School in Notting Hill, were about to open a new music club in Tottenham Court Rd., which became the famous UFO, where several groups had their first appearance in London, including Pink Floyd and Soft Machine. Through Clive Selwood I got some commissions to paint portraits of musicians (from photographs), including Georgie Fame and P.J. Proby. Trevor & I were more into jazz and soul music - we went to see Roland Kirk at Ronnie Scott's, and Ray Charles at the Royal Festival Hall, and when the Stax Records tour of the UK was announced, including Otis Redding, Sam & Dave and Booker T. & the M.G.s. I painted a series of portraits (eg Steve Cropper below left), and held an exhibition at Billy Walker (the boxer)'s nightclub, The Uppercut, (where Jimi Hendrix had one of his first 'gigs'). The portrait of Otis, on wood panel, was bought by Stax for their Memphis studios. I continued to work for Elektra, producing flyers and advertisements for their artistes, including Tom Paxton, the Incredible String Band, and The Doors. I also designed some 'compilation' record covers, one of which, 'Fantastic Folk', had sleeve notes by John Peel.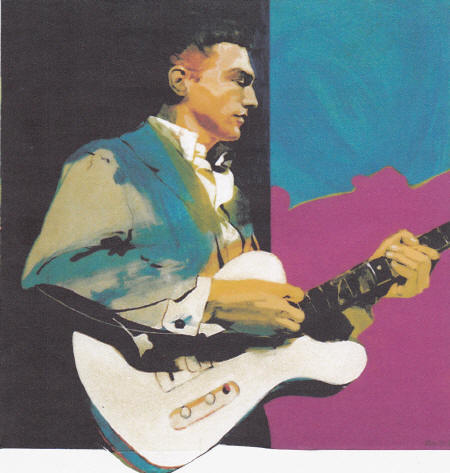 I continued working on film projects with Harvey, we went to interview Donovan Leitch with a view to making a documentary, and met the writer Benn Levy, who had written a script set in Soho. Of course, the raising of funds was always the main stumbling block, and neither of these projects got off the ground, although Benn did buy a painting of Lynne. I worked as a cameraman on an anti-war film by the director John Llewellyn, which remained unfinished. We filmed the Grosvenor Square demo, which turned into a riot, and some scenes with the actor Stefan Kalifa, who I had met through Horace Ove and Alan Lloyd, from Cheltenham. We went to see Fats Domino at the Saville Theatre with them - a great show - he pushed the piano onto the stage with his stomach! We also saw 'The Bed-sitting Room' there, and around this time saw Jerry Lee Lewis, at Wimbledon, which also turned into a somewhat smaller riot, with the local Teddy Boys coming out of the woodwork.
I had met the poet Pete Brown (lyricist of Cream's 'Sunshine of your Love' album) in Cheltenham when I did a live 'painting & poetry' performance with him and Mike Horovitz during a festival organised by Miles. I was interested in doing some 'light show' collaborations, inspired by some I had seen at UFO by Mark Boyle, and Pete agreed to let me try out some experiments with his band, a constantly-changing group of excellent jazz musicians. The first gig was at Bristol University, which seemed to go well, and I used slide projectors, concave mirrors, and mercury switches (to synchronise the images) plus a hired 16mm film projector for a random selection of clips I had put together. I also worked with Roland Miller and his People Show, at the Arts Lab, which Jim Haynes had opened in Drury Lane, and at the Brighton Arts Festival.
In July Pete asked me go to the Edinburgh Festival with his band, which was a very exciting prospect, and although Lynne was working, and couldn't come with us, I agreed to go. The band at that time comprised John McLaughlin, guitar, Malcolm Cecil, bass, and Laurie Allan, drums, with Pete reading his poems and occasionally playing trumpet. Joining us as a guest performer was the legendary Davy Graham, with whom I climbed Arthur's Seat, and he & Pete showed me round the city - an unforgettable experience!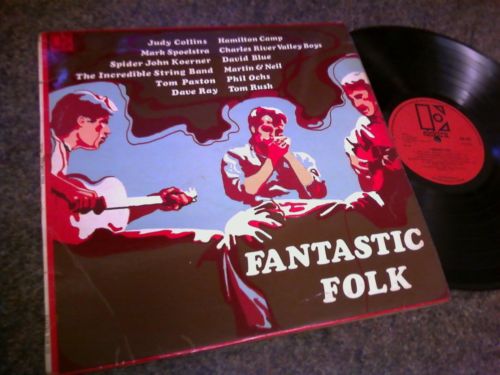 Tony Shiels moved back to Cornwall in 1967 - he had made a few trips to London, staying with Kevin McGlue. One which I remember vividly, involved a pub crawl in Soho, singing in a bar in Covent Garden with Bob Davenport - he stilled the room with his amazing voice, and we ended up at Rory McEwen's house in Chelsea, talking about Sonny Boy Williamson, (nos. 1 and 2). We continued to write to each other, and he next came up after Lynne and I had moved. I was still working with Pete Brown, who was forming a 'supergroup' with Graham Bond, (provisional name ' Neon Blacklist') - we had some meetings with Jay Landesman, who had opened a club in Covent Garden, the 'Electric Garden' (later 'Middle Earth'). Pete was also working with Jack Bruce and Cream, writing songs, and I went to one of Cream's first gigs at the Roundhouse (and also their 'farewell' concert at the Albert Hall 2 yrs. later, when Graham Bond opened the show by playing the Bach 'Toccata & Fugue' on the Hall organ, and afterwards Lynne & I were invited back to a party at Robert Stigwood's, with Pete, Jack, Eric Clapton and Ginger Baker!).
I also went to the Roundhouse with Trevor to see a rehearsal of 'Oh Calcutta!' the controversial sex show by Kenneth Tynan.
At the end of '67, having run out of work, and fallen behind with the rent, we were about to be evicted from our flat in Bloomsbury, when Pat & Pete, who had just moved to a big house in Covent Garden, very kindly offered us a room, on the top floor, sharing kitchen & bathroom with Dick Clement, an animation colleague of Pete's. It was great to be living with my children again (for them, as well), and we were to live there until we, too, moved to Cornwall in 1970.
We were still spending a lot of time with Trevor & Glenys, and he had been working at the Mayfair Theatre. He told me they had a vacancy for a stage-hand, and I went to see the manager, Jimmy Wollheim, and chief electrician, Ian Hobbs, who agreed to take me on. Lynne had found a job at Kettles stationery store in Holborn, and we entered a new phase of our life together.
The work at the theatre was only part-time to begin with, and I continued painting, including the windows of MusicLand, a record shop in Berwick St., and the facade of the Open Space Theatre in Tottenham Court Rd., for the director Charles Marowitz. At the Mayfair we worked on trade shows for the fashion industry, and set up an outside broadcast unit for London Weekend Television, relaying the Eammon Andrews chat show, and later, some David Frost interviews, with Noel Coward, Christine Keeler, and John & Yoko. We also did some stage productions,
including 'Under Milk Wood' with Philip Madoc, his wife Ruth, Windsor Davies, and a young, unknown, David Jason. Musically, we put on short seasons for the Chambers Brothers, which was produced by the legendary Chip Monck, from Woodstock, and the Georgie Fame big band, which included two conga drummers, Speedy Aquaye and Jimmy Scott, whose catch phrase was 'Oobla-de, oobla-da, life must go on' (shamelessly borrowed by McCartney & Co.). I got quite friendly with Jimmy later, and he used to come round to Betterton St. On one occasion, while drinking in Soho, we met Chuck Berry, who said he was looking for a game of chess. I invited him to our nearby flat, but sadly he declined, not having enough time before his show.
Pete Arthy, who had been living in the area since the war, took me to several of his old haunts, such as the Gargoyle and the Colony clubs, where I met his old friends Jeff and Bruce Bernard, and Francis Bacon. He & Pat also threw several parties at home, where Lynne & I met his associates from the animation world, including Bob Godfrey and Alison DeVere. I discovered that Alison had been married to Karl Weschke, who I had met in St. Ives, and on seeing some of my work, offered me a job painting backgrounds for some 'Babycham' commercials she was making at her home in Kentish Town. I went with her to meet Karl Weschke again, who was in town with their young son Ben, who now works with my son, Morgan, in St Just.
Pete had also given me some work painting backgrounds on some short films he was doing for the Central Office of Information, on such subjects as 'Tidy Up at Night', 'Dip, Don't Dazzle', and 'Brushing Teeth'. In the summer of '68, when both he & Alison were working on 'Yellow Submarine', one of the team left to have a baby, and I was invited to join them. I worked on the sequence for 'When I'm 64', and other 'Pepperland' backgrounds, as part of a large team, in studios in Soho Square.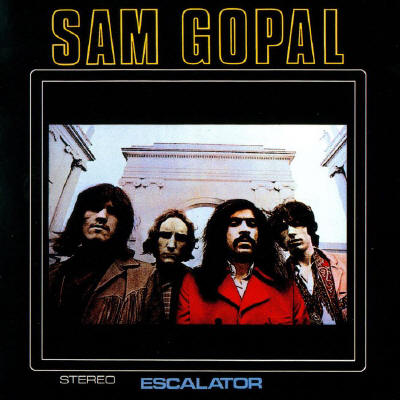 Trevor Walters had been working in the music business, and was producing an album for Sam Gopal, a young Indian tabla player, who, with his group had played at the 24 hr. Technicolour Dream at Alexandra Palace. He asked me to design the cover, entitled 'Escalator', and I went along to listen to the recording, which featured a young Ian (Lemmy) Willis, later to achieve fame with Motorhead. Several other faces from the past turned up around this time, including Roy Harper, who was playing at Les Cousins, and came to Betterton St., and also from Blackpool, Dave Clarke, who I met in Dobell's jazz record shop in Charing Cross Rd., and was teaching at a school in South London. Also, remarkably, my former schoolmate from Wolverhampton, Dave Watkins, who Trevor had employed as a session musician, and who had been working as a modeller on '2001' for Kubrick (he later went on to become head of the Jewellery dept. at the Royal College, and designed the Olympic medals of London 2012).
Tony Shiels came up for Terry Frost's opening at Waddington's, and took me along to the private view. Roger Hilton was there, rather the worse for drink, and started a fight with Leslie Waddington, the owner. We left, and proceeded to the Queen's Elm, where we met Ken Coutts-Smith and Bill Redgrave, then went on to Finch's, where we were entertained by a lively discussion between Roger Hilton and Sydney Graham, they having been thrown out of the gallery. We felt very sorry for Terry, and several of his boys, who had come up for the show.
At the Mayfair, I worked on a 'satirical' revue entitled 'Ten Years Hard' with Michael Flanders, which also featured a young David Essex, and I drew some caricatures of well-known figures which were used in the production. Ian Hobbs, the lighting director, had a yacht, berthed at Hamble, and used to take Trevor & me down to sail in the Solent. Lynne came on one of these trips, but the weather was a bit rough, and put her off sailing for good. Later, in '71, I helped him sail down to Falmouth.
In the summer of '69, we visited Cornwall, where our friends from Cheltenham, Colin and Alan, had moved, and were running the Flushing ferry. We went to a folk club at The Ganges, in Mylor, with Tony and Vernon Rose, and his friend Gerry Bennett, with whom we were to stay when we finally moved to Cornwall, the following year. Vernon sang, and also appearing that night were Brenda Wootton and the Durnford sisters.
On our return to London, at the end of the '60's, things had begun to change. After the Stones concert in Hyde Park, following the death of Brian Jones, and their subsequent disaster at Altamont, it seemed to signal the end of an era. In our own circle, the Arts Lab closed, the International Times had been 'taken over', Miles had left for the States, and our friends Trevor & Glenys were drifting apart. We decided to leave London for Cornwall, and start a new life together. I went to see Benn Levy, at the Garrick Club, who lent us some money to hire a van, and in July 1970, we said goodbye to Pat & Pete and the kids, and drove to Penryn, to stay with Gerry in West St., until we could find a place of our own. We stored our few possessions in Tony Shiels's barn at Ponsanooth, and advertised in the local paper, for a 'derelict cottage, or similar, to rent and restore'. A local smallholder, Fred Coleman, came to see us and offered to sell his holding at Trevales to us, if we could raise enough from working the land to pay him by installments. We went to see the property, and agreed to go ahead, at his asking price of £2,000, on payment of £200, which Lynne had in her Post Office savings account.
Trevales Wood consisted of some 8 acres of rough woodland, two caravans, and a small lake. Fred had used it for raising pigs, and selling firewood, but was now retiring. There were some 200 mature trees, mostly dis-eased, which he assured me could provide an income for us, as well as his installments. He threw in a chain-saw and large bench-saw, and gave me some basic instruction in tree felling. As winter was approaching, I worked with Gerry on some painting & decorating he kindly agreed to share, while we got used to our new
surroundings.
We were living about a mile and a half from Tony & Chris, and spent many evenings with them, at home, where they made us very welcome, or at the 'Stag Hunt', their local pub. Lynne got a job as receptionist at a solicitors in Falmouth, and I started logging. Fred took me to Truro to buy a 2nd hand tractor, to drive the bench saw, and on the way back, via Penweathers, Wheal Jane, and Twelveheads, I noticed a derelict cottage at Todpool, which we were, amazingly, to end up buying, some 30 years later!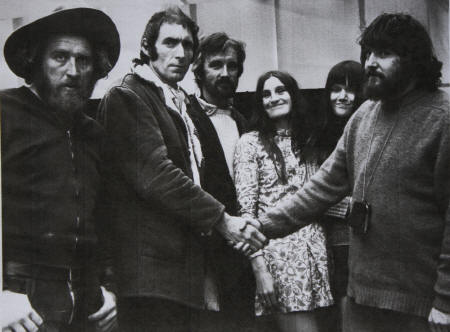 We got married in June 1971, Pat having agreed to a divorce, and Tony was our 'best man', as he had been for Pat & me 10 years earlier. We had arranged to have the reception at Trevales, 'sur l'herbe', but as it was a wet day, Gerry kindly offered to hold it at his house in Penryn. Our guests included the Shiels family, Vernon & Sheila Rose, Ian Hobbs, Pete Mayes (a local boat builder, who I'd met in St. Ives) and Lynne's father, brother & sister, and her cousin Jean. Colin Parker gave us a large lobster, for a wedding present, some days later, which made Lynne very ill.
I got married in a sports jacket which David Hockney had given to Trevor, who passed it on to me. Other friends we met at this time were David Osborne-Dowle, who had been at the LSFT after me, and had married Caroline Durnford, the folk singer. They were living on the Rose Marie, a houseboat, moored at Sailors Creek, next to Vernon's yacht Kittiwake. John Gordon, who I'd also met in St. Ives, and his wife, Merion, had moved to Glasney Gate, in Penryn. They later moved to Constantine, where Tony, Vernon & I did some filming (picture above: L-R: Paul Francis, John Gordon, Vernon Rose, Chris Shiels, Lynne Francis & Tony Doc Shiels). I also renewed some friendships, with the Miskins, who'd moved to Ashfield House, in Falmouth, and Sydney & Nessie Graham, who were living in Madron.
Tony Shiels had a blues band, called Rover, which played at the Boslowick Inn, Falmouth, and he also played occasionally at the folk clubs in Falmouth, Redruth and Truro. I had not played an instrument, (or done any painting, apart from commercial work) for some time before leaving London, and now began to take an interest in both again. I had sold my instruments, and the cine camera, to raise funds when we were still in Bloomsbury. I met Pete Lochrie, a friend of Alan Lloyd, in Flushing. He played guitar, and while visiting him in Penryn, he very kindly gave me an old violin, on which I started, after many years, to learn some (mainly Irish) folk tunes, which Tony S. and Tony Franklin were concentrating on at that time, practising with Tony's children - Ewan, on mandolin, and Megan, on tin whistle.
I still had paints and some old canvases, and started doing some landscape studies, using the smaller of our two caravans as a studio, when it was too wet for logging. I bought an old van from David O-D in order to sell logs door-to-door, in Camborne, Redruth and Falmouth, and he came along on several occasions to help me. Tony & Vernon put together a 'tent show' with which they performed at local fairs, using some clever illusion tricks which Vernon had made, as well as a tall 'stovepipe' hat, for Tony, presenting as 'Doc Shiels - Wizard of the West'- performing his accomplished conjuring tricks, and Vernon doing 'Punch & Judy' using a splendid 'fit-up' and puppets he also made. We went along to help with the transport, the kids, and to 'bottle' the audience (and enjoy the fun!)
In February '72, our son Samuel was born, on the same day that Tony's mum, dad and grandmother moved down from Lancashire to Mile Hill, Porthtowan, where they took over 'Woodlands' - an established restaurant, which Tony got them to re-name 'The Dog & Dragon' and Vernon painted a large hanging 'pub' sign for them. Tony used to put on special 'magic' dinner evenings, with conjuring and a 'mind reading' act, with Chris as his 'telepathic' assistant.
When Sam was only a few weeks old, we went to the May Day celebrations at Padstow, with the Shiels family, John Gordon, and Gerry & Jean, Lynne's cousin, who had left Colin, and was living at West St. with her two small daughters. It was the first of many visits to the 'Obby Oss' for us, and a tremendous thrill, to hear the rhythmic beating of the drums, as we approached the town, and to watch the dancing processions of the 'rival' teams of Blue and Red supporters, and their bands, heralding the coming of the summer.
Pat & Pete and the kids came down that year for the first time, camping at the Wood, and we had several trips to visit friends old and new, and picnics at some of the beautiful beaches we had found. I got a part-time job driving for a local 'express' delivery firm and on one remarkable trip, when the van broke down near Bristol, I went to see a couple of friends from Falmouth who had moved there, only to find my old friend Roy Harper at their flat! He was playing at the Colston Hall that night, and we looked after his young son Nick while we watched his performance. The next day he drove me to his house in Oxfordshire, then to Didcot, where I got the train to London, to see the kids briefly, before returning to collect the van in Bristol, when it had been repaired.
Tony had an exhibition of paintings at the Poly in Falmouth, with a following party at a nearby hostelry, which Bryan Wynter and Sydney Graham came to, among other friends. Sydney was anxious to get home for some reason, so I offered to drive him back to Madron. I took the 'scenic' route, via Mawnan, Porthnavas, Constantine and Gweek, which he had never travelled, and we had a long conversation, a treasured memory, for me. Another memorable occasion, some time later, Tony and I went to see Sydney with Clive Cable, an old friend from St. Ives, and he took us to see Roger Hilton in Botallack, where he was confined to his bed, surrounded by the wonderful late paintings he was producing then. We weren't allowed to stay long (by Rose) and stopped at Gurnard's Head for drinks before taking Sydney back to Madron. I was stopped by the police on the way home, and arrested for driving while 'under the influence' which of course, I was. Fortunately, after a blood test at Truro police station, I came in one unit under the limit, so wasn't charged, on that occasion!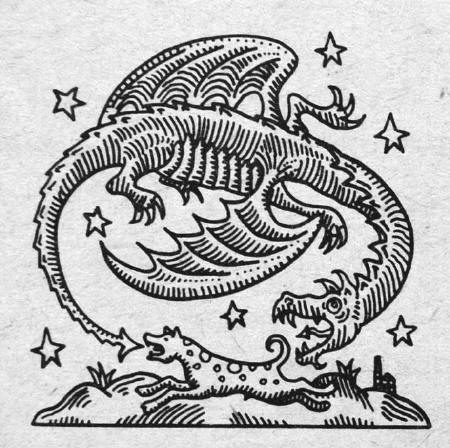 We had applied for planning permission to build a house at Trevales, and expand the smallholding, (to provide more income) but when this was refused, and following a hard winter, cutting and selling logs, we decided to sell up. Lynne was expecting our second child, and we needed to find a house, with some better living conditions! We advertised the wood in the Sunday Times, and had several replies, finally selling to a couple from Hampshire. We found a house in Camborne, which had been in the process of 'modernisation' but still needing the kitchen and bathroom completing. We managed to arrange a small mortgage from the Council, paid off Fred, and moved, that summer ('73) to No. 8, Basset St., where we were to spend the next six years.
I had been doing some building work with Gerry and John Gordon at the Dog & Dragon (emblem above designed by Tony Shiels), and now turned to finishing off our new house. Tony had visits from Pat Dolan, and Alan Wood, who were both teaching at Cardiff, and we had another trip to see the Grahams, when Chris Shiels and Lynne came along, with Sam. Sydney and Nessie had arranged their chairs in rows, to resemble an aircraft layout, in order to 'practice' going to America, where Sydney was to give a reading tour. We all went to see Bryan Wynter and Monica at Treverven, and spent the afternoon drinking rice wine, and looking at Bryan's latest work. Nessie quite took to Sam, calling him 'pommette' on account of his rosy cheeks. Later that year I started a job fish-packing in Falmouth, and managed to get a berth on one of the fleet of mackerel boats, which were fishing the huge shoals offshore at that time. I also did several paintings inspired by the visual impact of this experience, continuing fishing over the next 3 years, on & off.
Our daughter Molly was born on the 21st. December, coincidentally also my father's birthday! We were delighted to have a 'pigeon pair' and enjoyed our first Christmas as a family of four, in our own house at last. Our friend from London, Ian Hobbs, now working for Anglia Television, came down, scouting locations for a film they were producing about the Dame of Sark, to be shot in Cornwall, to avoid the prohibitive costs of filming on Sark itself. Set during the German occupation during the war, it starred Celia Johnson and Tony Britton, and Ian got me a 'walk on' part as a German soldier, and Lynne & Sam as extras.

Filming took place at Pendennis, Mawnan Church, Glendurgan and Mullion harbour, standing in for Sark. We used to meet Tony in Redruth fairly regularly, and other friends, including Denis Gould, the poet, who ran a bookshop in Penryn St., and Mike Kessel, who ran a folk club at the Buller's Arms, and later at the Oxford Inn. One day Denis told us he'd met Dave Clarke, our old friend from Blackpool, who'd moved to Cornwall, and was enquiring after Tony and me. He was working on a local free newspaper - 'Peninsula West' which had offices in the old Bickford-Smith fuse factory at Tuckingmill (now Warrior Stores) - this building had previously featured on a local TV news item, as a proposed art gallery, to be run by Dick Gilbert, a scheme which never materialised.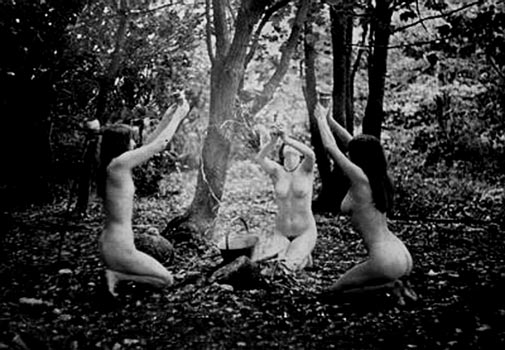 Dave got me some work on the paper, doing cartouche drawings for features, and a weekly colouring competition of British wild birds. Tony also did some cartoons and wrote a column. Other members of staff I met included Fred Underhill, the editor, Ander Gunn and John Smith, (of the 'Quasar' coffee bar in Redruth), both working as freelance photographers, and Maureen Knowles and Chrissie Quayle, who were working in the 'paste-up' department. The paper didn't last very long, but I was taken onto the full-time staff in its last few weeks, and was able to sign on at Camborne Employment Exchange on the 'executive' register, where I met Scott Terrill, who suggested I apply for a course at the local Skillcentre for 6 months, (which paid better than unemployment benefit), to 'learn' carpentry. He was going to do this himself, so we started together. I found he was also a folk guitarist & singer, and we met Pete Douglas, who was also on the course, and a guitarist/songwriter. We started playing together, and another course member Rupert Boulting - son of the famous film producer - who played the Northumbrian pipes, joined us briefly. After some weeks practice, we played at Truro folk club and at the Green Parrot, Perranporth, during a folk festival, going on afterwards to Mervyn Davey's home at Rejerrah, with Bob Devereux and Clive Palmer (ex-Incredible String Band).
It was around this time, (1975), that Tony started his 'monster - raising' activities (picture above: Tony Shiels 'coven'). I wasn't personally involved very much, during the period Tony was busy with Morgawr, the Falmouth sea beast, the Owlman of Mawnan, and his other 'supernatural' evocations, although we still saw each other frequently, and I had always been aware of his keen interest in ghost stories and the occult. Dave Clarke had taken over editorship of "Cornish Life" magazine, at Belmont House, Redruth, and went on several photographic 'monster-hunting' expeditions with Tony. I was busy painting and beginning to make furniture, using my new-found carpentry skills, but I met Michael McCormack, the American showman, when he visited Tony & Chris in '76, and encouraged Tony in his metaphysical pursuits. We were all very impressed the following year, when Tony managed to capture the fabled Loch Ness monster on film, just in time for the Queen's Jubilee celebrations! described at length in his book 'Monstrum - a Wizard's Tale' (CFZ Press 2011)). The photo was subsequently published on the front page of The Mirror. He also wrote a hilarious musical play about his escapades, called 'Distant Humps' which was staged at the Dock & Railway, in Falmouth. Ken Campbell, the actor and producer came down with Chris Fairbank (from Auf Weiderseihn), who was written into the show. Ken wanted to present it at the Bush Theatre in London, but unfortunately, this was never realised.
I started busking more frequently with the Shiels family group 'Tom Fool's Theatre' (colour photo at top of the page in Covent Garden, and below left in The Sun at the time of 'The Gallavant Variations') which now included Gareth and Ewan, doing Punch & Judy, and playing music of their own, and we performed at Polgooth, and with Footsbarn Theatre at St. Ives, the Festival of Fools at Penzance, also Exeter Festival, (with the Greatest Show on Legs, featuring the great Malcolm Hardee) and the 1st.(and last!) International Festival of Folk Music at the newly-built Brighton Centre. John Gordon and his girlfriend Mandy Travis came along on this trip, we hired a minibus, and during the 3-day event, met, among others, Alex Campbell and his family, Robin Hall and Jimmie McGregor, and the star of the Festival, Burl Ives, and his wife. We went on, after this exciting experience, to London, where we looked in on Pat, Pete and the kids, and met Ken Campbell again, for a photo-shoot, in Covent Garden.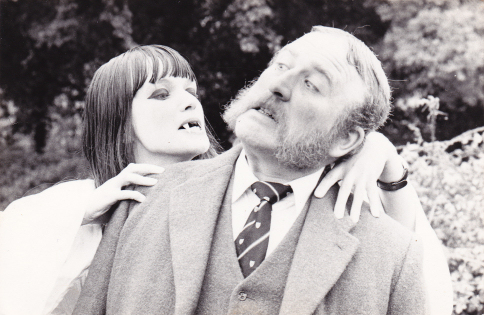 Tony wrote a second play in '77, entitled 'Spooks' which combined elements of Dracula and Sherlock Holmes, to great comedic effect, and parts were written for several of his friends and neighbours, as well as the whole family (picture right). Ray Hopley, Dave Westby and Linda Peet, from Ponsanooth, had parts, John Gordon played Holmes and the Count, I was Dr. Watson, Lynne was Carmilla, Ewan made a splendidly mad Renfield, and Tony himself was Van Helsing. We did 3 performances at the Falmouth Poly, to very appreciative audiences, including the whole Footsbarn crew. Dave Clarke did sound effects and recorded the show, and Sandy, John's son, controlled the lighting. I made some props, including a flying bat, and a wolf mask, and also designed a poster. That Christmas I was asked to paint some backdrops for the Gwinnear Village Pantomime 'Snow White', which led to some mural work, and the following spring Tony began writing another play.
'The Gallavant Variations' was a surrealist musical romp, a sort of '7 characters in search of an audience', with the 5 Shiels children, Gareth (Gazmaj) Ewan (Pixie-shoes) Kate (Cait Sidh) Meg (Miss Tearyarse) and Lucy (Little Devil) & Tony as the Wizard 'Doc'. I was proud and honoured to be included, as their pal 'Gnomeface (the Huge)' and we had great fun learning our lines and rehearsing in the local village hall. We performed at the Poly again, and also at the Footsbarn's own theatre at Davidstow. We did excerpts at the St. Ives September Festival, and called in to see Tony O'Malley, who was laid up with a bad toe, at Seal Cottage, so we played him some Irish music. In the evening Footsbarn performed in the harbour, where Paddy Hayter, as "Bobby Bullethead' attempted a rocket-assisted bicycle jump between the 2 piers - (fortunately the tide was in!)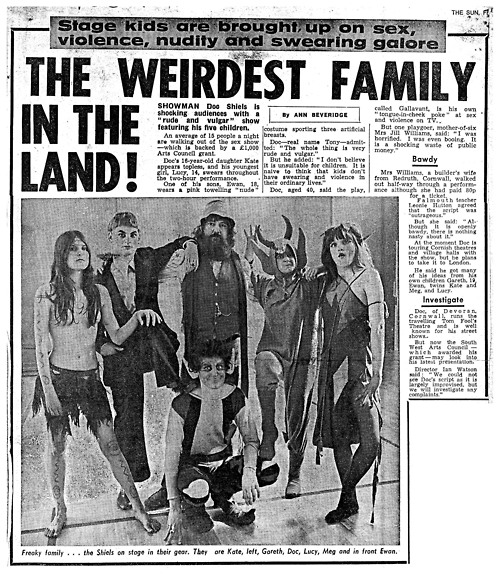 Afterwards we all went to Mr. Peggotty's Disco, where Gareth and Ewan played, as their band 'Hen's Teeth' including the terrifying number Jimmy the Psychopath - they later formed a 'splinter group' with some of Footsbarn as 'The Lovely Barnies'.
I had built a workshop in the garden at Camborne, with money my parents had given us from the sale of their cottage in Andover, and I started designing and making furniture, and sign writing. I had also been taking Dave Clarke, who didn't drive, on photographic expeditions for the 'Cornish Life' magazine, and to conduct interviews. We visited many of Cornwall's huge variety of scenic beauty spots, from Bodmin Moor & the North coast, to the Lizard and West Penwith, as well as the Clay country, where my mother's forbears lived, at Cocksbarrow, near Stenalees. We also visited Julian Williams, at Caerhayes, who showed us round the Castle, and Lord and Lady St.Levan, who did the same at St. Michael's Mount. Dave also interviewed their former butler, Stanley Ager, and the TV gardener, Don Hoyle, as well as the broadcaster and writer Gerald Priestland and his wife Sylvia, at Carfury, and the Punch & Judy 'professor' Dan Bishop, at St. Just. I was still playing fiddle, with Scott and with Tony (pictured below with Meg Shiels and Vernon Rose in Red Lion, Redruth), and in late '78, after a session at the Stag Hunt, I was breathalysed again on the way home, and this time, unfortunately, underwent an enforced year's 'break' from driving.
We were spending quite a lot of time in Redruth, visiting Dave and Tony, and began looking for a suitable house there, preferring it to Camborne as a place to live. We found a very old cottage in Plain-an-Gwarry, which needed quite a lot of modernising, and moved there in the summer of '79. We sold the Camborne house, coincidentally, to Tony Shaw's parents. Our near neighbour, across the road in P-an-G, was Jack Trounson, the famous mining historian. I set about renovating our new home, and when at the end of that year, I got my license back, Pat & Pete, having just bought a new car, very kindly gave us their old one!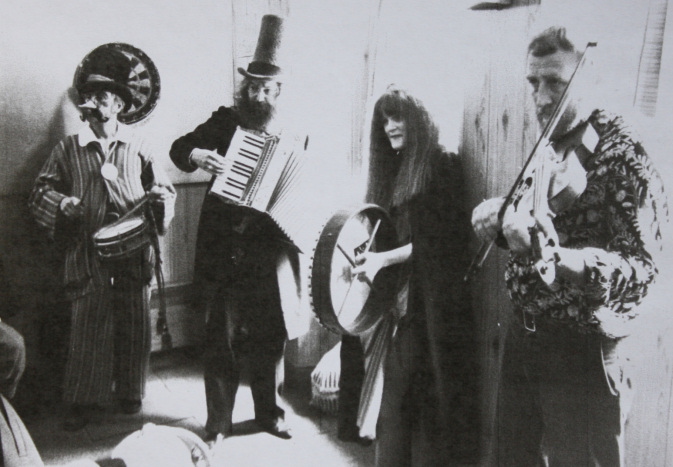 The 1980's were to prove a time of great changes - Tony was busy writing his books and a surrealist quarterly, 'Nnidnid' - and began to visit Ireland, our friends Scott and his Canadian wife, Mary Jane, left for Vancouver, and I was busy renovating our new house (which was really quite old - I found a map of 1825 in Truro Museum, which showed it as a farmhouse, with no other houses around it!). I also continued signwriting, and decor-ating plates, which our friend Felix, a jeweller, had begun making in her small pottery in Hayle (she and her husband Bill were also to move to Ireland later). In '82 Tony was attacked in Falmouth, following an alter-cation about the Falklands, and quite badly injured, which affected his playing and strengthened his resolve to leave. I had designed some commemorative plates for the Tall Ships Race, starting from Falmouth that year, and sold around 200, which was enough to finance our first trip to Ireland, where we met up with Tony and family at the famous Puck Fair, in Killorglin. We did some busking in Killarney (where we saw the legendary 'Pecker' Dunne, also busking), and in Tralee, where Kate and Meg were living. Sam & Molly enjoyed camping, by Lough Leane, and the whole trip was a great success.
The following year I started working at the Cornwall Aero Park, in Helston, which was expanding, to become 'Flambards' Theme Park. I joined the general building and maintenance team, as a carpenter, and continued there, on and off, for the next 12 years, moving on to conservation work on the Victorian Village and 'Blitz' exhibitions, and the painting of several murals. In '84 Lynne decided to start training to be a nurse, (and later a midwife) at Redruth Hospital, and following its closure, at Treliske. I also began a long-term (unwritten) contract to provide advertising signs for the nearby Redruth Rugby Club, and built another workshop/studio where I continued making furniture, and later on, some wood reliefs and sculptures.
In 1985 we went to London to see the 'St. Ives' exhibition at the Tate Gallery, where we met Tony O'Malley, who told me I should have been included - (a typically generous thought). We spoke of Sydney Graham, who was very poorly then (he'd taken to his bed for the last 3 years, and died the following year). The last time I saw him was at a reading he gave at Camborne College, around 1980. This London trip was also the last time I saw Tony O'Malley, who moved to Ireland later. We stayed at Betterton St., where Pete's old friend, Jeffrey Bernard, also quite ill, was staying in our old room, much to Pat's annoyance. She & Pete bought a cottage in the Forest of Dean, which they used at weekends, and then lived there full-time, where we had some great family holidays.
At the beginning of the '90's Tony had a retrospective show at Bob Devereux's Salt House Gallery in St. Ives, to which Nessie Graham came, with Monica Wynter. Dave Clarke moved to Barcelona, after the demise of 'Cornish Life', and the Shiels moved to Ireland for good. We visited Dave in '91, (our first 'flight' anywhere!) thrilled by the vibrant capital of Catalunya, and attended Lucy Shiels's wedding on the way back. We made our second trip to Ireland in '94, to visit Tony & Chris in Corofin, on the Burren, and went with Meg, who was living nearby, to Galway, and to Ennis, Clare's capital, where we heard a music 'session', then to see Kate, at Ennistimon, on the coast. In 1995 Tony also had a 2-part show in Cornwall, at Paul Richards gallery in St. Ives, and Martin Val Baker's 'Rainyday' in Penzance, where Steve Cousins introduced his Shiels monograph.
In the mid-90's, having finished at Flambards, I became more and more interested in local history and the mining industry, reading all I could, in the library (run at that time by Terry Knight) and I joined the newly-formed Trevithick Trust, to work as a volunteer, first at King Edward mine then at Tolgus Tin, which was nearer to home. This was suggested to me by an old friend from Penryn, Rob Gibson, who was working at Kerrier Groundwork Trust, restoring the old tramways and mine buildings in the area. I later joined the 'Redruth Story' group, and the 'Murdoch Flyer' group, which built a 'notional' replica of William Murdoch's locomotive of 1792.
My son Sam, having left school, was working at Sara's Foundry, in Redruth, and my elder son, Morgan, was about to move to Cornwall, (he had been helping Alison DeVere and her son Ben, in their animation studio in Penzance) to set up his own company, Spider Eye, in St. Just. Lynne & I had decided to move away from Redruth, the area we had lived in and enjoyed, to begin with, had become increasingly built-up and noisy, and we looked around for a 'country cottage' - amazingly, the derelict building I had seen in Todpool, 30 years earlier, had been renovated and was now on the market! We managed to buy it, and moved in 2001.
I had an exhibition of paintings and sculpture at the Camborne School of Mines Museum in 2003, and a further retrospective exhibition of 50 year's work at Kresen Kernow, Redruth, in 2008, both of which were well-received. My old friend Scott returned from Canada, and I was delighted to resume our playing music together, at folk clubs in Newlyn & Penzance. (Sadly, shortly after they had found a house in St. Erth, his wife Mary Jane died suddenly, from pancreatic cancer.)

Since then, Lynne has retired, we bought a camper van, (in 2005) touring in England, Scotland, Wales, Ireland and Brittany. We've walked the whole of the Cornish coast path, (in stages) and travelled abroad to Spain, Italy, Morocco, Malta, Greece, Turkey and South Africa,- and a memorable cruise on the Danube, for my 70th. birthday, visiting Vienna and Budapest.

A selection of work by Paul Francis and Tony Shiels can be seen in the online two-man exhibition: http://www.francis-shiels.co.uk
Monstermind biography of Tony Shiels by Rupert White https://www.amazon.co.uk/Monstermind-Magical-Life-Tony-Shiels