Porthcurno's Lost Paintings
Mercedes Smith
Ahead of next year's 150th anniversary of the first telegraph cable landing in Cornwall, Telegraph Museum Porthcurno are launching a search for two long-lost paintings by artist Robert Dudley, which captured the historic moment of the Porthcurno cable landing on 6th June 1870.
Following the landing, which connected Britain to Bombay, India, with intermediate connections at Portugal, Gibraltar, Egypt and Yemen, the cable station at Porthcurno became the largest telegraph station in the world and the most important communications centre in the British Empire. Dudley captured the cable landing in two watercolours, one depicting the Cable Ship Investigator anchored at Porthcurno as it brought the undersea cable ashore, and a second depicting the moment Sir John Pender, founder of The Falmouth, Gibraltar and Malta Telegraph Company, sent the very first test message from the cable hut on Porthcurno beach to Bombay.
Dudley presented both of these watercolours to Sir John Pender shortly after the event, and they became two of his most treasured possessions.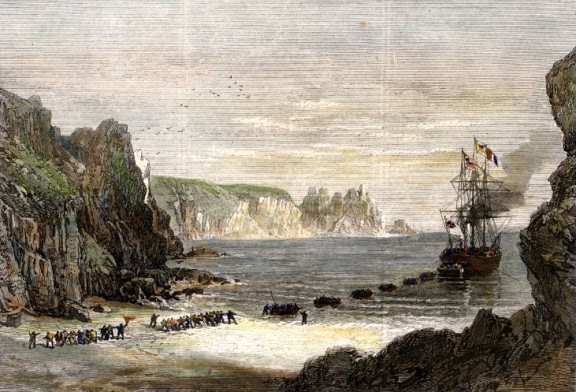 After Sir John Pender's death in 1896, the vast majority of his art collection was sold at auction by Messrs Christie, Manson & Woods in London. 66 paintings from his collection were held back by the Pender family, among which was the painting of Sir John Pender in the cable hut. Christie's records indicate that the other painting, of the CS Investigator, was purchased for ten guineas by the mysterious 'D.G.', but unfortunately Christie's cannot confirm who D.G. was. Since that sale 124 years ago, no record of the CS Investigator painting has ever been found, but it is almost certain that it was the basis for the engraving published to mark the cable landing in the Illustrated London News, on 25 June 1870, for whom Dudley was an artist correspondent.
The cable hut painting was retained by Sir John Pender's son, John Denison-Pender, then chairman of The Falmouth, Gibraltar and Malta Telegraph Company, but after his death in 1929 the contents of his private residence were sold at auction by Hampton & Sons, London. Lots 300 and 301 from that auction are catalogued as paintings by Robert Dudley, but since no images were included in the catalogue, it is unclear exactly what these paintings were. It is possible that Lot 300 was the painting of CS Investigator, if Denison-Pender somehow acquired it again, and it is also likely that Lot 300 included the cable hut painting.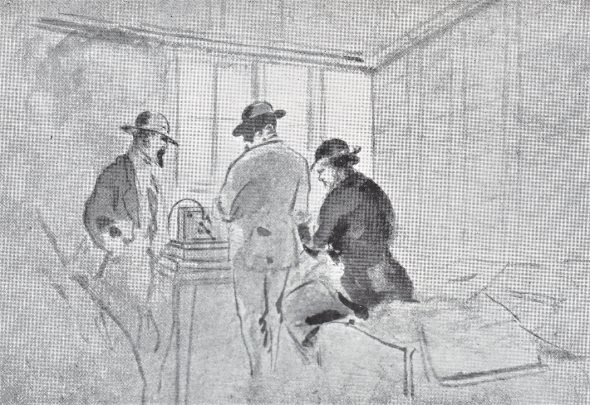 The Telegraph Museum Porthcurno are now keen to hear from anyone who can assist in locating these two important paintings by Robert Dudley, whose many other cable-related paintings and watercolours are included in the collections of the Metropolitan Museum of Art in New York, the Smithsonian Institution in Washington DC, and London's National Maritime Museum and the Science Museum, among others.

If you can assist in any way please contact Telegraph Museum Porthcurno Director Julia Twomlow, julia.twomlow@telegraphmuseum.org.