Ralph Freeman: Porthmeor Jazz
Alex Wade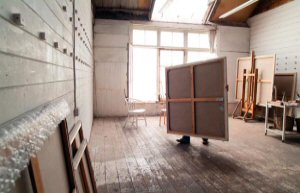 Artist's studios are always intriguing. They can be upside down, chaotic affairs, emblems of restraint and control, or even living spaces. A tour of St Ives' Porthmeor Studios, grade II listed and replete with history, would doubtless yield all manner of variations on the theme, but in one, at least, the ambience is of effortless cool.
Perhaps this is no surprise, given that the studio in question is that of Ralph Freeman, a man who is not only an artist of serious pedigree but also a fine jazz pianist. To step inside Freeman's first floor studio is to enter a world that recalls the West Coast cool school jazz of Miles Davis. It's orderly, and yet relaxed; calm, but not complacent; and most of all, as brimful of beauty as the view from the large French windows.
That view – of the Atlantic as it alternately implodes on Porthmeor Beach or caresses it – is one of the factors which have drawn artists to St Ives for centuries. But in London-born Freeman's case, his arrival was less a conscious decision and more in the nature of a happening. "For some time, I'd been coming to Cornwall to paint on a regular basis, with my wife Catherine," says Freeman. "We'd stay for a couple of months but then one winter we just stayed. It wasn't planned – it just happened like that."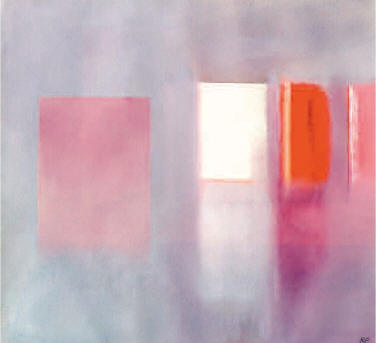 Freeman settled in Cornwall in 1985 after an eclectic early career. After studying art in London at St Martin's and Harrow Schools of Art between 1961 and 1965, he studied jazz and piano composition, playing professionally in a soul band called 'Green Onions' ("Yes, after the Booker T and MGs classic," chuckles Freeman) for two years until 1967. He then moved into design, working as an art director and designer for over a decade. "I spent a lot of time in Germany," he recalls, "with spells in Hamburg and Frankfurt. Much of my work then was corporate design work, but I also painted murals, worked on stage sets and designed film posters."
It was, as Freeman puts it, a phase of life in which he undertook "commissioned creative work". Often enough, artists suffer under the burden of commission, but Freeman points out that it was integral to the Renaissance and, moreover, that "commission is good. It teaches you to think outside the box. You have to dig deep, find yourself within the commission and then break its restrictions. That's the challenge."
During his years of working overseas, Freeman pursued painting for his own, entirely non-commissioned ends. But by the time he moved to Cornwall, he had had his first solo show – in 1983, at the Camden Arts Centre, London – and had made a conscious decision: to paint professionally. To fast forward a quarter century is to encounter an artist who has had a show at the Tate St Ives and who, since 1996, has occupied one of the much sought after Porthmeor Studios. Freeman's contemporary work is mature and yet still evolving, his predominantly abstract oeuvre suggesting more, in recent years, of light than the darker themes evident in his early shows.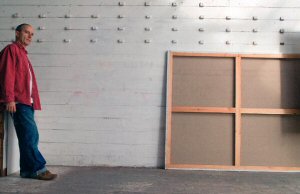 In his 1997 Tate show, 'Foundations and Fragments', for example, Freeman cast his considered, contemplative gaze to his family history. His parents escaped from Hitler's Germany between the Nuremburg racial laws of 1938 and the outbreak of World War Two, settling in Britain as "Refugees from Oppression". After his father's death in 1985 Freeman found among his parents' effects a range of official papers, whose strange blend of symbol – of the fractured lives of his forbears – and bureaucratic elegance he incorporated in a series of arresting collages.
A long-standing relationship with the New Millenium Gallery in St Ives has seen Freeman's abstraction develop so that now it has a rather more luminous, and certainly architectural, quality. In the work to be shown at the New Millennium in August, this is, in part, due to a long-standing affection for Italy: "I've spent a lot of time over the years painting in Italy," he says, "especially Umbria. I've always been drawn to Italian art and culture, especially the worlds of Tintoretto, Piero and Titian. My latest work taps into this but other things feed into it, such as recent trips to Cordoba and Seville. Like most painting, it's about colour, form, harmony, structure and space – and improvisation. It has a lot of the same qualities of jazz."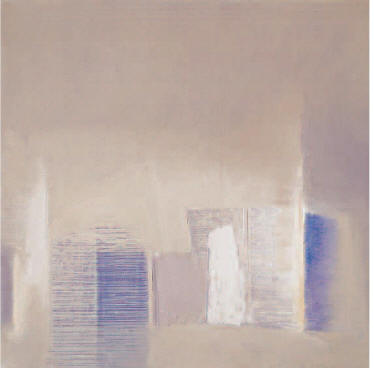 Jazz is dear to Freeman's heart. He founded the St Ives Jazz Club in 1998 with the aim of bringing "the best in live modern jazz to West Cornwall, every Tuesday night, in a congenial atmosphere." With over 500 weekly concerts to date and a short-listing, this year, for an All Party Parliamentary Jazz Award in the Jazz Venue of the Year category, Freeman can feel proud that he has fulfilled this ambition. Pride, though, is not Freeman's thing. "The short-listing is great news and recognition for the club, and for jazz in Cornwall," he says. "The club is now acknowledged as one of the best jazz venues in the UK but this is a testament to all the hard work by unpaid volunteers that's gone into it since its inception."
If hard work and dedication are central to Freeman's success, so too is a willingness to make mistakes. "Only when you don't know what you're doing, or when you no longer know what you're doing, might you create good work," he says, adding that "Painting is a management of errors. As soon as you make a mistake, you're yourself."
Indeed, Freeman resists labels such as 'abstract art'. "I'm not sure it exists, really. All good painting is abstract, in the sense that the division of space is important. A Tintoretto painting has formal abstract concerns. One of the criteria for whether a painting stands the test of time is its construction and balance, not the ease with which it can be categorised as figurative, expressionist, abstract or whatever. Think of the Italian word desigeno – it means 'to design or to draw' – there's no differentiation."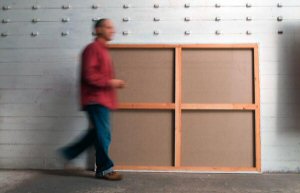 A cultured and erudite man, Freeman can pepper his conversation with learned quotes at will. A favourite is Albert Einstein's "Everything should be as simple as possible, but no simpler", while the man who can recall moving to Cornwall while "it was still an outpost, somewhere with the remnants of a revolution in art".
Fortunately, Freeman is one of those artists, like the greatest jazz pianists, whose understanding of the intellectual processes underlying his work is effortlessly, and willingly, left behind when he comes to play the piano or paint. For as he says: "Art is about tapping into your emotional core. The challenge of painting is, for that reason, almost always an unconscious one, to reflect, without knowing how, something of the age in which we live."
Freeman shifts his gaze from an immaculate, as yet untitled canvas in his calm and cool studio to the sand and sea beyond its windows. He pauses, and says: "Painting will go on forever. It's about the hand, the eye, and the heart."
Ralph Freeman shows at The New Millenium, St Ives, from 23 August. See www.newmilleniumgallery.co.uk
Article first appeared in Cornwall Today, August 2008