Richard Ballinger at Cornwall Contemporary
Jesse Leroy Smith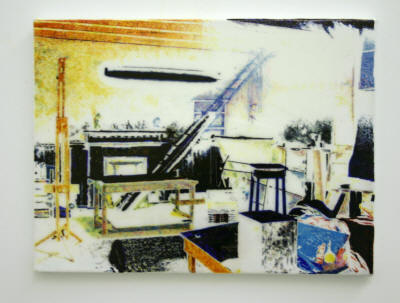 I first saw Richard's work in the remote and unique gallery at Morvah. I had recently moved to Penzance, having gladly swapped the themed bars and trendy gallery scenes of London for a more spontaneous and motley lifestyle. Richard's private view was one of the first I had experienced here. His hypnotic constructions with concentric circles of poured enamel paint contrasted, but made sense with the barren moors and sky outside. Enjoying the company that day I knew this was going to be a good place to live. And from then I associated his work with my new found freedom.
I, like many painters, enjoy his works because they are not only intriguing ideas but also sophisticated articulations in colour, tone, texture and composition. A painter should have an intimate knowledge of their materials (pigments, surfaces, binders etc) and Richard will explore and exploit the potential of, say a coloured pencil, more than any other artist I know. He can also draw upon his encyclopaedic knowledge and talent for salvaging the discarded. His stylish and beguiling set up at car boot sales, curated from charity shops and local tips are proof of that.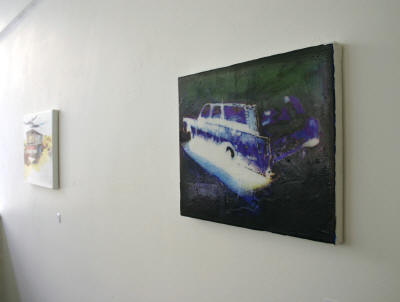 His materials always have a personal meaning for him, but they also resonate with the fabric of our own lives. The familiar objects that shaped our childhoods are reinterpreted with a similar obsessive inventiveness as those of children. The stash of lolly sticks sharpened to spikes, the mazes of dominoes and Arachne trails of cassette tapes we unravelled to school and the pipette blotted specimens we made in science class. In such things he has explored the order and chaos in repetition and the wilful need of the imagination to subvert our environment.
Never tempted to repeat winning processes he has developed his own original path back into painting. But this is a kind of anti-painting free of gesture, colour mixing and texture that perfectly replicates the intense processed images. However they are not mechanical but intricately constructed with permanent markers, preferably nibs that are degraded and so give fractured marks. The surface is synthetic and bland as PVA but like damaged celluloid the sinister shadows seem burnt into the image. The light emanating from the cars is like the residue heat of vacated passengers.
Absence works wonders in painting and these images evoke places we shouldn't be. Lidos in winter, deserted hospital lobbies, a vague redundant launch pad and waste grounds for cars abandoned and burnt out.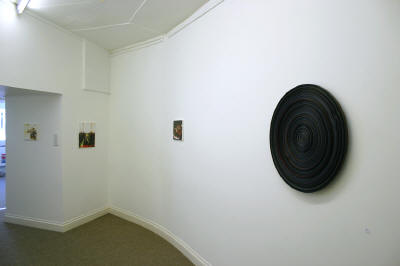 It seems the subjects are recalled in Technicolor as if to help memorise them. The cars are like replicas, their parts crudely welded. He is not concerned with describing them as real things, but warping them with the acute nostalgia we had for our favourite toy cars. I remember the blue stripes and wobbly wheels of my own with overwhelming clarity. But it seems to me, in our memory an impression or a portrait is never as satisfying as a distortion.
This is maybe why Richards work taps into the mysteries of how we process and assimilate visual stimuli and see the world through our own eyes.
Richard Ballinger was at Cornwall Contemporary 4th-22nd July 2008. Thanks to Sarah Brittain