Hidden Cornwall
Richard Nott at New Millenium Gallery, St Ives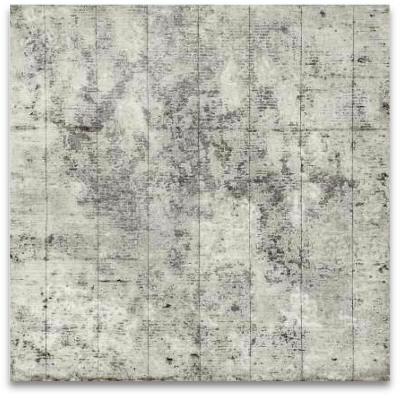 Richard Nott is a sculptural painter, referring to his work as 'objects' rather than paintings. Although often regarded as an urban painter, Richard's rigorous work, displayed in his second solo exhibition at the New Millennium Gallery, superimposes raw natural elements with grimy industrial imagery. Nevertheless, his paintings reflect Alfred Tennyson's 'nature, red in tooth and claw,' with its 'scarped cliffs and quarried stone', except in Richard's work his landscape is Cornwall's harsh granite moors and dark cliffs, where for centuries tin was gouged out from below its surface.
Richard shuts himself away to work as he believes, "In order to be a good artist, you must have motivation. I work sixteen or seventeen hour days, until I almost become unable to see my work." But there are no oils or acrylic paints in Richard's studio; he works with industrial materials, bitumen, emulsions and varnishes, building them up layer upon layer, often over finely drawn grids or lines, into a textural palimpsest, before painstakingly scraping or gouging them back to reveal what lies underneath.
Although Richard has been described as an urban painter who may irritate many by seeming to ignore the beauty which lies outside his studio window, there are elements in his work which mirror West Penwith's mining heritage and its geology where extreme weather and fierce seas take their toll on its granite strewn landscape. There could also be subliminal references to the fishing industry too, with its tar-caulked and blackened boats, the grids mirroring straining nets. Richard burns some pieces, leaving sections of charred and scarred remains to stand proud and defiant in their survival above the surface, again this could be seen as an unconscious reference to man's destruction of the landscape to make way for his industries.
Yet his work does contain meditative element. Circles and the use of light greys and whites soften many pieces, elsewhere shapes emerge and expose his works' tender under-bellies giving them an unexpected fragility and vulnerability. Richard believes his work has no beginnings and no ends, no jaunty angles. In fact, he refers to his work before it is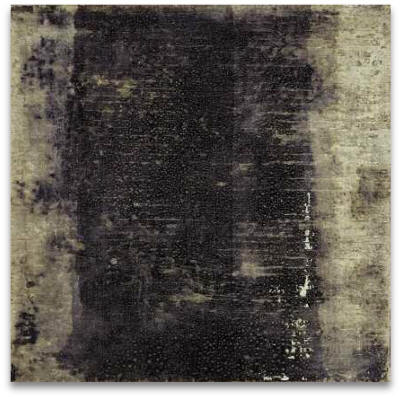 finished as a 'disordered quagmire' but then he says, "I impose myself on them, although I do like the marks to appear almost as if they were left over from another job, which distances me from it." A continual progression can be seen in his work, each work reveals a discovery which leads to another work.
David Falconer, owner of the New Millennium, says, "I feel a lot of empathy with his work. I always felt contemporary non-figurative work reflects much that is in the modern human condition." Richard's 'objects' demand close scrutiny as longer contemplation brings their strong architectural and archaeological qualities to the surface and reveals their – and Cornwall's - hidden depths.
Richard Nott's work is being exhibited at the New Millennium Gallery, Street-an-Pol, St Ives, from Sat 7 June to Tues 8 July 2008.
words: Peta-Jane Field
Article appears courtesy of 'Inside Cornwall', where it was first published in June, 2008