Lost and Found: discovering the shorter writings of Ithell Colquhoun
Richard Shillitoe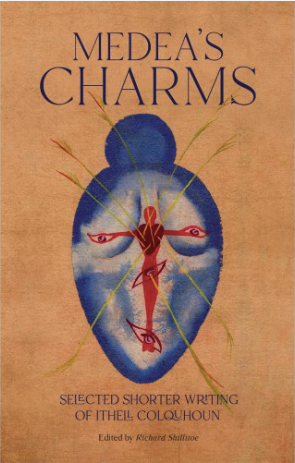 Ithell Colquhoun was not one of those artists who kept an inventory of her paintings. Once they were completed and sold, they were gone, their only trace being a title in an exhibition catalogue plus, very occasionally, a photograph. Gifts and private sales didn't register anywhere. The recent acquisition by the Tate of her studio contents with all the thousands of studies and drawings, once fully catalogued, will allow a glimpse of all those works which have – temporarily one hopes - disappeared from view.
Trying to keep track of her publications is even harder. If only she had kept copies or made a list! Tracing poems, short stories or essays for possible inclusion in 'Medea's Charms', an anthology of Colquhoun's shorter writing that Peter Owen Publishers will release in September 2019 has been a nightmare.
When I started researching her written work I knew about the full-length books and about a dozen or so poems and prose pieces. By the time Mark Morrisson and I published what we thought was a complete bibliography in 2014, ('I Saw Water', Penn State University Press) the number had soared to over 125. Since then, more than a dozen more have come to light. Surely, everything has been found by now?
I have spent more time than is healthy under the artificial lights of library stacks and archive reading rooms. As you might expect, chance (or as Colquhoun would have described it, objective hazard) has played an important part in many discoveries.
From an internet bookseller I bought an issue of Athene magazine which I knew contained a major essay on automatic painting techniques. When it arrived, it was a completely different issue, but one which contained an essay whose existence I had not even suspected. I found a reference to an article in The Builder magazine. Knowing she had been a freemason, I searched fruitlessly through masonic journals of the period. The mystery was solved when I discovered that it was a trade journal of the building industry and she had written a series of five
highly technical articles on traditional fresco technique. But a bigger mystery remains: Colquhoun herself had no first-hand experience of painting into wet plaster and the articles were written at the time when her own practice was to use automatic techniques. With their reliance upon chance and spontaneity, these are the antithesis of the highly-structured processes of fresco.
In Medea's Charms, the final selection includes published pieces and some that have not been seen before. The book is in three sections: poetry, imaginative prose and essays. The first section charts Colquhoun's poetic development from the symbolist-influenced poems of her youth and early adulthood, surrealist experiments with collaborative poems, 'found' poems and ends with the magical incantations of her late maturity. Some of the short stories show the influence of surrealism and the short-lived New Apocalypse, but, in the main, they are on occult themes. They challenge some aspect of what is normally regarded as reality. In Colquhoun's world, the laws or ordinary existence do not apply. The essays demonstrate the diversity of her thought and interests. They cover art, occultism, book reviews and some autobiographical pieces.
Less than a week after the corrected proofs had gone to the printer, I received an email from Cyprus:
did I know of the piece she had written for The Cyprus Review? The anthology has not yet appeared,
and already it needs updating.
Readers who will be in London on Tuesday 17th September are welcome to attend the book launch. It is combined with the preview to an exhibition of Colquhoun's paintings at Viktor Wynd's Cabinet of Curiosities. Sign up for free entry here: http://www.thelasttuesdaysociety.org/listings/event/ithell-colquhoun/#.XVk8OOhKg2x
Those who will be in London on November 12th may like to attend a Lecture on Colquhoun that I shall be giving at the Gallery. Tickets can be obtained here: http://www.thelasttuesdaysociety.org/listings/event/richard-shillitoe-ithell-colquhoun/#.XVKMQuhKg2w
Richard Shillitoe is author of Ithell Colquhoun: Magician Born of Nature, and webmaster of ithellcolquhoun.co.uk
24.8.19