Roger Taylor's Truro
Rupert White


Roger Taylor visited Truro during the summer of 2011 to unveil 'The Drummer' by Tim Shaw. Whilst Shaw's sculpture bears little resemblance to the Queen drummer, its position outside the Hall for Cornwall is uncanny. This is because it has ended up occupying a location that was central to Roger Taylor's teenage world.

Living with his sister and parents in a bungalow in Park View near Truro High School, in the sixties Roger would walk across Lemon Quay - or the Piazza as its now known - on his way to Truro School where he was a pupil for seven years. Later he would be accompanied by the likes of Freddie Mercury and Brian May who visited Truro with him many times: most famously in 1970 when Freddie sang with Brian and Roger in public for the first time, at what is recognised as Queen's first concert. The gig was a charity event held at Truro City Hall - now the Hall for Cornwall - organised by Roger's mother on behalf of the Red Cross. Then comprising a longer, narrower auditorium with red velvet seats and a high traditional stage at one end, Queen played at the hall on three occasions in 1970 and 1971.

Roger Taylor's first performance there was as a 14 year old with his first band 'Beat Unlimited', at an event compered by the late David Penhaligon MP in 1964. Immediately following this, he was head-hunted by some older boys from Truro School and asked to become the drummer for The Reaction: a band that went on to play all over Cornwall between 1965 and 1968. Whilst with The Reaction Roger learnt his craft. He also played the length and breadth of the Duchy in marquees, on beaches, on boats, in village halls, and in dance halls like The Flamingo or Blue Lagoon, often as support to more famous bands like Gerry And The Pacemakers or The Kinks.

In fact the City Hall in Truro proved significant in the history of lots of Cornish groups because, between 1960 and 1971, it was the venue for the keenly contested Rock and Rhythm Championship. For Cornish teenagers the competitions were the highlight of the year, and the Hall would be packed with at least a thousand screaming kids. The Reaction took part in 1965 - their first gig - and in 1966 they won it. They also made appearances in 1967 and 1968.

Roger's all-consuming passion for performing was always apparent to those that knew him, but away from his drums he would hang out with his friends in the coffeeshops of Truro, particularly The Riverside, which is now the Guild of Ten. Next to The Riverside was The WI Hall - now The Office - which was one of the first venues in Cornwall to put on Rock 'n' Roll dances in the late 50's. Roger attended ballroom dancing lessons there in 1963. Nearby is, of course, the Cathedral where Roger was a choirboy for six months at the beginning of 1960. At the time he attended the Cathedral School which was in an adjacent building.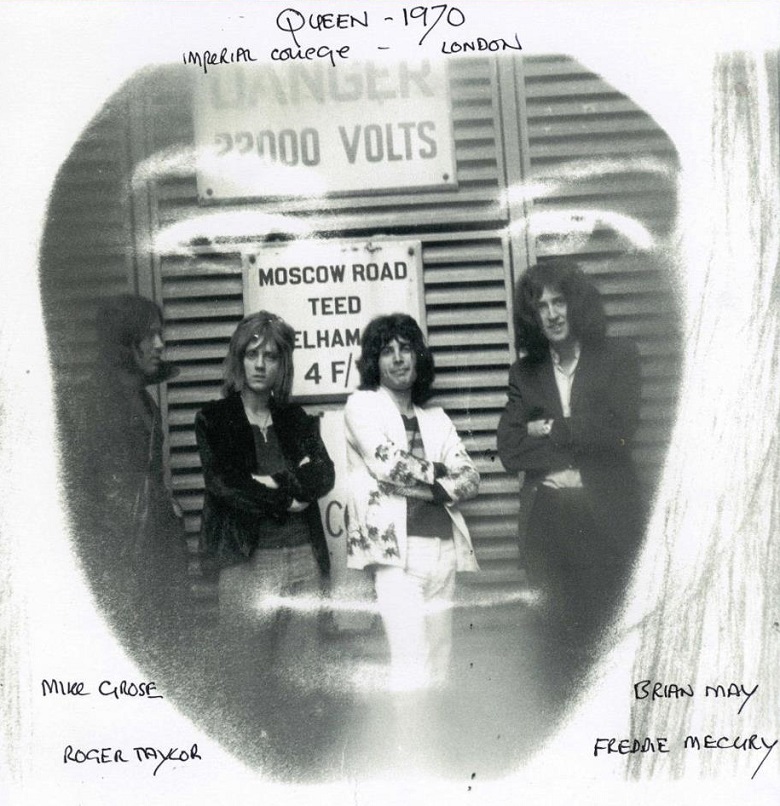 At the bottom of Pydar Street was another important location: Ford's Record shop - now WHSmith's - where Roger bought most of his records, whilst further up the hill, in a two-storey breezeblock building that was once an armoury, was a club called PJ's. This location - now New Look - was particularly important to the early history of Queen, because it was somewhere that Smile, the band that preceded Queen, played 14 times. During 1969 guitarist Brian May was involved with postgraduate studies at Imperial College and Roger with dental studies at The Royal London, but they would travel to Truro for long weekends in a van with friends. Though not accurately reflected in the film 'Bohemian Rhapsody', Freddie Mercury was, for at least a year, one of the entourage of 'Smile' supporters that would regularly come down in the van with them.
PJ's is also significant, not only because a gig there was the first gig by Queen to be advertised in the print media, but because the co-manager of PJ's - Mike Grose - became Queen's first bass player (pictured above with coat collar up).

As well as The City Hall and PJ's in Truro, whilst staying in a cottage in Devoran in 1971, Queen are also known to have played at The Garden (Penzance), Tregye Country Club (twice), Hayle Rugby Club (twice), Wadebridge Town Hall, Culdrose and The Driftwood in St Agnes. One of the Tregye gigs was Queens' first appearance at a festival.

PJ's never had a drinks license, and so the members of Smile and Queen tended to drink in various of the pubs in Truro. The pub that was most regularly patronised by Roger and his friends was The Navy Inn on Fairmantle Street which was also where Roger's girlfriend from Truro sang with her group The Jayfolk. The Navy Arms was demolished in the 80's. Indeed many of the buildings associated with Roger's childhood and the early years of Queen are no longer in existence or have been changed beyond recognition. But, now approaching its 50th Anniversary, Queen's music remains as popular as ever.



A version of this article was originally published in 'Cornwall Today' in 2011. Rupert White is author of 'Queen in Cornwall'. For more information please visit Queen in Cornwall facebook page.