Kitsch or Culture? An examination of the landscape painting phenomena in South West England
Simon Bayliss
In seaside towns across the peninsula, from Falmouth and Padstow to Beer and Bridport, an abundance of landscape paintings strive for the picturesque. Commercial galleries promote artists whose paintings echo the local landscape and coast. Typically they emit a joyful or sublime ambi
e
nce, endeavouring to reflect an emotional response to natural surroundings. However much of the work is idealistic and derivative; far from the forefront of progressive art. Should this phenomenon be celebrated as an important part of our heritage, or dismissed as popular by-product of a former culture?
In the fine art market a distinction is made between intellectually-challenging new art forms, and identifiably provincial art made through more traditional modes. Highbrow work which contributes to current debate within an art historical context is described as 'critically engaged', yet currently few commercial galleries in the South West promote this field. Instead, the sun-drenched seaside scenes and abstracted landscape paintings which fill the region's profit
-
making art venues are an easily digestible and typically more affordable form of consumer culture, and as such belong to the 'domestic market', in which tourism is key proponent.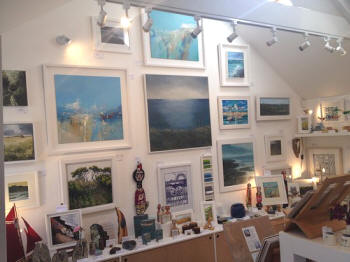 When marketing artists' work, galleries often use phrases such as 'captures the essence of locations' or 'reveals a profound connection with the natural environment'. Abstracted landscapes such as those by prominent artists Dorset-based Boo Mallinson and Cornwall-based Richard Cook are upheld as being rooted in emotive encounters with location, derived from the modernist idea that artworks should mimic primitive realities. This seems to spur endless pictures under the interpretation that in order to respond to nature, one has to escape entirely from human impact. Locally specific paintings often shy away from depicting human infrastructure, and instead favour a sense of elemental nature and uninterrupted beauty. Modern encounters in the landscape with wind turbines, industrial estates, caravan parks and busy roads, rarely appear. If people or their products are featured, they are often represented by overtly romanticised nostalgia for traditional industry, architecture and middleclass leisure activities. Historic fishing vessels are a favoured subject of countless traditionalists such as John Hammond; a leading light amongst leisure painters.
Today, there are countless cheesy painters mass-producing work for the tackiest tourist galleries. A weighted interest in hedonistic aesthetics and sales is often favoured over engaging in a wider artistic context. These provincial practices stem from the culture of past eras, yet generations of regurgitation and commercial
-
isation have diluted ideas and spawned a plethora of kitsch. Historically, the importance of British landscape painting was the enquiry into the
genius loci (spirit of place). When artists such as Stanhope Forbes and Harold Harvey first arrived in Cornwall in the 1880
'
s, it was the working landscape, industry and indigenous activities that occurred along its shores which held their fascination. Artists described local scenes accurately; fishermen dredging for oysters, the china clay pits of Penwith, children racing crabs on the beach, and so on. The St Ives modernists, such as Peter Lanyon, Ben Nicolson and Christopher Wood went on to combine this concept of the genius loci with the aesthetics of the European avant-garde, the American abstract-expressionists, and untrained local artists such as Alfred Wallis. Consequently they produced work which was local in subject matter, yet internationally relevant. The legacy of these pioneers has been profoundly influential, yet current reflections on location amongst many painters in the region, have become insipid and unrealistic, tending to portray an imaginary and idyllic old-fashioned world, remote from social reality.
Critically-engaged art tends to reject the modernist tropes which continue to appear in so-called domestic work. The notion of artists working collectively towards the same principals and goals, belongs to the epoch of the 20th century
a
vant-gard
e
. A romantic search for an authentic alternative reality, made famous by Gaug
u
in's search for the 'prim
i
tive' in Tahiti is a quintessentially modernist refrain, made irrelevant in our multicultural age. Furthermore the optimistic pursuit of a collective spiritual connectedness with the natural environment is now outmoded by the recognition that human experience is relative to individuals. Sentimentalism in art is therefore obsolete; sunsets and fishing harbours are hackneyed motifs. The notion that artists should be attracted to the South West for its light, pastoral vistas and rugged coastline - where land, sea and sky meet - is now a cliché.
Or is it? The fact that artists are still choosing to make work in response to a particular place, and upholding locally-significant artistic principles, could be perceived as a resistance to the depersonalising and homogenising tendencies of globalisation. Perhaps landscape painters in the region should be celebrated for reasserting a sense of the singularity of lived experience.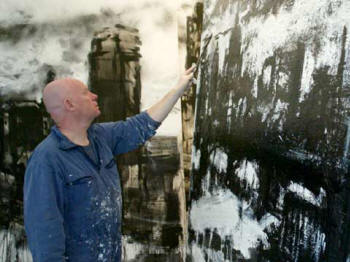 The extent to which a work of art belongs to genuine culture is subjective, of course. Although the landscape painting phenomenon in the South West does little to feed contemporary trends in art, the regional scene could be considered a mature cultural tradition, rich with generations of discovery and honed self-awareness. Artists have been settling in the region since the end of the 19th century, with a corresponding increase in appetite amongst tourists for images of rural life. Those who are maintaining excellence in the field may do so while hailing to modernist tropes, many uphold a longstanding tradition and some have made an impact beyond the domestic market. John Virtue
(pictured right)
, for example, known for his expressive monochrome paintings of Dartmoor and the Exe Estuary was artist in residence at the National Gallery. David Inshaw, who has frequently painted the Dorset coast, has also contributed to the history of painting; continuing a lineage of artists, from Samuel Palmer to Paul Nash, embracing a visionary approach to landscape.
The rural South West is undeniably beautiful, even inspiring, and magnificent vistas are easily accessible to artists. It is therefore unsurprising that the land and sea has been the most popular source of subject matter for generations. Yet many of today's depictions of the region are backward looking and inadvertently dishonest. These paintings avoid the portrayal of individual experience, and instead promote a watered-down and conservative fantasy. Consumers are as responsible for this trend as the producers themselves. The market demands popular affable art forms, which undoubtedly entice practitioners to succumb to making compromises. Many buyers naturally prefer pictures which evoke pleasant memories of a sunny holiday, backed by reassuring confirmation of artistic talent. If new works demonstrate characteristics of the South West's artistic heritage, consumers may feel they are buying into this history. Professional intentions underpinning the phenomenon of landscape painting in the South West appear to waver between catering to popular tastes and attempting to continue a regional tradition. But if artists and consumers continue to plumb the aesthetics and principles of clichéd historical sources while adhering to insipid conformist views of local reality, this potentially important provincial culture may descend further into the realms of kitsch.
28/10/17. Published originally in October 2013, Nom de Strip, Issue 5.
Simon Bayliss is an artist based in West Cornwall. http://www.simon-bayliss.com