Trevor Bell Obituary
Joseph Clarke
The elemental abstract painter Trevor Bell, renowned for his large scale shaped canvases, has died aged 87.
Bell was as an important figure within the St Ives post war modernist movement, but he also spent a significant part of his career in the US, where he became head of art at Tallahassee State University, a role that he approached with zeal alongside the continued production of his expansive paintings and public artworks for which he became known.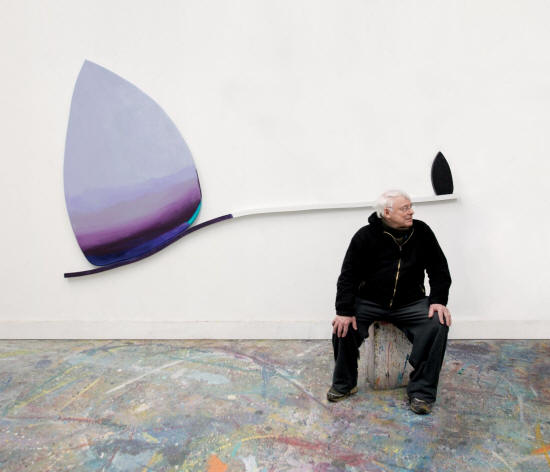 In 2007 Tate St Ives presented 'Beyond Materiality', a solo exhibition of then contemporary work shown alongside key works drawn from five decades of painting. The exhibition was a celebration of mutable energy, elemental forces and quest for contemplative stillness typical of Bell's oeuvre. Chris Stephens (then head of displays at Tate Britain) said "Bell's art is, in the loosest sense, spiritual. It evokes, or reflects, an idea of some abstract force that exceeds material reality... The dangers and losses of the modern world would be compensated through the rediscovery of natural order and process, and a renewed sense of individual identity would be established through the exploration of forces larger than ourselves. Bell's work, one might say, has always derived in one way or another from this new sublime."
Bell was born in Leeds in 1930. His father, Harold, was a sales rep and his mother, Elizabeth, a teacher. After leaving Roundhay school he went to Leeds College of Art on a scholarship from 1947 to 1952. It was there that he met Dee Hobdell, whom he later married in 1952, they had a son named Gregory together.
In 1955 he was encouraged by a friend and peer, Terry Frost, to travel to St Ives where he would find a place that he could focus on his painting amongst the town's expanding artistic community. There he joined Ben Nicholson, Peter Lanyon, Barbara Hepworth and Patrick Heron amongst others. Bell's career was quick to climb. In the catalogue for his first solo exhibition, at Waddington Gallery, London in 1958, Patrick Heron described Bell as "The best non-figurative painter under 30". The following year Bell was awarded the honour of the prize for painting at the Paris Biennale. During this year Bell visited the Museum of the Man which was to have a profound effect on him. Bell says of this encounter "To see the power of the masks and the actual presence of things, it made me realise that I wanted the work to have an equivalent that would be 'it' rather than the 'illusion of it', to be the 'God' rather than an 'illusion of a God'". Bell also described an early meeting with Zen monk and teacher Snhunryu Suzuki at the house of Bernard Leach as particularly pivotal. Bell credits Suzuki with describing what he was "feeling" he had to do in painting. These lessons remained with him all his life.
Bell stayed in St. Ives for five years constantly developing his technique and painting language, but in 1960 left St Ives and returned to Leeds College of Art as a Gregory Fellow (the youngest to date). It was here that he began to develop his shaped works which began to set him apart from other abstract artists of his generation. John Elderfield (head curator of MOMA New York) said "Bell was making paintings whose interior shapes referred to landscape - but to the forces as much as to the forms of landscape; and it was this concern for what is best described as dynamics which led him naturally into an investigation of the mechanisms of painting itself."
During the 1960's Bell showed work in major exhibitions in the UK and USA and during this time his work was first bought for the Tate collection. A less settled period followed the Gregory fellowship, which also saw the end of his first marriage to Dee. During this chapter he taught in a variety of art schools, and then became head of painting at Winchester School of Art from 1965 to 1970, where he married Eirian Edwards and they had a son named Sion.
Bell's idiosyncratic work continued to develop. In 1970, Patrick Heron stated: "One of the most important painters working anywhere today is Trevor Bell... As far as I am concerned [Bell's paintings] are far and away the most original and successful shaped canvas paintings - which remain paintings - to have been produced anywhere. But the task of justifying this judgment and of explaining, even to myself, the reasons for their very great power and beauty is daunting in the extreme, because so much about their construction, their literal appearance and colour, is unique and therefore outside existing terms of formal comparison and analysis."
In 1972, while on a visit to Florida State University, Bell witnessed at first hand the night-time launch of the Apollo 17 space mission at Cape Canaveral. It was a spectacle that captured and inspired Bell, and became a captivating source for a number of works which followed. These works were included in his solo exhibition at London's Whitechapel Gallery in 1973, having just taken part in a major exhibition at the Corcoran Gallery in Washington DC.
In 1975 Bell's marriage to Eirian came to an end, and Bell located to the U.S. in 1976 after being appointed by Florida State University to become Professor for Master painting. He later married the artist Harriet Corder. Bell viewed his time in Tallahassee fondly, here with the provision of a warehouse-sized studio and time to really develop his painting, he continued to produce ambitious works. Alongside gallery exhibitions, he worked on public art commissions including 'Florida Queen' for the passenger terminal at Orlando airport made in 1981.
Bell was included in the 1983 Tate Gallery 'St Ives 1939-64' exhibition and in the inaugural Tate St Ives exhibition when it opened in 1993. When he retired from Florida State University in 1996 he returned to Cornwall which had remained a spiritual home. He and Harriet moved to an isolated farmhouse in Penwith, and the barns were converted in to large scale studios for them to continue to make work with notable ambition. The couple travelled widely with memorable trips to the Zanskar river valley in the Ladakh region of India, where its raw beauty and Buddhist monasteries and shrines became a continued source of inspiration for major works.
In later years Bell was made an honorary academician of the Royal West of England Academy, an honorary fellow of Falmouth University, and Professor Emeritus as Florida State in recognition of his achievements. Support in the US continued with Florida State University ensuring that Bell's key American works remained prominent. A monograph published by Sanson & Company in 2009 written by Elizabeth Knowles and Chris Stephens communicated the huge breadth of Bell's work on both sides of the Atlantic. 14 works were acquired by The Tate in 2014 and an acquisition was made in 2015 by the Perez Art Museum in Florida the most recent major acquisitions in a roster that includes a multitude of important public collections here and abroad.
Bell was often frustrated by those who wanted to place him in a historical pigeon hole and so continued to push his process up to the end of his life defying the physical limitations of age. He would often reply to talk of his early works by responding "Oh that's a pity, I don't make those anymore". For Trevor his most important work was always to come. His final body of work 'Beyond the Edge' made at the age of 85 was a tour-de-force of purity, balance and the sublime - which encapsulated his philosophical aims for 'nothing extra' to intrude in the work. Bell would sum up his ability to encapsulate and distil natures physical and metaphysical complexity with a graceful rawness and often profound simplicity with typical humility by stating that "He was just in the middle".
Most recently Bell collaborated with choreographer Rodger Belman in the States in an exhibition incorporating painting and dance and in the final months of his life he was focussing on a future public solo exhibition 'Trans-Form', a celebration of key recent and older works, their energies transformed into sound and contemporary dance.
He is survived by his beloved wife Harriet, and by his sons Gregory and Sion.
'Art does not make social statements, but contributes to society on a deeper, less tangible level. I feel that what we should get from art is a sense of wonder, of something beyond ourselves, that celebrates our 'being' here.'