Roger Thorp: In Fields of Grace
Dr. Virginia Button

In 1668 Swiss medical student Johannes Hofer combined the Greek words nostos (homecoming) and alga (pain) to create the term 'nostalgia' to describe the obsessive longing experienced by patients living away from home, causing them physical illness, even death. By the 19th century, romanticism had repurposed nostalgia to describe 'an emotional state characterised by a wistful reflection for the past'.[i] Artist Roger Thorp's multi-media installations are unapologetically infused with a nostalgic romanticism. His work is informed by a deeply-felt belief that as a society, and as individuals, we need to come home, to remember a less rapacious and frenetic way of living, more connected on an emotional level to each other, and to nature. But if his work is a protest, it's an optimistic and tender one.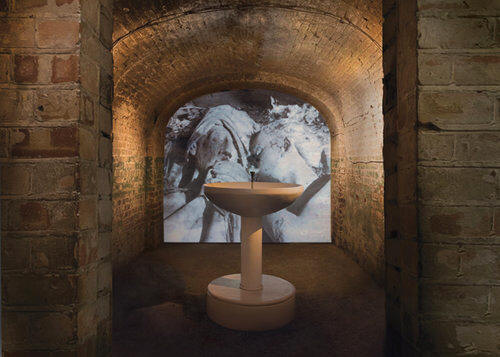 Thorp was born in Chapel-en-le-Frith, a village in the Derbyshire Peak District. When he was 14 years old a series of films on BBC2 introduced him to European cinema. He was immed-iately hooked on the medium of film, which opened up a world of hitherto unknown and endless possibility, allowing him to 'discover different ideas and different places'.[ii] Such radical film-makers of the European new wave as François Truffaut, Jean-Luc Godard, Alain Resnais, Federico Fellini and Werner Herzog introduced him to the idea of exploring the 'poetic of life', which has continued to inform his outlook. Interest in the autobiog-raphical, in memory, the appreciation of beauty and poetic use of word and image to evoke emotional responses all feature in his work.

After studying film and photography, Thorp quickly established a successful career in the film industry, working as producer and PM on music videos for U2, The Clash and Iggy Pop, and programmes for NGOs such as WWF, ILO, Red Cross and UNEP. Alongside commercial work he also made both feature and art-house films, co-founding the art-house online gallery 'Littlesongfilms' in 2004. In 2010 he was invited by the artist and curator Jesse Leroy Smith to participate in Art75, a group show at the art deco Lido in Penzance, Cornwall, which prompted his commitment to making art. Based in Cornwall, he has subsequently developed a body of work in which film is often combined with other media to create immersive installations that set out to speak directly to the heart rather than the head.

Thorp's work usually develops from chance discoveries or a particular emotion triggered by an event or experience. He frequently mines his own photographic and film archive to assemble and create new works. Sometimes his story-telling will demand a specific shot, such as the image of a road cutting through a landscape under a starry sky featured in Dwell 1.85:1 (2013). Standing in front of this wall-sized projection the viewer's eye follows the white markings on the tarmac towards a distant vanishing point. The image of the road slowly dissolves, giving way to a panoramic mountain landscape. Thorp recorded people's responses to being alone in a field at night, which revealed the night sky to be a constant source of comfort, and used their responses as a soundtrack for the work. Figures superimposed on to the screen turn out to be images of viewers in the room, who in becoming part of the spectacle of film share collectively in the wonder of nature.

The lyrics of culturally influential 'rock poets' of the second half of the 20th century, such as Neil Young, The Velvet Underground, Patti Smith and Bob Dylan, to name a few, have also strongly influenced his work, which often includes his own lyric writing. Poetry is frequently integrated into his films, either embedded as text on screen or as an accompanying soundtrack.

In Fields of Grace (2018) presents wall-sized, grainy black and white photographs that fade in and out to reveal images retrieved from a transformative journey made by the artist in 1982. Hitching from Paris to Tuscany Thorp took photographs and recordings of sites and objects discovered by chance, things he found beautiful or charged with meaning – a church bell chiming, a poster of the planets found on the floor in Rome. These marked his rite of passage, but seen now they suggest nostalgia for a way of life in decline, about to disappear. Following the sequence of images, a lyrical poem 'In Fields of Grace' scrolls down the screen, evoking these sentiments. Acting as a visual and aural anchor positioned in front of the projection is a richly symbolic white fountain, its gently cascading water providing a constant and soothing backdrop, connecting across cultures to ancient times, to renewal and the essence of life.

In another recent installation (2018), Blue in Amber, Thorp's romantic yearning for nature – and a life in tune with it – is combined with a sense of threat. Inspired in part by the recent discovery of a hatchling preserved in one hundred million year-old amber, this immersive installation presents a floating, back-projected image of a sapphire-like globe spinning against a backdrop of flowing water. The room is suffused with golden light, partly emanating from a glowing, wall-mounted disc. Eventually, a dreamy sequence of images replaces the globe – an olive tree caressed by the wind, a script by Chopin, a dancer on pointe – things that for the artist suggest the beauty and fragility of the earth and of human life. Thorp believes in the power of images. His romantic, perhaps naïve vision deliberately opposes the 'visual pollution' he experiences in the contemporary world, fuelled by inexorable, unsustainable growth, feeding insatiable and destructive competition and self-delusional desires: 'Images are all around us. We swallow images. I try to create a calm and open visual environment'.

As a painter might build layers of paint on canvas he often builds layers into his films to suggest a sense of time unfolding, of revelation. His use of layering was explored in a different medium when he asked painter Jesse Leroy Smith to collaborate on a long term project. Thorp wanted to create a painterly animation melding religious iconography. Whilst Smith painted, Thorp – using stop frame animation and a lengthy editing process – created the film. The resulting work Bardo 7.08 (2014) is presented as a triptych in which the mysterious, almost imperceptible transformation of a woman's face suggests a continuous metamorphosis between Buddhist and Christian iconography, and between life and death. Though brought up as a Methodist since adolescence Thorp has remained agnostic and sceptical of established religion. But he has faith in humanity: in 2015 he founded 'The Olive Network' a web platform designed to foster tolerance and understanding between diverse global communities by focusing on the positive long-term contributions of charity, the arts and humanities.

Drawing on his experience of writing film dramas, Thorp focuses on 'taking the essence of film drama and making an art work'. European cinema remains a key touchstone. His type of nostalgic romanticism clearly resonates for example, with Wim Wenders' romantic fantasy 'Wings of Desire' (1987) in which two angels hover over East and West Berlin, attempting to comfort troubled humans. According to critic Andre Müller, for Wenders the angel could be seen to embody film itself, and the purpose of film could be to help others open their eyes to possibilities, a sentiment that seems shared by Roger Thorp.[iii]


[i] Adrienne Matei (22 October 2017), https://qz.com/1108120/nostalgia's-unexpected-etymology-explains-why-it-can-feel-so-painful/

[ii] Unless otherwise indicated all quotes are from a conversation with the artist, 29 August 2018.

[iii] Müller, Andre (19 October 1987). "Das Kino könnte der Engel sein". Der Spiegel, https://en.wikipedia.org/wiki/Wings_of_Desire


Dr Virginia Button is a writer and former senior Tate Gallery curator at Tate Modern 1991-2001 and curated the Turner Prize from 1993-1998. Her published books on artists include Christopher Wood, Ben Nicholson and most recently Lucien Freud.
Roger Thorp's 'In Fields of Grace' was The Crypt Gallery at St Pancras Church, Euston Rd, Kings Cross, London NW1 4-9 October 2018