A boundless manifesto comes to Tate St Ives
Peta-Jane Field on Heimo Zobernig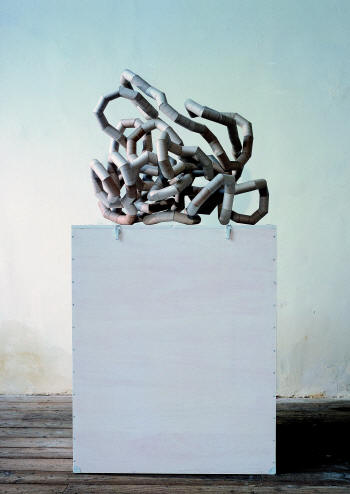 Revered on the continent and in America, Heimo Zobernig is one of the leading artists of post-conceptualism, and one of the most perceptive observers and commentators on modern art and the modern world. Yet Zobernig's interdisciplinary work has never been seen in Britain before, and this exhibition will have art lovers from far and wide flocking to St Ives. Intellectually vigorous, it is more adventurous than many other exhibitions of contemporary art.
Zobernig connects scholarly and philosophical concepts with artistic endeavour as he moves boundlessly and fluidly between different media, from sculpture to painting, from video to graphic design and from architectural intervention to installation. Critically engaging with modern movements as well as architecture, design and theatre, Zobernig usurps their histories and languages. Questioning their ideological positions and conditions, he subverts and reinterprets them with a lightness of touch, alternatively playful, dry, witty, unsettling and disarming.
Martin Clark, the artistic director at Tate St Ives, first saw Zobernig's work in Berlin a few years ago. "He is relatively unknown in British artistic circles which makes an even more compelling case for showing his work here", explains Martin. "Tate St Ives is a somewhat eccentric building, theatrical in its design, which resembles the twists and turns of St Ives' alleyways and streets." Zobernig has created building-specific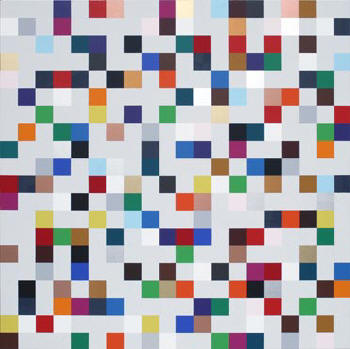 works before, and in this exhibition, Zobernig's work reflects the nature of the gallery building - as well as featuring other sculpture and paintings from earlier in his career.
Also, having studied stage design, his theatrical flair comes to the fore in this setting. For instance, the two large curved galleries, which face the beach, are filled with sculptures from the Tate Collection and interspersed with small modernist gilded chairs. Above these hangs a bright florescent Chroma-colour curtain which bisects the gallery space, turning it into a stage on which all the visitors become players.
Zobernig explores ideas about spaces and angles, the backs and fronts of objects as well as their overall impact. When viewed from a certain angle, a piece might look like modern art, but from another, it looks like an unfinished a mock-up or prop, and elsewhere, his work combines the tacky with the sublime, exquisite sculptural forms are created with lavatory rolls. Using Chroma-colour backgrounds, his videos introduce the human figure, frequently his own, into an otherwise sparse environment. These seem to echo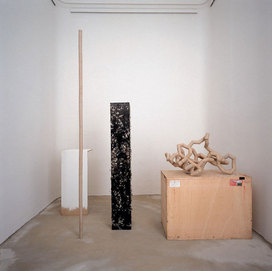 other aspects of his work and his interest in structure. Superbly executed, Zobernig's paintings explore Modernist theories, including colour theory and grid structures, and evoke an early twentieth century utopian spirit of hope.
When Zobernig visited Britain just before Christmas last year to make his selection from the Tate Collection, his engagement proved much more broad than Martin expected. Zobernig chose work ranging from early eighteenth century paintings to one of Modernism's greatest icons, Marcel Duchamp's infamous Fountain, the urinal which he exhibited on a plinth in 1917. This piece epitomises the assault on convention and accepted notions of art. It also reflects the dynamic nature of art today and the idea that the creative process is the most important thing - the work itself can be made of anything and can take any form.
This exhibition of Heimo Zobernig's work can be seen at Tate St Ives, Porthmeor Beach, St Ives, from Sat 4 Oct until Sun 11 Jan 2009. For full details please call 01736 796226 or visit www.tate.org.uk/stives
Working in collaboration with the Gulbenkian Foundation in Lisbon, the exhibition at Tate St Ives will include several additional loans from the Gulbenkian's holdings of British and Portuguese art. In January 2009 the show and several loans from the Tate Collection will move to Lisbon whereZobernig's works will engage with the wider context of the Gulbenkian Collection.
Article courtesy of 'Inside Cornwall' where it first appeared. Review of exhibition to follow.