Ivan Bray: Reflections on Pop art, Classicism and Cornwall
Rupert White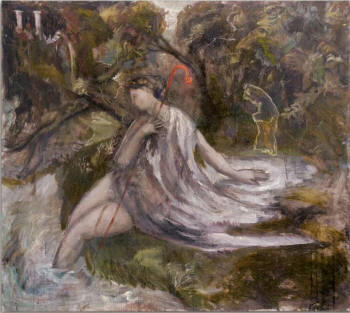 Ivan Bray is a distinctive and unique painter whose work adds a special dimension to the increasingly diverse and eclectic scene that is art in Cornwall today.
His figurative paintings, in adopting mythological and biblical motifs familiar from the late Italian Renaissance, seem to refer less to the present day than to art history itself. These classical themes have, over the last four hundred years, been subject to a number of revivals, most conspicuously in the 80s as part of the 'New Spirit in Painting' with artists like Stephen McKenna and Christopher LeBrun in this country, and Gerard Garouste in France.
Take for example 'Overture' (right). Painted in Titian-like pinks, greens and browns, it depicts a comely shepherdess wearing flowing drapes and holding a glowing orange staff. In the background two doric columns emerge from behind dense whorls of turbulent foliage, which appears to undulate and convulse under the painter's hand.
Bray's works are confident and highly fluent, though not untroubled. Their toughness and, at times their aggression, offsets their prettiness. As the catalogue essay puts it: 'romantic beauty rubs shoulders with doubt, confusion and unease'. Despite the fact that the motifs that appear in the paintings have a long history, in most cases they have still been used in a way that is deeply personal and emotionally charged, but far from transparent.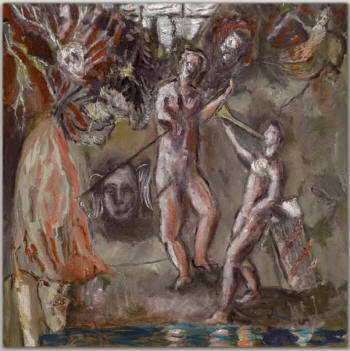 A slightly smaller painting: 'Village scene/Padors Cloak' (left) contains two nude figures in the foreground, one with a trumpet, the other with a staff bearing a roughly drawn head with wings for ears. A child or angel figure looks on from behind. The figures' nudity is evocative of the Garden of Eden: a pre-lapsarian rural arcadia bounded by a stream, but what are they doing exactly and does the painting have a message?
Actually the figures and symbols that Bray uses probably emerge through a combination of habit and free-association, and the result is a dream-like pot-pourri of free-floating signifiers. In this sense his work shares much with mystical and metaphysical painters of the mid-twentieth century, like the British painter Cecil Collins or the surrealist De Chirico. And the titles often accentuate the sense of mystery. One painting, despite being called 'Oedipus' features a painting of a reclining Britannia in the foreground. A case of mixed metaphors, or perhaps a Delphic riddle?
There is something almost Wagnerian or operatic about these paintings, which, like much Cornish art, are made as if Pop Art never happened, or at least as if pop culture and the mass media don't exist. They speak, using the legacy of a painterly language, of history, nature and God, and unlike eg Stanley Spencer's visions have little that is ordinary or contemporary in them. The question is whether or not this is a good thing. Is the work escapist in the bad sense of the word or, in asking us to look beyond the everyday, does it express important timeless truths or even contain revelatory, ecstatic visions of a better world?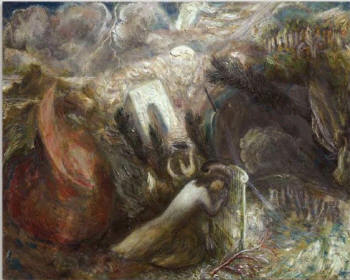 Maybe it comes down to where and how you live, and therefore to what extent pop-culture and the mass media impinge on your lifestyle. There is certainly a case for saying that people who live somewhere like Cornwall are insulated from the 'spectacle': from the culture industry, the trends and fashions, and the general information-overload of a city like London.
Ivan Bray appears to be one of a number of Cornish artists who is able to benefit from the disconnection from mainstream culture that is possible, or certainly easier, in Cornwall. This was alluded to in the title of his previous show at Goldfish which was called 'Outsider'.
So perhaps this is another one of the ways in which art made here is different: values and ideas associated with pop-culture do not often enter into it, not because there is a process of active denial on the part of the artist, but because they are not considered necessary or important to our lifestyles, which, like those of rural communities all over the world, have a simplicity that links them to the landscape and the seasons in a way that changes little over the years.
Ivan Bray and Kate Walters are showing at Goldfish, Penzance 31st October to 21st November
Why not comment on the forum or, even better, write your own article?