Naomi Frears
A profile of the painter by Alex Wade coinciding with her solo show at Millennium, St Ives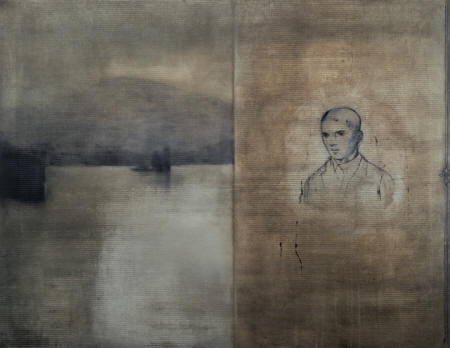 Naomi Frears had not long been back in Britain after an overland motorbike trek when "the desire to use my brain again took hold". Then in her mid-20s, and living in the countryside above St Ives, Frears elected to follow a path unusual among artists: law. "I took law 'A'' level," she says, her brown eyes glinting mischievously at the memory.
But if Frears, established for some time now as one of Cornwall's leading artists, is astute to the apparent eccentricity of her decision, it soon led to a choice of life-defining dimensions. "My lecturer asked me to come back to college and teach law," she recalls, "but at the same time, I was asked if I'd like to run practical art courses at the Tate St Ives." Frears chose art – and to this day continues to host sessions at the Tate. As she puts it: "They remind me how much fun art is."
There is a lot of fun about Frears. She is quick-witted, alert and playfully ironic, qualities which, allied with a becoming line in self-deprecation, make her a rarity in a profession which has never knowingly failed to take itself very seriously indeed. Recalling the moment when David Falconer, then the proprietor of the New Millennium Gallery in St Ives (before it became Millennium), approached her and asked if she would like to have a show at his gallery, Frears is swift and deadpan: "I told him he must have the wrong artist. Why on earth would he have wanted me?"
The answer, though, is clear on a visit to No. 3 Porthmeor Studios, which Frears has occupied since 2005. Some 20 or more of Frears' lyrical, enigmatic and often subtly haunting paintings are either hanging on the walls or stacked against tables, and even those that are unfinished – the majority, for this is an artist who likes to work on several paintings at once – immediately arrest the viewer's attention. But even as one is mesmerized by the work, it is difficult to isolate the exact nature of its appeal. Frears evinces technical mastery – of draughtsmanship and the use of print texture and pattern especially – but as much as this is plain her imagery is often diffuse, evanescent, perhaps even obscure.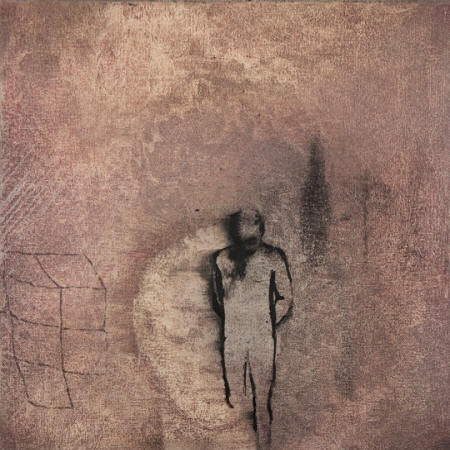 "There's something very mysterious at the centre of my work," she agrees, before quipping that "precisely what is a mystery to me." Often, out of deep-red, or ochre, or black or gold backgrounds, a figure emerges, sometimes to be occluded by acanthus leaves, others to be left suspended in space, yet undefined, seemingly mute or even disorientated, as when a man holds his head in his hands or a woman gazes, eyes downcast, as if in contemplation of an ongoing and infinite sadness. It is tempting to infer from Frears' work an existential commentary, not least when the paintings, such as some of those to be exhibited at the Millennium in a new show in May, work in counterpart – as if the canvas is divided in mimesis of its perplexed subjects. Frears, though, is not given to artistic exegesis – not of her own work, anyway. "I like talking about other people's work, but don't find it so easy when it comes to my own," she says.
Frears, born and bred in Leicestershire, studied art at Sunderland College of Art. "I was brought up in Thrussington, a small village, and have always liked cities," she says. "I wanted to study somewhere which was the opposite of where I'd come from." At one stage, though, the talent for art she'd shown since childhood appeared to be in danger of not blossoming in the north-east. "I was thrown out of college," says Frears, in her characteristically down-to-earth fashion. Her crime? "Not concentrating. They told me to go away for a year and come back when I could knuckle down. So I did." Her year out paid dividends: Frears returned, settled down to the business of art – and won the college's printmaking prize.
A large clue to the ensuing phase of Frears' life is currently being repaired in her studio. It's a 350cc Moto Morini motorbike and her husband, John, is supervising its return to vitality. With John, whom she met when she was 20, Frears set off on a Yamaha XT550 on an odyssey which saw the pair ride across Europe to Turkey, thence to travel around Pakistan, India and Nepal before ending up in Australia. In all, they were away for two years. "We had nothing when we came back," says Frears, "but it was a fantastic experience."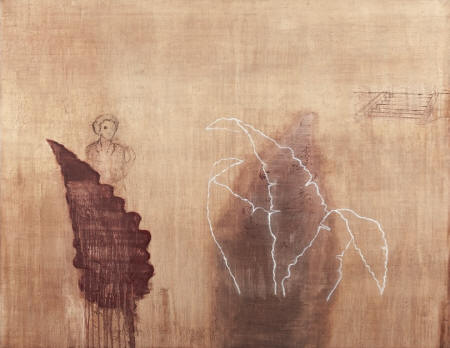 While in Australia Frears found herself thinking time and again of St Ives, which she'd first visited on holiday in her teens. "I'd been dragging John down here almost from the day we met," she says. Fortunately, he too was taken with the area. The couple returned from Australia to rent a caravan on Hellesveor farm, which prompts fond memories: "The owners, the Rogers family, were brilliant – they welcomed us and took us in from day one." Then came law 'A' level, the decision to work at the Tate and the beginnings of a career as an artist. Amid this busy phase, the couple's daughter, Ella, now 18 and studying for her 'A' levels at Truro College, was born.
Frears had her first show when Ella was six months old – and hasn't looked back since. In 18 years as a professional artist, she has yet to approach a gallery herself, and her work appears in private collections as well as those at, among others, the Royal Cornwall Museum, Sunderland University and, appropriately enough, the major international law firm Slaughter and May. For the past decade her primary gallery has been the Millennium, a relationship which continued when Joseph Clarke took over the gallery in 2009. Frears has shown at the Tate St Ives and, more recently, had her first solo show at the well-regarded Beaux Arts Gallery in Bath. She is a member of the Newlyn Society of Artists and has also featured in The Guardian.
Successful as she is, though, Frears is not one to let pretension get the better of her. In her habitual blue jeans, buff artist's apron and sparkly Converse trainers, she is as gregarious and enthusiastic as her paintings are quiet and contemplative. The disjunction may be as atypical, among artists, as her knowledge of law, but it makes for beguiling and seductive results. Not, though, that Frears would say so herself. For her, "if one of the fishermen who work here at Porthmeor turns up at a show, I'm happy."
Naomi Frears' work appears at Millennium at Street-an-Pol in St Ives from May 29 to June 23. See www.millenniumgallery.co.uk. Article first appeared in Cornwall Today.