On location: 'Straw Dogs' in Cornwall
Rupert White
Cornwall has provided locations for a number of movies. These include blockbusters like Disney's 'Treasure Island', Du Maurier's 'Rebecca', the Bond film 'Die Another Day', and B-movies like the creepy 'Crucible of Terror', 'Dracula 1979' and 'Night of the Eagle'.
The most notorious and important, film to have been shot in Cornwall is, however, 'Straw Dogs'. It stars a youthful Dustin Hoffman - only four years after being propelled to stardom in 'The Graduate' - alongside the British actress Susan George. Straw Dogs' director, Sam Peckinpah, was the Tarrantino of his day; a controversial figure who had garnered a reputation in Hollywood for making slick but violent movies. And whilst his first major film 'The Wild Bunch' was a critical and commercial success, his second ran over budget, and he felt forced to come to the UK for his third.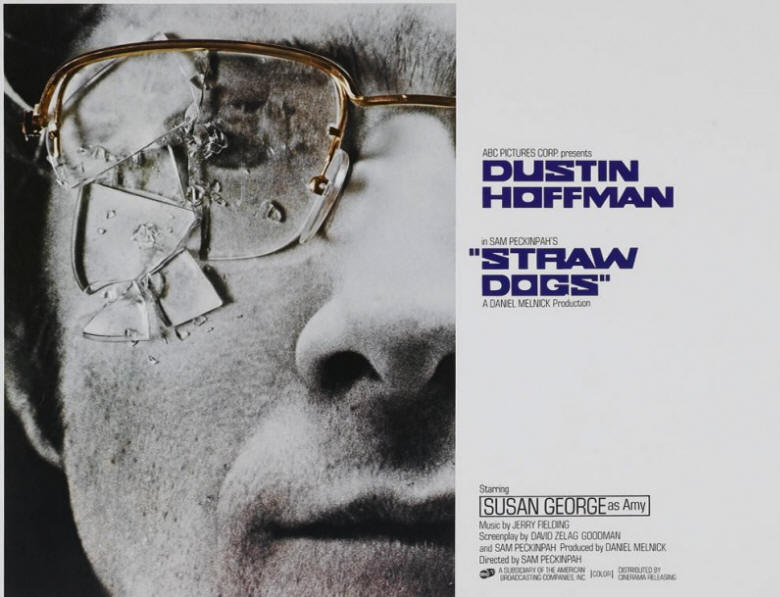 This is the plot, as described on Wikipedia:
David Sumner (Dustin Hoffman), a timid American mathematician, leaves the chaos of college anti-war protests to live with his young wife Amy (Susan George) in her native village in Cornwall, England. Almost immediately, there is tension between the couple as David becomes immersed in his academic work while ignoring Amy. Craving attention, Amy begins to flirt with several of the burly town locals doing repair work on the couple's isolated farmhouse. One of these locals is Amy's former lover Charlie Venner.
Amy's flirtations and David's intellectual reserve create resentment, and the workmen begin to subtly taunt and harass them. David discovers their pet cat strangled and hanging by a light chain in their bedroom closet. Amy claims the workmen did it to prove they could get into their bedroom and to intimidate David. She presses him to confront the villagers, but he refuses. David tries to win their friendship, and they invite him to go hunting in the woods the next day. During the hunting trip, the workmen take him to a remote forest meadow and leave him there with the promise they will drive the birds towards him. Having ditched David, Charlie Venner returns to the couple's farmhouse where he confronts Amy. He forces himself upon her sexually and she resists initially before giving in. A second villager arrives and forces Venner by shotgun to hold Amy down while he rapes her.
After several hours, David realizes he's been tricked and returns home to find a disheveled and withdrawn Amy. She does not tell him about the double rape. Later that week, they attend a church social where Amy becomes distraught after seeing the men who raped her. David and Amy leave the social early and while driving home accidentally hit the village idiot Henry Niles. They take the injured Niles to their home and David calls the town pub about the accident. Unbeknownst to him, earlier that evening Niles accidentally strangled a young girl from the village, and now the workmen are looking for Niles.
The phone call alerts them to Niles' whereabouts. Soon the drunken locals, including the men who raped Amy, are pounding on the door of the Sumner's home. David refuses to hand Niles over to the mob and they attempt to break in to the house. Forced into action in defense of his home, David embarks on an uncharacteristic spree of violence, descending into a murderous rage.
In the UK 'Straw Dogs' was initially heavily censored, and given an X-certificate. The film gained further notoriety after it was banned completely in 1984 by the British Board of Film Classification under the then newly introduced 'Video Recordings Act'. This affected films that, under Thatcher's government, became known as 'video-nasties', and they included 'A Clockwork Orange' and the George Romero zombie movies. It wasn't until 2002 that 'Straw Dogs' was finally certified uncut for video and DVD release.
The film was shot in St Buryan (renamed 'Wakeley') and Morvah in Penwith, West Cornwall. Though the interior scenes were created in a studio, most of the action takes place in a farmhouse, Tor Noon, on the high ground overlooking the sea about a mile south of Morvah.
For most viewers the main point of interest and debate is the misogynistic violence - the rape scene - which is difficult to watch, and both ambiguous and voyeuristic. However there are other less obvious areas of controversy, and the depiction of Cornwall and the Cornish locals, on which the film strongly depends, is somewhat problematic. Almost uniformly portrayed as primitive and uneducated, sex-starved, listless and work-shy, they are resentful and suspicious of the learning and culture of the atheist mathematician, David (the Dustin Hoffman character) in their midst.
Indeed within a few minutes of the film starting, Peckinpah creates tension by highlighting these differences. The the two lead male characters are quickly seen to embody some stark and obvious dichotomies: U.S. v Cornwall, new world v old world, civilisation v barbarity, science v superstition, urban v rural, reason v unreason etc etc.
'Straw Dogs' in this way, perpetuates a view of Cornwall that is several hundred years old. It relies on binary oppositions similar to those suggested by 19th century literary critic Malcolm Arnold in his description of the Celts, whom he saw as less rational but more intuitive than the English. Arnold's view was also readily adopted by post-Impressionist painter Gauguin, whereby it reached Christopher Wood and Ben Nicholson: hence their interest Cornwall and in Alfred Wallis as a naive painter. D.H. Lawrence, when he lived in Cornwall, was, in an identical way, also hugely enamoured with Cornwall's primitive non-English character.
In fact Peckinpah's depiction of the Cornish is a version of the same cliché that features time and again in film and television portrayals of rural communities. However as a depiction of insularity, xenophobia and fear of difference, 'Straw Dogs' has stood the test of time and remains powerful and convincing. And the painful irony of the film is the way in which, after repeated provocation, the Hoffman character (David), loses his civilised veneer and is, himself, transformed into a murderous savage.
2011, republished 18/5/18