Hannah Davies: emotions recollected in tranquillity
George Care (text) Seb Chandler (photos)
Hannah Davies graduated from Falmouth College of Art in 2002. Since then she has continued to live and work in Cornwall, exhibiting her paintings at Badcocks, as well as at the London Arts Fair, the Affordable Art Fair, London, and Thompson's City Gallery. Her mysterious, atmospheric paintings, where the boundaries between interiors and exteriors blur, are as strong as ever, but this year new themes are infiltrating her painting. An immense sense of speed and motion can be felt in some of the work yet there is still an inner calm within the paintings.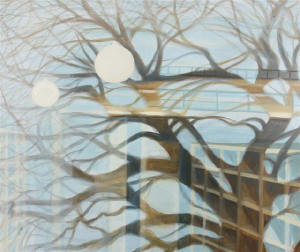 How did your interest in painting develop?
My mother was a painter herself and I have always loved drawing and painting. She worked both with pastels and sculpture whilst I always enjoyed painting people. I was fascinated one day by the play of light on her face, through the foliage, as I was painting my mother in the garden. This was really the start of my deep interest in the reflection of light from surfaces and the resulting alteration of their appearances. I have always really enjoyed figurative painting and the relationships between people expressed in the composition.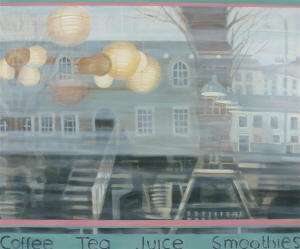 What has influenced your choice of subject matter and style?
I have always enjoyed people watching as I grew up in Cambridge, especially in cafes and when travelling; especially the calm moment when you pause, removed from the pace and rush of everyday life. I am interested in the movement beneath or beyond a surface, either water or glass. I like using a restricted palette in oil but I never use black. I love to use burnt umber and French ultramarine in particular. Quite often, the transparent quality of the glaze I am applying can be improved and assisted by mixing with Liquin medium.
I especially like Vermeer (recently the subject of the book and film "The Girl with the Pearl Earring") and the limpid quality of light in so many of his paintings. I am also taken by the brighter quality in many paintings by David Hockney. I use photography quite a lot in my work as it helps in the process of assembly that leads to the final painting.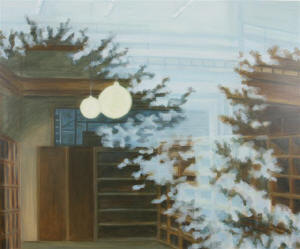 Why do railway scenes figure prominently in your work?
I have been travelling quite often between friends and family in Bristol and Cambridge and back to Cornwall. I enjoy sketching people on trains and enjoy watching reflections on carriage windows or glass fronted restaurant doors and so on. I enjoy the contrast between the internal calm inside the train and the external, more public space where people are busy on the platform outside.
Has Cornwall been an influence on your choice of subject?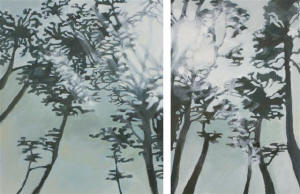 Yes, indeed some of the paintings were conceived while I was waiting at Penzance Railway station, I am quite intrigued by its Victorian architecture. When I was walking along the sand dunes at Gwithian, I was taken the fascinating view of people silhouetted against the film of water upon the sands. I tried investigating the arrangements and spaces between groups of people. I also recently enjoyed watching the swans in Penzance harbour below the Ross Bridge beside Holman's whilst below the surface I was looking down into the layering of seaweed in the transparent depths beneath. One of my paintings was based on a view of an old cottage window right here in Newlyn where the lace curtain had become imprinted on the glass surface along with cobwebs as a kind of filigree.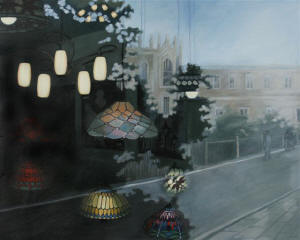 How do you spend your time in your Newlyn Studio?
I work almost every day, usually on just one or two paintings or developing material from sketchbooks. I enjoy discussing work with friends who are into jewellery, ceramics and photography; many were fellow students from the Falmouth course. I just have been very lucky to have been supported by Badcocks and just want to enjoy carrying on painting which I love doing.
This interview took place as the final touches were being made to her recent exhibition at Badcocks with ceramicist, Adela Powell. Her next major exhibition is at the Vitreous Gallery in Truro in July 2007.