David Tovey on St Ives, Lamorna, Polperro and Cornish representational art

Since 2000, Cornish art historian, David Tovey, has written fourteen books on aspects of Cornish representational art and has curated numerous exhibitions on Cornish art - not only for Cornish public galleries but for other art galleries around the country. In just the past eighteen months, he has published five new books and this year is involved in the curatorship of three exhibitions featuring the art of Lamorna, St Ives and Polperro. E-interview Rupert White.

How did you first get interested in Cornish art?

My interest was first aroused in my early 20s when my grandmother purchased a painting by her father, William Titcomb (1858-1930), of Burma. Whilst I had grown up surrounded by my great grandfather's paintings, these had been the ones that had not sold and tended to be religious subjects. However, the Burmese painting was vibrant and colourful and naturally led to the question 'What was he doing out in Burma in the 1880s?' The answer was that his father was the first Bishop of Rangoon - and so I was intrigued to find out more about my family background. During this research, as Titcomb made his name in St Ives, I visited the Penzance auction houses and so was first introduced to the astonishing variety of magnificent paintings that had been produced in Cornwall over the centuries. My research into my great-grandfather was initially intended to be just for the family, but I was encouraged by the Trustees of the Bushey Museum - Titcomb having been one of the initial intake of students at the Herkomer School at Bushey - to publish it when that Museum put on a Titcomb retrospective in 1985.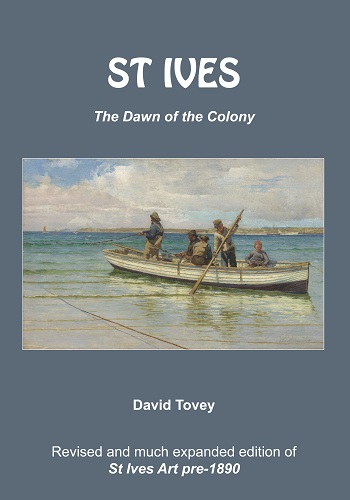 When did you start collecting Cornish art?

Following my research into my great-grandfather's career, I started to pay regular visits in the 1980s to the Penzance auctions. This involved leaving my solicitors' office in Cheltenham at 6 p.m., getting down to Altarnun in time for a pub meal and drink at the pub there and then an early start to get down to view the auction for an hour or so before it started at 11 a.m. In those days when poor quality polaroids were the only images supplied, you needed to see the works in the flesh.
At that juncture, my taste was for colourful, slightly wacky work and so I bought a number of paintings by artists, such as Fred Yates, Joan Gilchrest and Ben Tobias. On trips to London, I also viewed the R.I., R.B.A. and R.O.I. shows at the Mall Galleries. However, I also started to collect the paintings of St Ives marine artist, George Bradshaw, whose depictions of an array of vessels on blue Cornish seas appealed, given that where I was living, Tewkesbury, was about as far away from the ocean as it is possible to be in this country. I was amazed to find that, despite Bradshaw dying in 1960, his widow, Katherine, was still alive and full of fun. This led to further research trips and days spent in the offices of the St Ives Times looking through old newspapers. It was a joy then to discuss any new snippets of information with Katherine - such as when she hit the headlines when her friend reversed her car into the harbour at high tide!

How did you transform yourself from an international tax lawyer to a Cornish art historian?

In the 1990s, changes in tax laws meant that I needed to move into a new area of law, but fed up with the constant pressures of a hugely successful partnership, I decided in 1996 to take up an opportunity of being paid off. I was only 44. While I decided what to do next, I opted to go back to University - Warwick - to read History of Art. Of course, Cornish art did not get a mention throughout the course, but I did do my dissertation on my great-grandfather's religious paintings - an area I had studiously avoided before as being of little interest. Wrong!

The plan had been to return to Warwick to do a Ph.D on the Newlyn School and in particular the St Ives contribution to the reputation of that phenomenon. However, I opted to take a year's break from study and, in that period, completed my research into George Bradshaw. Having taken the advice of amongst others, fellow Cornish art historian, Austin Wormleighton, my biography of Bradshaw also featured the story of the St Ives Society of Artists, in which he had played a leading role.
Having got this self-published, I wandered self consciously into Penlee House Gallery, Penzance, and asked to speak to the Director, then Alison Lloyd, to see if she might be interested in an exhibition devoted to the Society. I expected her to take the book and then hear a few weeks later that it was not of interest. Instead, there and then in the foyer, she read the back cover, said that she thought such a show would be a great idea and would I like to help? It transpired that I had turned up in the week when Tate St Ives had indicated to her that it did not consider St Ives representational art was within its remit and that this should be dealt with by Penlee - but Penlee had no knowledge about St Ives. Here was I, professing that I had! Talk about fate!

What is more, that afternoon on my way home, I had made an arrangement to view the Titcomb paintings in the storeroom at the Royal Cornwall Museum. Having viewed these, I said to the Director, Tamsin Daniel, as we left, 'What about a Titcomb exhibition?', to which she replied 'Yes'. This would give me a chance to produce a catalogue for the exhibition bringing up to date my Titcomb research. Accordingly, there was no need for me to do a Ph.D - I was already curating two exhibitions! A totally transformational day!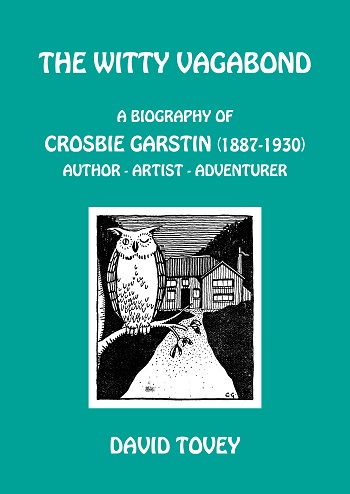 'Creating A Splash - The First 25 years of the St Ives Society of Artists' toured six venues in 2003-4 - how did that happen?

The extraordinary thing about the books written on St Ives art in the 20th century is that they all missed out the 1930s. It seems that the historians were so focussed on the meeting of Nicholson and Wood with Alfred Wallis in 1928 and the subsequent decision by Nicholson and Hepworth to come down to St Ives in 1939 that nothing else from the 1930s was of any consequence.
However, that decade saw the heyday of the St Ives Society of Artists, when its membership included a dozen or more Royal Academicians - including artists such as Sir Frank Brangwyn and Stanley Spencer - and it put on hugely successful touring shows not only around the country but also abroad to South Africa. The reviews of these shows highlighted the large numbers of paintings that had been sold from these shows to the provincial galleries in which they were held and so, as this was before the Public Catalogue Foundation had produced photographic records of oils in public collections, I did a series of tours of northern galleries looking at the Cornish art that they held in their storerooms. It was amazing how few Galleries knew exactly what they had - particularly as regards watercolours and etchings - and I would keep on spotting relevant work as the racks were slid in and out. Each time, as we left the storeroom, I asked if the Gallery would like to follow up on its 1930s stance and take the new 'Creating A Splash' exhibition. It ended up with five galleries taking up the offer - Hereford, Newport, Doncaster, Sunderland and Lincoln. It was a huge success everywhere and it was fascinating seeing how each venue hung the show. However, it was a one-off experience, as funding cuts means that it is now impossible to get an exhibition to tour.

I soon realised when working on the exhibition that using my Bradshaw book as a catalogue would be totally inadequate and so started to put together a Dictionary of the artists involved with the Society, which ended up with the book 'Creating A Splash'. This sold out by the time of the second venue of the exhibition tour and so was reprinted with some additional information that had come to light. This too sold out before the end of the tour and at one juncture copies were on abebooks for over £200!
Sadly, the printers went bust and I do not have the original document file but if I did attempt to produce a new version, it would be twice as big, given all the new sources now available.

'The Dawn of the Colony' show in 2008 comprised a joint enterprise between Penlee House Gallery and Tate St Ives - how did that happen?

Following the success of the 'Creating A Splash' project, I decided to look in more detail at St Ives art in the pre-1914 period. Given the amount that had been written previously on this period, I was not expecting to find anything much new, but wondered if a similar Dictionary type format would have appeal.
Accordingly, I was amazed to discover not only that previous accounts were very incomplete, but also fundamentally wrong in a number of respects. Indeed, I uncovered a completely new and very exciting story of how St Ives had been an international community from the outset and how it subsequently played a hugely important role as a centre for both the practice and teaching of landscape and marine painting, attracting artists from around the world.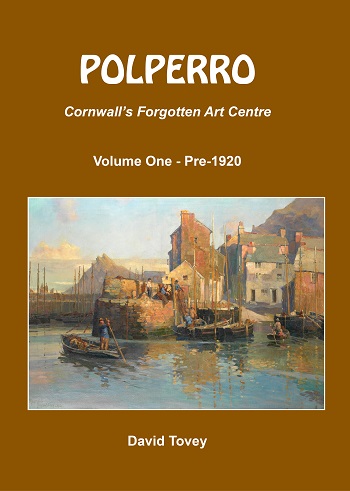 The original idea had been to showcase this story at an exhibition at Penlee House Gallery to be known as 'The Dawn of the Colony'. However, it was the period when Tate St Ives was seeking public support for its extension and, in the face of some hostility to its plans, indicated that it would be able in such extension to showcase the representational art of the colony from time to time. Accordingly, in the interim period before the appointment of Martin Clark as the second Curator there, it was agreed that it should get involved in 'The Dawn of the Colony' show.
I suggested that the best date for splitting the review between the two Galleries was 1889, which would enable Tate St Ives to cover the formation of the colony and use its reputation to borrow seminal paintings by Anders Zorn and Helene Schjerfbeck. However, dealing with Tate St Ives with regard to this show was one of the most stressful experiences of my life. It is astonishing what a shambles it was. The Penlee show entitled 'Lyrical Light', however, was a revelation for everyone as no-one had highlighted St Ives' importance as an international centre for marine painting before. The book that I produced for this, 'Pioneers of St Ives Art at Home and Abroad 1889-1914', is one of those that I am most proud of and still needs little amendment.

What prompted your production of 'A Social History of St Ives' in 2009?

As it became clear that I had far too much material on the pre-1914 period for just one book, I decided to extract everything that I had on artists' homes, studios and lifestyle and put this into a separate book. I envisaged this might be 120 pages or so. However, I then started asking myself questions as to how the artists got on with the various strata of society in the town and what impact they had culturally, commercially and physically. This led me down a series of fascinating avenues so that the book ended up being over 450 pages - my biggest volume. It is again a work that I am very proud of as, to my knowledge, no-one else has written a social history of any of the myriad art colonies that sprang up in the late 19th century. It really is a fascinating story and demonstrates how much the artists were indebted to local entrepreneurs, who set out to cater for their needs - people like James Lanham (artist materials, framing, transport and exhibition space), Robert Toy (houses), and William Paynter and George Williams (purpose-built studios).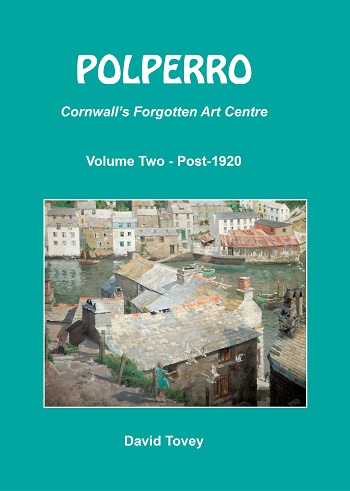 What are your memories of 'Sea Change' which covered St Ives art in the years 1914-1930?

This relatively short period had not been covered by any of the previous shows and I was determined that it should not be forgotten but a little uncertain as to how significant a period it was in the history of the colony. Once again, when one got down to serious research, it proved absolutely fascinating, as it was a period when everything changed fundamentally - on each of the artistic, social, economic and political fronts. The war resulted in some fascinating artists with very different artistic ideas being forced to live in St Ives - such as Frances Hodgkins, Emile Fabry, Louis Reckelbus and Claude Francis Barry.
The war paintings of Borlase Smart were a revelation. Then the 1920s saw another group of artists settle in the colony, with Charles Simpson and John Park to the fore. That decade also saw the birth of St Ives as a craft centre, with the Leach Pottery and Crysede, and the discovery of Alfred Wallis by Ben Nicholson and Christopher Wood, just two of a fascinating group of visitors from this country and abroad. So once again, the book became far larger than I first envisaged and the exhibition was a great success, with Claude Francis Barry's pointillist works being the stand out pieces.

How did you fill the 2010-20 decade?

During my research, I had built up quite a sizeable collection of St Ives art and I tried to get other public galleries interested in exhibitions with a St Ives theme. This resulted in exhibitions at Worcester Art Gallery, Cheltenham Art Gallery, a year-long show at the Royal Cornwall Museum, Truro, entitled 'A Century of St Ives Art', and two shows at Lawrence House, Launceston.

In 2012, I was asked to be Editor of 'The Flagstaff', the magazine of the Lamorna Society, and this led me to turn my attention to the story of the Lamorna art colony. The appearance at auction of the scrapbook of the Lamorna novelist, Cecily Sidgwick, led me to start reading some of her novels. I soon realised that she incorporated her own life and her family, friends and neighbours into her stories and so I ended up reading all 40 of her books on the bounce and writing her biography.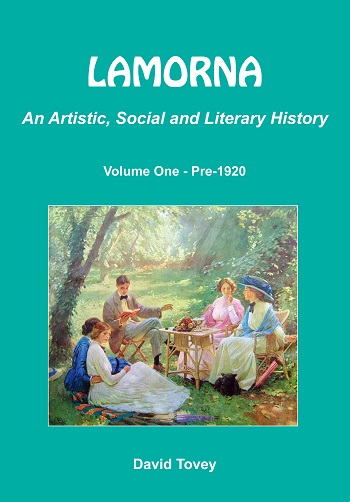 She introduced me to the author, artist and adventurer Crosbie Garstin (son of Norman Garstin) and I then found that the Morrab Library held most of his correspondence and so that resulted in me publishing his biography in 2017. With Crosbie having worked as a bronco-buster, harvester, gold miner and lumberjack in America and Canada, and as a ranger and rancher in Matabeleland in South Africa, as well as serving in a cavalry regiment during WW1 in Ireland, France and Italy, this was one of the most fascinating bits of research that I have done - especially exploding all the ridiculous stories that he did not in fact drown at Salcombe in 1930, but did a runner.
If anyone reading this has not heard of Crosbie Garstin, locate his novel 'The Owl's House' and get hooked!

What piqued your interest in Polperro? The artists there seem to have been largely forgotten...

I have always been drawn to paintings of Polperro as it is such an unique setting. However, I kept on noticing paintings of the village going through the auction rooms by foreign artists of some significance and wondered quite how Polperro had gained an international reputation.
In 2018, I had been due to work with Penlee House Gallery on an exhibition/book on American Artists in St Ives but there was no funding available to bring across any major paintings from the USA. Accordingly, I wondered what I might uncover if I had a look at paintings of Polperro. There were no obvious sources and so I just searched for references to Polperro in the British Newspaper Archive and slowly a picture began to emerge of it as a thriving summer art centre. I got Henrietta Boex at Falmouth Art Gallery interested in the concept and although we had to battle with the pandemic, we eventually got the exhibition Polperro - Cornwall's Forgotten Art Centre staged in 2022 and I published what ended up being a two volume history. It was a great success, with visitor comments being some of the most enthusiastic I can recall.

As you know, I'm interested in F T Nettleinghame and the piskeys of Polperro, which you also discuss. Coming to the present, 2023 seems to be extraordinarily busy for you...

Yes, an extraordinary combination of circumstances has led to me being involved in three exhibitions and the production of another three books!

Firstly, 2022 was the 25th anniversary of the formation of the Lamorna Society and so I was asked to produce a history of the colony to mark this. This again turned out to be a two volume work, which I have called 'Lamorna - An Artistic, Social and Literary History'. I also persuaded Penlee House Gallery, Penzance, to have an exhibition, 'Lamorna Colony Pioneers', to promote this - and I have written about this separately.

I was also approached last year by Andy Smith, the new Curator of St Ives Museum, with the idea of the Museum putting on for the first time a loan exhibition of St Ives paintings. This was a very exciting development as I have been outspoken for many years about how ridiculous it is that visitors to St Ives are completely unaware of its history as an influential art centre way before the Nicholson/Hepworth era.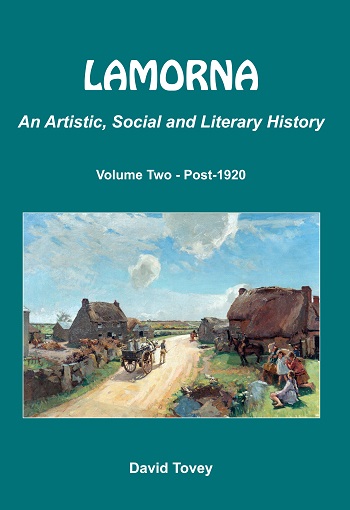 We decided to start at the beginning and so the exhibition, which will run from 1st April to the end of October 2023, is called 'Discovering St Ives - Early Visiting Artists' and it will look at depictions of the town from 1790 to 1890. I do hope that this brings many more visitors to the Museum and helps fund its desire to get Museum accreditation. At the moment, it is unable to borrow works from other public collections and so most of the exhibition derives from my own collection. The Museum does have a fascinating collection of artefacts anyway and a changing display of paintings will really add to its interest. Again, I have written separately about this show.

When I first published a book on St Ives art pre-1890 in 2008, the source material was pretty limited. Since then, a large number of paintings have appeared on the market alerting me to other artists who worked in the town prior to the establishment of the colony in 1885. I have also been able to obtain images of and study in more detail the Museum's extensive collection of early engravings and some early watercolours, most probably from the 1830s, discovered in the Royal Cornwall Museum collection, which I have been able to attribute to Captain Robert Morton, the grandfather of Robert Morton Nance. Accordingly, I felt that a new revised and much expanded edition of the book was required and this is now 208 pages, as opposed to the original 120 pages. I have called it St Ives - The Dawn of the Colony and it will be available at St Ives Museum during the show.

Finally, the Polperro exhibition at Falmouth last year meant that Polperro woke up to its extraordinary artistic heritage and the village is now keen to exploit this. Accordingly, I have lent some fifty paintings from my collection to Polperro Methodist Church so that visitors should be able to see this aspect of Polperro's story during the season. As you say, it will be an extraordinarily busy but hopefully rewarding year as these fascinating stories get additional exposure. With over 100 paintings out on loan, you might think my walls at home are bare, but they have been easily filled again. Cornish art is far too tempting!


David Tovey's website is here www.stivesart.info. Also see features for 'Discovering St Ives'
6.4.23