Mandy Fairman on Mike Raven and his double bill of Cornish Horror
Mike Raven worked as a Radio One DJ, starred in Hammer's 'Lust for a Vampire' (1971), and shot two low budget horror films in Cornwall before settling here and becoming a sculptor. He died in 1997. His wife, Mandy, shares some of her recollections.
Mark Pilkington of Strange Attractor first alerted me to Mike, and his extraordinary career. I don't know why it's taken me so long to find out about him. May be it's because he was based in North Cornwall, and my focus tends to be on the West.
Mike did have an exhibition in St Ives. He exhibited at the Penwith Society of Arts gallery, and sold several pieces in through Tony Sanders' gallery in Penzance. He also exhibited once in the National Trust Orangery at Trelissick but much to his amusement they refused some pieces as being too OTT. He was very proud of this!
Mike was friendly with Max Barratt, who lived just outside St Ives. Max was an odd character who was introduced to Mike by another sculptor called Michael Black who lived in Oxford and was involved with the restoration of the heads round the Bodleian Library. We originally came across Michael Black in the local quarry here.
Did you first meet Mike in the 60's when he was working in radio?
No, before that. In fact I first met him in the 50's when I was 15. He was a friend of my brother. Mike and I were both working for a company that ran West End theatre. They were called HM Tennent's. They had every theatre there running very middle class plays. So Terence Rattigan and Noel Coward were still favourites at the time.
Lew Grade got the franchise to do ITV in 1957 and it was, what he called at the time, 'a license to print money'. Binkie Beaumont, my boss, wanted in. Lew went to him but he couldn't be part of the consortium because of the monopoly commission. So they did a deal that Tennent's would provide two TV plays every month, one an hour, and one an hour and a half. And it went out live. I worked in that team and Mike ran it. The programme was called ITV's 'Play of the Week', and it provided Olivier and Gielgud with their first appearances on TV.
Soon after this the kitchen sink dramas became quite big. 'Look Back at Anger' opened at the Royal Court and it really blew away the Binkie world. It had become too old fashioned. So at that time there was a big change in the theatrical world. And Mike didn't really like that job anyway...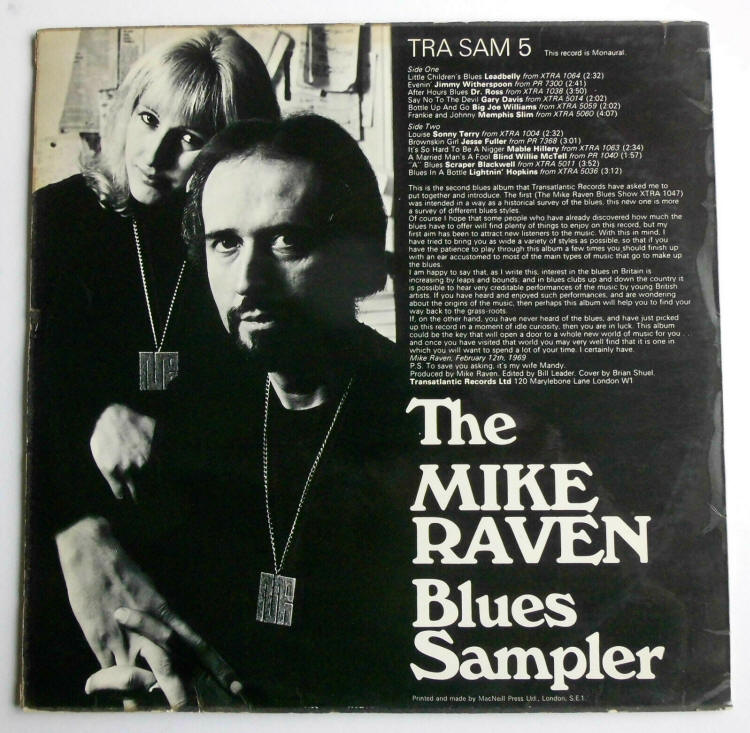 Mandy and Mike pictured on the back cover of the Mike Raven Blues Sampler. Transatlantic Records 1969. They are both wearing 'MR' medallions.
Hence why he came to work in radio: in pirate radio initially and then Radio One. Did you start coming on holiday to Cornwall at around that time?

I'd been before. Then probably in about '67 we discovered Boscastle. The children loved it and didn't want to go anywhere else, so soon afterwards we bought a cottage. It was a pile of stones in a field in Lesnewth, up the valley from Boscastle, just the other side of Camelford between the A39 and the coast. Once we'd finished doing it up we realised we didn't want to stay in London so we moved down. This was in 1973.
How did Mike get into acting?
He didn't want to go back to the BBC. He didn't really like the BBC.
Because of his experience of working for Radio One?
Yes. He was there from the very first day it launched in 1967. He started off with half an hour, and ended up with two hours. He did the very successful Blues Show. But any kind of new idea had to go through a committee. It was difficult to get used to that corporate way of working, and it didn't suit Mike's character. He was too much of a maverick.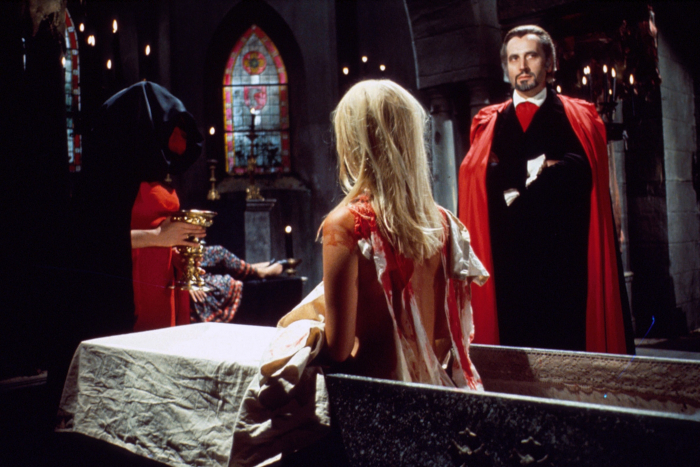 How did he get his break as an actor in 'Lust for Vampire' (above)?
He looked so much like Christopher Lee everyone used to say 'you should be in horror films'!
I know he used to always wear black. And there is that lovely photo of you and your sons in black capes, which was taken around the time of 'I, Monster' (below).
He dressed in black from the first time I knew him. He always dressed in a black corduroy jacket, white shirt, black wrangler jeans - the only ones long enough - and he kept a string tie in his pocket in case he needed it! And he did this from the 50's.
Did he have a contact in the film industry that helped secure that first role?
Mike met Phillip Stern, a famous Hollywood photographer who knew all the Hammer lot. And Phillip said 'why don't you let me be your agent?' Phillip lived in Mayfair and belonged to the Sealed Knot reenactment society. He was potty for it! I have got an article in front of me by a chap called Denis Meakle, that explains some of this (The Dark Side #192).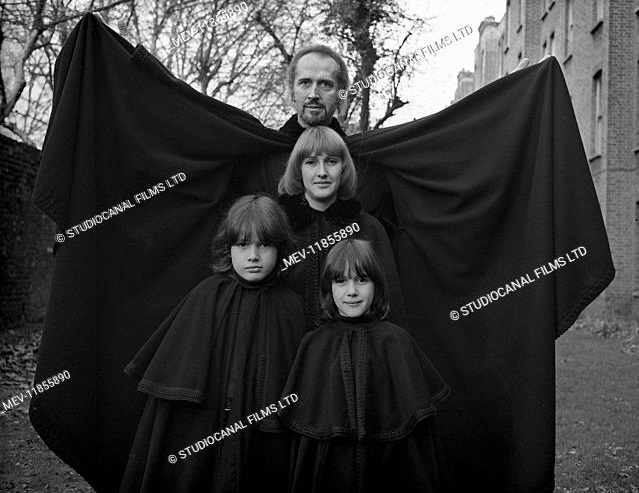 After 'Lust for a Vampire' and 'I Monster', for Amicus, Mike went on to make the two films in Cornwall. Did you stay in London whilst Mike was down here filming the first: 'Crucible of Terror'?
No, I came down with him. He never went anywhere without me!
I remember 'Crucible of Terror'. It was very low budget, made down at Blue Hills near St Agnes. Somewhere in the attic I have a photo of us all at that location. There were two guys involved; Tom Parkinson and Ted Hooker. They were both young, trying to make films like the bigger studios, but they did manage to get a distributor and that was crucial.
I think it is one of his best films, and it really shows Mike's personality. At one point he bangs the table - because he plays quite a scary character in the film - and, when he saw it, my eldest son said 'its just like real life'!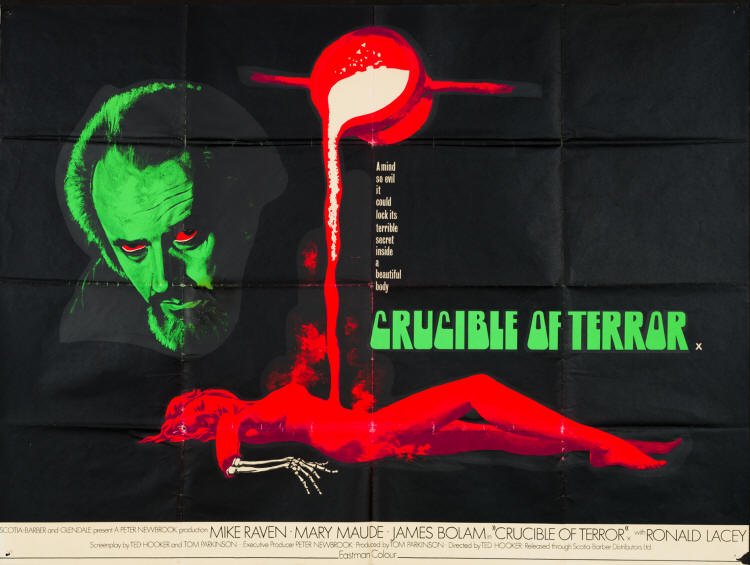 Presumably the crew would have stayed locally?
Possibly St Day Travelodge? Certainly it was a motel nearby. It was all done as cheap as you can. I've got some photographs of us all at that location.
'Disciple of Death', the other Cornish film, includes locations further north like Minster Church and Rocky Valley.

'Disciple of Death' was filmed all around Boscastle, not far from Lesnewth. There was a farm on Beeny Cliff that we used for some of the scenes. And the crew stayed in the Wellington Hotel, in Boscastle, because our cottage was still just a pile of stones at that point! The chap that owned it then had various holiday cottages as well.
The Museum of Witchcraft was, by that time, in Boscastle. Was it of interest to Mike and yourself?
When we first came down our daughter loved it! She was about 7 and she would get up every morning and go to 'The Witches' Museum', as it was known then. They would just let her in for nothing. She adored it, and all the kids just knew it. It was more amateurish than it is now.
The thing about Mike is that he didn't believe in witchcraft and magic, but he did study the occult. I recently sold his collection of occult books. For instance he had a valuable first edition Aleister Crowley, and he had a lot of French stuff, and Jewish Cabala. He was an intellectual. Everything he did, he took seriously, and he learnt everything he could about the subject. And he was interested in the occult itself.
Where are Mike's sculptures now? Do you have any plans for them?

A lot of Mike's statues are now in London with his daughter.
I noticed Darren Banks put on a show incorporating some of Mike's work recently (above).
Darren is my cousin's son. He came down to stay with us, and he later put on a show at the New Gallery, Walsall. I gave them one of Mike's sculptures. Dominic, my son, who has the farm now is creating a sculpture park. One of the sculptures has been put down by the river bank. My other son, Ben, is keen on the music and he's started streaming some of his old shows. Mike recorded a lot of his old radio shows.

People that have written about Mike haven't appreciated the big part that Catholicism played in his life. Both he and I converted to Catholicism at different times. His first wife was a Catholic who was a refugee from the Spanish Civil War. I also married a Catholic when I was too young to understand what I was doing. But we both went back to it later. A lot of the statues were inspired by this. Though he was interested in the occult, Mike studied a lot of things. At the time he died he was studying Islam. He tried to learn something everyday.