Gina Linley on 'St Agnes Leisure Park' and Goonhavern 'World in Miniature'
e-interview Rupert White
How old were your parents, John and Vicki Foot, in 1973 when they opened the model village in St Agnes? Where do you think they got the idea for it??

Dad was 52, Mum was 45. The story goes Dad made a bet with some locals down the pub that he could set up the biggest business in the village, and a year later he had!

Building was in his blood. He was 18 when WW2 started. He was a rear gunner and went through the ranks to Squadron Leader specialising in bomb disposal, before he retired back home to St Agnes and began to work as a builder. He built the original houses in Penwinnick Park and loads up in Wheal Kitty among others. We moved around lots within the village! They also owned and built holidays flats up at Wheal Kitty, prior to building the model village.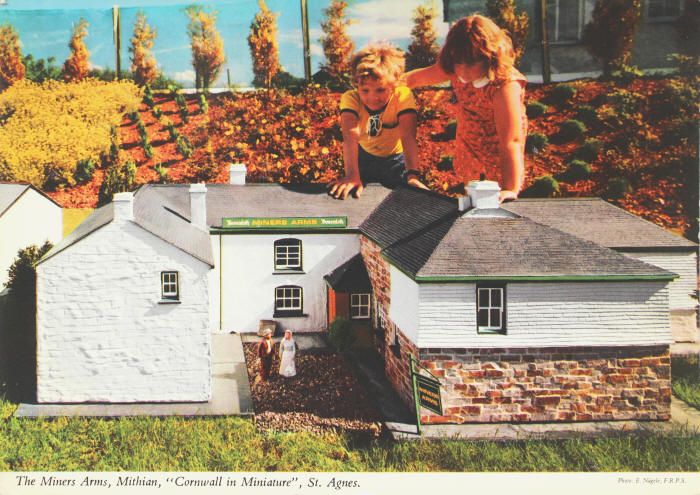 Next door was my Uncle Alex's holiday flats. He was a part owner, initially, of the model village but Dad bought him out after a couple of years.

Babbacombe Model Village in Devon was part of the inspiration, I suspect, along with a leaning towards building. He saw a gap in the market for tourism in the county and went for it.

So your Dad was from St Agnes, and would have had lots of local contacts? Was it just your Mum, Dad and Uncle that were Duchy Parklands Ltd (the founding company) or were there others in on it in the beginning?

Although Dad was born in London, his family were from Cornwall originally. His dad had a factory on Wheal Kitty and my mum's family owned the rights to St Agnes beach before they were sold on in the 40's or 50's . They owned the beach cafe when it was still castellated. Re Duchy Parklands, there may have been one other chap called Lou involved, but me and Debbie, my sister aren't sure on that one.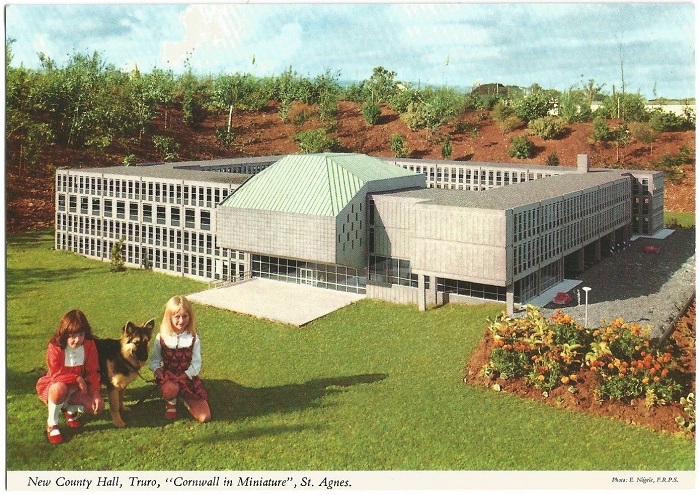 The first models were created for 'Cornwall in Miniature'. Who would have made them?

There were many, many contributors, and I'm afraid I don't know all their names. A gent on Facebook recently mentioned that his Dad, John Dall, welded together the Tamar Road Bridge, and another's Dad, Cyril Spurling, made the the boats in the same scene. Plenty was done 'in house' with our base up at Wheal Kitty housing lots of models, as lots of my fathers colleagues were carpenters and joiners etc.
The ladies (Mum, my sister and me) did the finishing touches eg sticking stones onto models such as Restormel Castle. Yes, 'Cornwall in Miniature' was the first part that was built, but there was a big focus on the gardens too, with a gent called Roy Inch leading the team along with able help from a well known Aggie man, George Mannell. The gardens were as important to Dad as the models were.
The base at Wheal Kitty: do you mean your house or were there also some workshops up there?

Actually there was a workshop up near where the mines were that were owned by my family. I remember going up there and played on a rocking horse that was in there. As a 5/6 yr old wasn't bothered about the models but remember people building different things...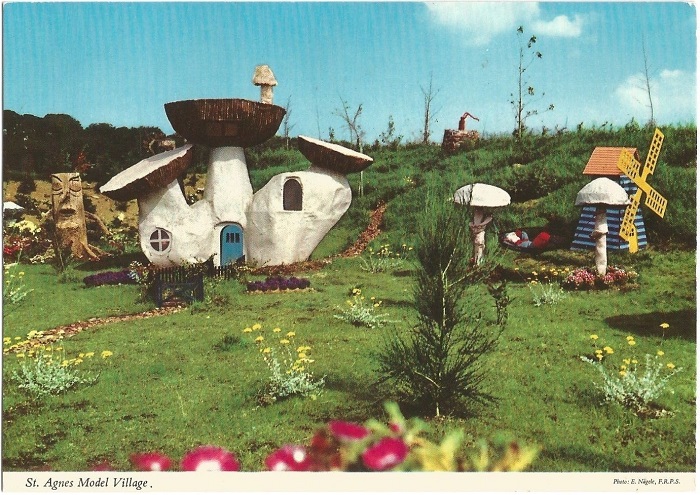 How did things develop in subsequent years? I think Fairyland was added, which is presumably when the name changed to 'St Agnes Leisure Park'. And then there was 'The World of Dinosaurs', and 'World in Miniature' on another site...

I remember the dinosaurs causing a stir as they came into the village!! Westward TV came and filmed it. I was cross as they filmed during school...Yes, the name changed when Fairyland was added. 'The World in Miniature' (WIM) in Goonhavern came about 10 yrs later (1984) and Dad hired a real life circus in the first two years to perform their show.
The model village was super successful especially in the 70's as there was nothing else like it. We could have up to 30 coaches in an afternoon and the car park full, and the overflow full too. The downturn came when tourists wanted more interaction, and the money involved to add those sort of rides etc was not viable for the length of the Cornish tourist season. The company who bought it off us couldn't afford it either. We did have a great 180 cinema at World in Miniature (WIM) and other smaller interactive bits at the model village.

Sounds like the dinosaurs were fabricated somewhere away from St Agnes and brought in. What about the other later exhibits, and the WIM pieces?

The animated models in Fairyland were made by a company up-country who sold them to a store in Bournemouth for Xmas displays. We would go up on holiday to Bournemouth each October half-term so we could go to see them, and then we'd buy them off the store after Xmas and set up a new display.

Lots of models were dummies dressed by my mum and team. 'Sleeping Beauty' wore my sister's bridal dress! One of the monkeys on the display had my Truro High School tie on. My deputy head visited and I was worried she'd be cross, but she loved it! The clothes worn by the exhibits were covered in some kind of glue that made them go hard and waterproof if they were outdoors.

The dinosaurs were made away from Cornwall, but the WIM models would have been made mostly on the leisure park site or at WIM itself. The animated models were made by the same company that made the Fairyland ones. In the wild west scene one model was made to look like my father putting his hands up - he was the banker being held up by a robber!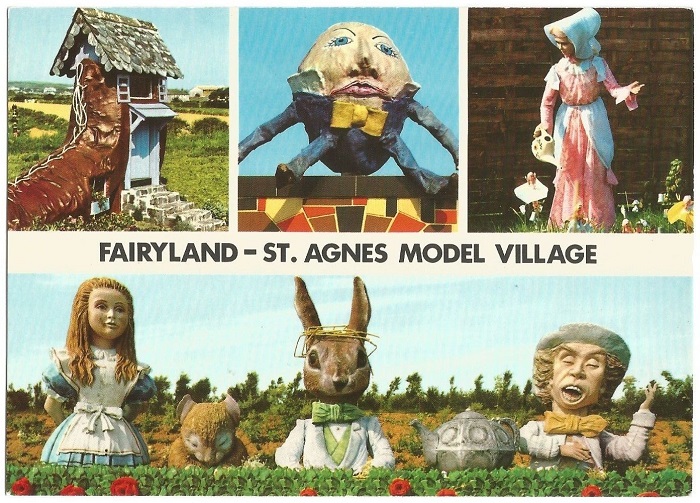 I really like the Fairyland exhibits eg Gulliver. You can really see the waterproof glue that you mention on him...

Totally. Prime example, and it made the models last!....

So did your parents sell up both attractions at about the same time? Presumably your Dad had given up building work and was ready to retire??

Both at the same time. Yes. Dad was ready for retirement. I think it was about 1988 as I worked there in the summer after it was sold. My brother-in-law was kept on as general manager till the new owners sold it and it was dismantled (1999). WIM lasted a bit longer, but like I said lack of investment due to lack of viability because of short tourist season led to the demise of both.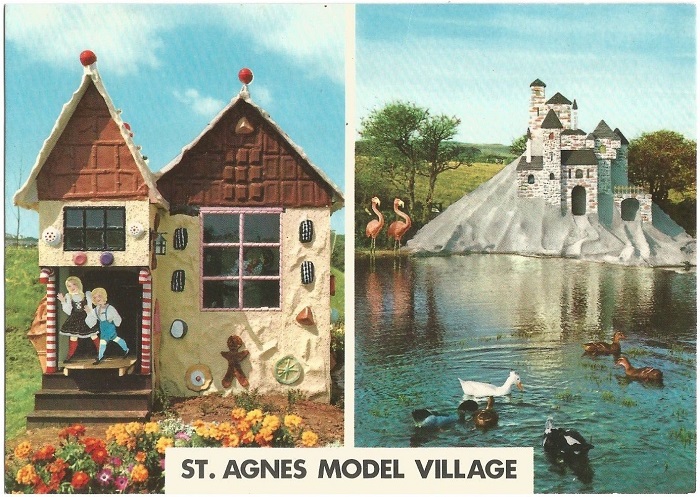 Do you have any particularly personal memories?

My whole childhood memories are entwined with the place. When I was about 8, we moved in to a two bed flat in the leisure park at the end of the main building. We lived there full time for about 3 years. We moved out to live in Rosemundy, then moved back for a couple of years before we sold the place.
Living at the park in the winter was always very spooky with everything covered, and hardly any people. I remember not being allowed to leave the flat on a morning till the guard dog was away...Being obsessed with Space Invaders and Pac-Man machines, and always had to beat the high score of the boys who worked for Dad and Mum!!
Your parents must have been very creative and hard-working to have created these two iconic Cornish tourist attractions. And they must have worked well as a team...

Father was the organiser and figurehead but it wouldn't have worked without Mum's artistic talents behind the scenes. She added the sparkle to the models and scenes. She ran the seasonal workforce, cafe, shop etc whilst Dad was the business side/ideas man and organised the permanent staff and publicity team. Father was a charmer and could pull things together that you thought weren't possible, and Mum was the one who kept it going behind the scenes. Mum never put herself in the limelight but without her it wouldn't gave been so successful! Their creative sides balanced each other and the success was deserved.