Born in Wakefield, Yorkshire, England, on Jan. 10, 1903, Jocelyn Barbara Hepworth was the eldest of four children. As a young girl, she often traveled about the Yorkshire countryside with her father for his work as county surveyor. She spoke of Yorkshire as a "curiously rhythmic patterning of cobbled streets … most ungracious houses dominated by … slagheaps, noise, dirt, and smell." These early impressions of the contradiction between industrial town and quiet countryside later became an integral part of her work.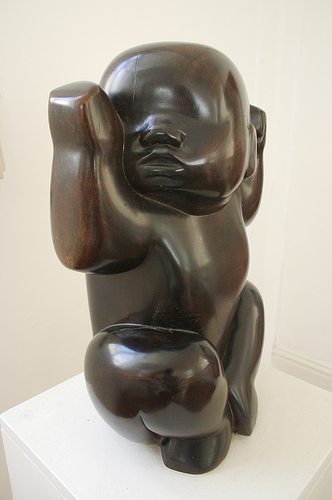 By the age of 16, Hepworth was modeling life portraits in clay, which helped to win her a scholarship to the Leeds School of Art, where she studied for a year. At Leeds, she met another young artist who would become a lifelong friend, the renowned sculptor, Henry Moore. Although Hepworth would never receive the recognition of her colleague, he was an important influence on her work.
Another scholarship gave Hepworth three years in London as a student at the Royal College of Art. In 1924, at the age of 21, her work earned her a year's study in Italy. From the art-filled city of Florence, Hepworth toured the countryside, and the sights and sounds of the Tuscany landscape became an integral part of her work, just as Yorkshire had years before. Hepworth stayed in Italy for 18 months after her scholarship ended. She studied in Rome with master carver Ardini, who taught her that "marble changes color under different people's hands." She later said she understood him to mean that the artist must learn to understand, not dominate the material.
Besides her studies, Hepworth found time for marriage to John Rattenbury Skeaping, also a sculptor from Britain. Their only child, Paul, was born in 1929. A year earlier, the work of both Hepworth and Skeaping was exhibited at the Beaux Arts Gallery in London. Hepworth's doves in Parian marble from this exhibition are now in the Art Gallery of Manchester. She and Skeaping were divorced in 1933. That same year she married another British artist, Ben Nicholson. Under his influence, her sculpture became more and more abstract.
Hepworth and Nicholson traveled through France for most of the year, visiting the studios of such famous artists as Pablo Picasso and avant-garde sculptors Constantin Brancusi and Jean Arp. They joined the Abstraction-Création group in Paris. Hepworth's work from this period includes a kneeling figure in rosewood, now in the Wakefield Art Gallery.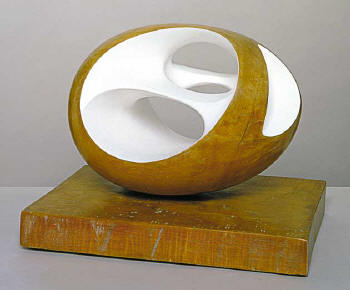 Hepworth's increasing commitment to abstraction is explained in the short introduction she wrote for the book Unit One in 1934: "I do not want to make a stone horse that is trying to and cannot smell the air. How lovely is the horse's sensitive nose, the dog's moving ears and deep eyes; but to me these are not stone forms and the love of them and the emotion can only be expressed in more abstract terms. I do not want to make a machine which cannot fulfil its essential purpose; but to make exactly the right relation of masses, a living thing in stone, to express my awareness and thought of these things ... In the contemplation of Nature we are perpetually renewed, our sense of mystery and our imagination is kept alive, and rightly understood, it gives us the power to project into a plastic medium some universal or abstract vision of beauty."
The birth of triplets, Simon, Rachel, and Sarah, in the same year marked a profound change both in Hepworth's life and her life's work. Always short of money in recognition of her art, she said that after the birth of the triplets, she knew fear for the first time. She and Nicholson had about £100 in the bank at the time and were living in a basement flat. Her work changed, too. Relationships in space began to absorb her creativity, and her sculpture became more formal. For some time she had been drifting away from recognizable human forms, but now her pieces became far more abstract. An example is Three Forms (1935), consisting of a sphere and two nearly oval shapes. Critics have suggested this may symbolize the birth of her triplets.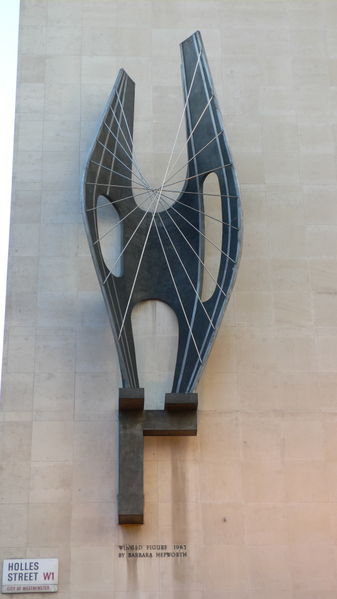 By 1935, Hepworth and Nicholson had become involved with an international artistic group that included such names as Dutch abstract artist Mondrian and German-born Walter Gropius, an influential leader in the development of modern architecture. But World War II was now approaching and Hepworth, worried about the safety of her children, moved with them to Cornwall where they stayed initially with Adrian Stokes in Little Park Owles in Carbis Bay.
Hepworth became, like her husband Ben Nicholson, a very important influence in the emerging modernist art colony of St Ives, partly through her practice of employing assistants. In the forties Peter Lanyon and John Wells were used in this capacity, in 1950 Terry Frost assisted in the carving of 'Contrapuntal forms' and later assistants included Roger Leigh, John Milne, Keith Leonard, Brian Wall and the much loved Denis Mitchell, all of whom went on to establish their own reputations as sculptors. In 1949 she was also a founder member of the Penwith Society, and remained involved with the society till her death.
The influence of what she called the 'pagan landscape' and the sea of Cornwall is evident in her work from this period, such as Tides (1946), with a hollowed interior that contrasts in color with the polished grain on each side. By the mid-1940s, Hepworth's sculpture had also become increasingly open so that the interior space became as important as what surrounded it.
In fact Hepworth and Nicholson were divorced in 1951, and Hepworth took up permanent residence in her studio in Trewyn place. For the next two decades, her work received broader recognition and honors. It was part of an exhibition in Venice, the Twenty-fifth Biennale, which she attended, sitting every day in the Piazza San Marco and watching the way people reacted to her use of space. She produced Contrapuntal Forms in blue limestone (1950) for the Festival of Britain, which stresses the opposition of vertical forms to the horizontal.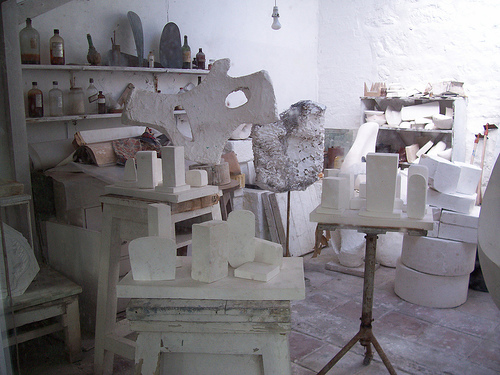 For a change of pace in 1954 she designed sets for Michael Tippett's opera, Midsummer Marriage. By this time, Hepworth had started to work with metals. One of her best-known works, which now guards the United Nations Plaza in New York City, is Single Form (1963), a towering shield-like mass of bronze. She received a number of commissions in the 1960s for truly huge sculptures, most of them about 20 feet high. An example is Four-Square Walk Through (1966), a gigantic geometrical piece.
Barbara Hepworth's life and work were honored by her country in 1965 when she was made a Dame Commander of the Order of the British Empire. She died on May 20, 1975, in a tragic fire in her home at St. Ives, Cornwall. The house is now a museum and features many of her works.
An artist who never received the level of attention given to her male contemporaries, Hepworth strongly felt that women artists could contribute greatly to an understanding of the visual arts. "Perhaps especially," she said, "in sculpture, for there is a whole range of formal perception belonging to feminine experience."