Ben Nicholson was born near Uxbridge, England, on the outskirts of London, on April 10, 1894. His father, William Nicholson, and his uncle, James Pryde, were leading painters of their generation in England, and his mother was also a painter. Nicholson had little formal artistic training, except for one term at the Slade School of Fine Arts in London in 1911, where he began working with jugs, cups, mugs and bottles, frequent subjects of his later work. Nicholson left the school because he was dissatisfied with the provincial character of painting taught there and wanted to find his own way.
After traveling in Europe, Nicholson went to Pasadena, California, in 1921. While there, he saw his first Cubist work - a painting by Picasso. He later said that "none of the actual events in one's life have been more real than that, and it still remains a standard by which I judge any reality in my own world."
Nicholson's landscapes and still lifes of the early 1920s are mostly soft and luminous, with delicate colors and fluid, indeterminate forms. In 1922 in London, he had his first one-man show. His landscapes of the later 1920s reveal his poetic feeling for nature which was an important element in his work. There is a remarkable freedom in the treatment of scale and perspective in his work, and the forms often have a playful, toylike character. His almost naive approach has something in common with the work of Christopher Wood, with whom Nicholson was closely associated during the 1920s. Along with Wood, in 1928 he, famously, discovered in St. Ives the work of Alfred Wallis, the greatest modern English primitive. The work of Wallis had a profound effect on Nicholson.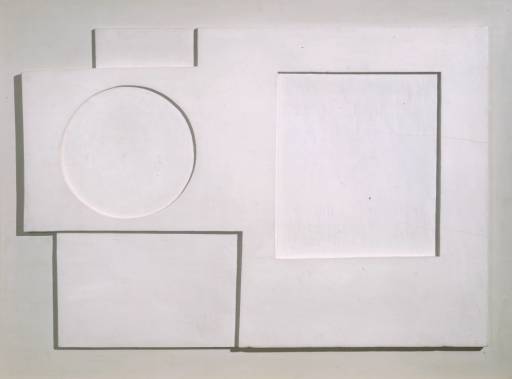 Nicholson's still lifes of the late 1920s and early 1930s show a gradually increasing concern with structure under the influence of late Cubism. After his meeting in 1931 with the sculptor Barbara Hepworth, who became his second wife, he made frequent trips to Paris, visiting the studios of Piet Mondrian, Georges Braque, Constantin Brancusi, and other leading artists. These artists prompted Nicholson's conversion in 1933 to abstract art. He joined the group Abstraction-Création in Paris and in the following years became the principal link between the international abstract movement and England.
His works of this period, perhaps his finest, consist of geometrical abstract paintings composed of rectangles and circles of clear, uniform colors and of carved white reliefs of extraordinary purity, made from wood and synthetic board (picture above). These works are perhaps closest to the neoplasticism of Mondrian, who lived in London from 1938 to 1940 and was in close contact with Nicholson and his wife. During this period in London, Nicholson edited Circle, a publication on constructivist art, and joined an avant-garde artists' group called Unit One.
In 1939, shortly after the outbreak of World War II, Nicholson and his family moved from London to St. Ives where they stayed initially with Adrian Stokes in Little Park Owles in Carbis Bay. In Cornwall he began to turn away from the severity, purity, and strictly rectilinear structure of his works. He made paintings and drawings of the harbors and landscapes of Cornwall and still lifes in an abstracted form of late Cubism, in which the objects are indicated by overlapping linear silhouettes, with silvery tones enlivened by small patches of brilliant color (eg picture below).
Like Naum Gabo, who followed the Nicholsons to Carbis Bay, Nicholson became a mentor and advocate for many of the younger artists living in the area, particularly Peter Lanyon, Terry Frost and John Wells, the latter who he had met on his first visit to Cornwall in 1928. He also joined the St Ives Society of Artists in 1943, with whom he exhibited before leaving to found the Penwith Society in 1949, with Herbert Read as president. This same year he successfully applied to use one of the Porthmeor Studios, then, as now, administered by the Borlase Smart Memorial Trust. Two years later he separated from Barbara Hepworth, and moved to Trezion on Salubrious Place, St Ives.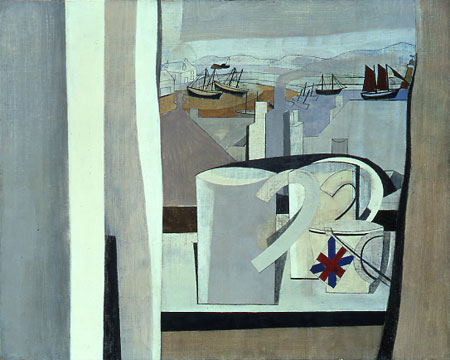 It was not until Nicholson was well into his fifties that he began to receive international attention. In 1952 he took first prize at the Carnegie International Art Exhibition in Pittsburgh. In 1954 he won the Ulissi Prize at the Venice Biennale. The next year he won the Governor of Tokyo's Award and was honored by the Belgian Art Critics in Paris. In 1956 he won the Guggenheim International Award.
Beginning in the mid-1950s and especially after his move away from Cornwall to Switzerland, near Ascona, in 1958, Nicholson's work consisted mainly of reliefs and linear drawings. Unlike his white reliefs of the 1930s, his later ones have contrasting stony textures and the shapes are tilted in different directions; they are usually carved in hardboard with a razor blade in very low relief. In 1968, Queen Elizabeth II made Nicholson a member of the Order of Merit. London's Tate Gallery has housed scores of his paintings.
Nicholson was married three times. With his first wife, painter and writer Winifred Dacre Roberts, he had two sons and a daughter. With Hepworth, he had triplets, a son and two daughters. His third wife was writer-photographer Felicitas Vogler; they were childless. Nicholson wanted to make abstract art accessible. In 1941, he wrote that looking at abstract paintings should be easy: "There is no need to concentrate; it becomes a part of living. I think that so far from being a limited expression, understood by a few, abstract art is a powerful, unlimited and universal language."