Bernard Leach
Bernard Leach was born in Hong Kong, but spent his young adult years in Japan where he came into contact with a group of young Japanese art lovers who called themselves Shirakaba (白樺). Through them he learned about William Morris and the Arts and Crafts Movement. It was in Japan that Leach began potting under the direction of Shigekichi Urano (Kenzan VI) and befriended a young potter named Shoji Hamada.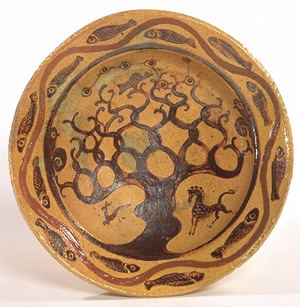 'Tree of life' dish 1923
With Hamada, he set up the Leach Pottery at St. Ives, Cornwall in 1920, including the construction of a traditional Japanese wood burning kiln. The two of them promoted pottery as a combination of Western and Eastern arts and philosophies. In their work they focused on traditional Korean, Japanese and Chinese pottery, in combination with traditional techniques from England and Germany, such as slipware and salt glaze ware. They saw pottery as a combination of art, philosophy, design and craft – even as a greater lifestyle. However, many in the West considered their pottery crude by the refined standards of the day. Publishing A Potter's Book in 1940 defined Leach's craft philosophy and techniques, and became his breakthrough to recognition.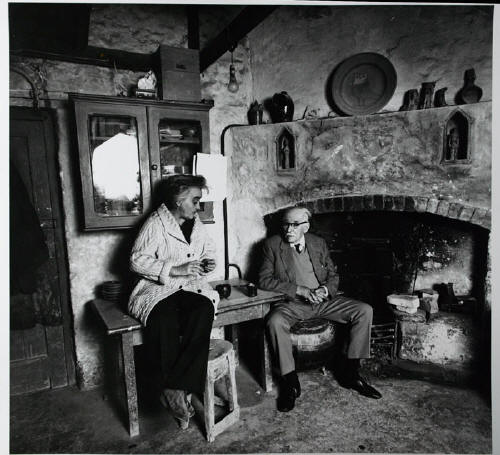 Bernard and Janet Leach
In the 1930s Leach met Mark Tobey, a fellow artist and teacher at Dartington Hall, in Devon. Tobey introduced Leach to the Bahá'í Faith. In 1934, Tobey and Leach traveled together through France and Italy, then sailed from Naples to Hong Kong and Shanghai, where they parted company, Leach heading on to Japan. Leach formally joined the Bahá'í Faith in 1940. A pilgrimage to the Bahá'í shrines in Haifa, Israel, during 1954 intensified his feeling that he should do more to unite the East and West by returning to the Orient "to try more honestly to do my work there as a Bahá'í and as an artist..."
Leach advocated making utilitarian, so-called ethical pots over fine art pots, which promote aesthetic concerns rather than function. Thus, his style had a lot of influence on counter-culture and modern design in North America during the 1950s and 1960s. He aspired to running a modern cooperative workshop which created a catalogue of handmade pottery for the general public. However, he always made individual pots which were exhibited as works of art.
Many potters from all over the world were apprenticed at the Leach Pottery, and spread Leach's style and beliefs. His British associates and trainees include Michael Cardew, Katherine Pleydell-Bouverie, Nora Braden, David Leach and Michael Leach (his sons), Janet Darnell (whom Leach married, 1956), William Marshall, Sylvia Hardaker, Kenneth Quick and Richard Batterham. His American apprentices include Warren MacKenzie (who likewise influenced many potters through his teaching at the University of Minnesota), Byron Temple, Clary Illian and Jeff Oestrich. He was a major influence on the leading New Zealand potter Len Castle who travelled to London to spend time working with him in the mid-1950s. Many of his Canadian apprentices made up the vibrant pottery-scene of the Canadian Westcoast during the 1970s in Vancouver.
<![if !vml]>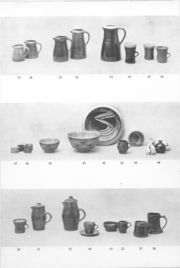 <![endif]>
Leach Pottery standard ware as made in the 1950s and 1960s, from a brochure of the period
Leach was instrumental in organizing the first and only International Conference of Potters and Weavers in July 1952 at Dartington Hall, where he had been working and teaching. It included exhibitions of British pottery and textiles since 1920, Mexican folk art, and works by conference participants, among them Shoji Hamada and US-based Bauhaus master potter Marguerite Wildenhain. Another important contributor was Japanese aesthetician Soetsu Yanagi, author of The Unknown Craftsman. According to Brent Johnson, "The most important outcome of the conference was that it helped organize the modern studio pottery movement by giving a voice to the people who became its leaders…it gave them [Leach, Hamada and Yanagi] celebrity status…[while] Marguerite Wildenhain emerged from Dartinghall Hall as the most important craft potter in America."
He continued to produce work until 1972 and never ended his passion for travelling, which made him a precursor of today's artistic globalism. He continued to write about ceramics even after losing his eyesight. The Victoria and Albert Museum in London held a major exhibition of his art in 1977. The Leach pottery still remains open today, accompanied by a museum displaying many pieces by Leach and his students.