Henry Scott Tuke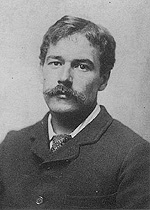 Henry Scott Tuke was born in York in to a Quaker dynasty in 1858, and came to live in Falmouth in 1860. His father, Daniel Hack Tuke, had been suffering from the symptoms of tuberculosis. He was a doctor who became an early pioneer in mental health and wrote several important books on the subject which are still used today by students. The happy memories of Tuke's childhood spent on the beaches around Falmouth, watching the tall ships coming into the harbour from all over the world, helped his decision 23 years later to return to live firstly in Newlyn then in Falmouth where he remained for the rest of his life.
Best known for his paintings of bathing boys, Henry Scott Tuke was in fact, a very diverse and talented artist in a variety of subjects and media. His first commissions were portraits of family and friends, including other Quakers such as the Fox family. Tuke was also known as great maritime artist, a very accurate depicter of every kind of sailing craft from Lowestoft fishing boats that came to Falmouth in the winter, to wooden and steel hulled sailing ships such as barques and brigantines, to smaller quay punts and yawls.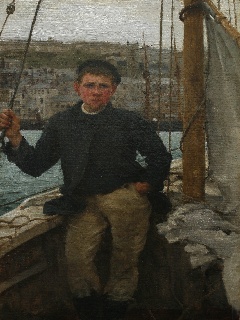 Initially, Tuke returned to Newlyn after the tragically early death of his only brother William Tuke in 1883 from TB, to paint alongside his fellow ex-students from the Slade School of Fine Art in London and the Ateliers of Paris. Most of his paintings from Newlyn are quite dark interiors set in Philip Harvey's fishing tackle cellar in Trewarveneth Street, where Tuke rented rooms. His subjects were the local children such as Ambrose Rouffignac posing with a model boat or eating his dinner. Newlyn was where Tuke started to get a taste for all things nautical. He bought his first boat The Ripple, there, and he did his first painting of boys sitting in a small rowing boat on a sunny day in Newlyn harbour. But it was Falmouth that won his heart in the end, and he moved into rented rooms at Pennance Cottage at Pennance point near Swanpool in 1885.
Falmouth had everything for his maritime interests and subjects for his art. It was here in 1886 he bought another boat, an old French brigantine The Julie of Nantes which, after he had plugged her for leaks and created a floor in the hold, he turned into a floating studio. This is where many of his early major paintings were executed, including 'All Hands to the Pumps!' 1894, which was bought for the nation.
The Julie, along with several other boats he purchased such as The Lily and the Cornish Girl, acted as floating sets to create posed pictures using local fishermen and young lads including Jack Rowling (a.k.a. Rolling). 'Our Jack', 1886 (RCPS Tuke Collection - pictured above left) is a classic Tuke painting from this period with Jack Rolling standing on a boat with Falmouth town in the background. Whenever Falmouth or its environs appear in Tuke's paintings, it tends to be as a backdrop to a figure painting and nearly always viewed from onboard a vessel on the water or from a beach.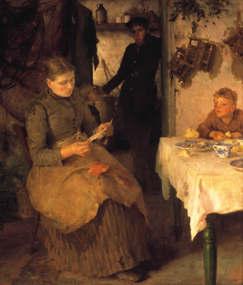 Tuke also used his base at Pennance Cottage the subject for several paintings from the late 1880s to early 90's. The cottage made an appropriate domestic setting as did the models, his housekeeper Mrs Elizabeth Fourarce who posed for several important works including 'Morning Gossip' (below left), 1886 and 'The Message' (right) 1890, both in Falmouth Art Gallery's collection.
Pennance cottage was also, it seems, chosen by Tuke because if its proximity to some secluded and fairly inaccessible beaches such as Newporth beach. These beaches were vital to the subject that he created as his greatest artistic challenge, painting the nude human figure outdoors.
The beaches were an ideal setting as they were south facing, usually bathed in sunshine and had interesting barnacle encrusted rocks and shallow warm pools for the models to stand around. Tuke has started painting the nude figure whilst studying at the Slade in London where he won prizes for his life painting. But it was in Italy that he first painted male youths outdoors in 1881. After an inspirational trip some 11 years later in 1892 to the Mediterranean and the Greek island of Corfu, he came back wanting to paint the nude outdoors in Falmouth. He had attempted painting nude bathers as early as 1885 with a professional male model brought from London, but soon found this expensive and difficult. This was equally true when trying to obtain female models. In the end, Tuke asked the local lads to pose nude for him. Tuke always paid them and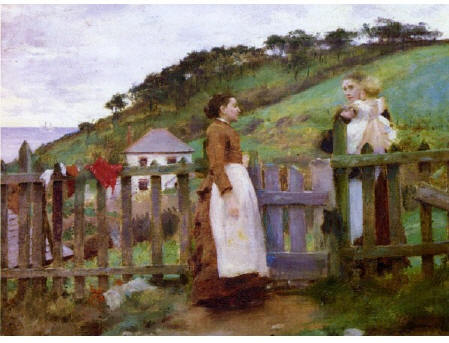 treated them with courtesy and consideration, although he demanded they were professional and sometimes asked them to model outdoors as late as November. His first great success in his bathing boy paintings was 'August Blue' (below right) 1894 Tate Gallery. Having been bought for the nation it heralded Tuke's arrival as an important artist of the late Victorian era. From 1900 to 1914 he was at the height of his powers as a painter and experimented with impressionist techniques. This can be seen in his stunning figure composition Midsummer Morning, 1908. He was elected an Associate of the Royal Academy in 1900 and a Royal Academician in 1914.
Tuke always had a gay following including a group known as the Uranian poets which included John Addington Symonds. There is a strong homoerotic aesthetic to many of Tuke's paintings of the male nude, but whether it was to satisfy his own need for sensuality which he could not realise in everyday life - is debatable.
Tuke embraced life in Falmouth and was greatly involved with several of its key institutions such as the Royal Cornwall Polytechnic Society, where he was elected Vice-President in 1899. He also helped establish the Falmouth Sailing Club, which ran successfully for a number of years where he won many races with his numerous sailing boats built in Falmouth. He also played cricket for the Falmouth Parish Hall Cricket Club. His interest in that particular game gained him portrait commissions of some of the great cricketers of his day including W.G.Grace and Prince Ranjitsinhji. He had his own gallery in Falmouth at Grove Place, which he ran with his friend the painter Ayerst Ingram.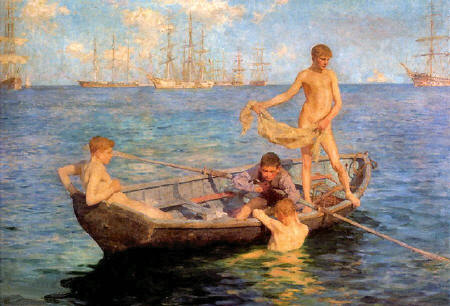 Tuke was a master exponent of watercolour painting and he was elected an Associate member of the Royal Watercolour Society in 1904 and became a full member in 1911. He exhibited over 220 watercolours at the Society from 1904 to 1927 and sold many of them. A lot of his watercolours were done on his frequent trips abroad, mainly to the Mediterranean where he would visit the French and Italian Riviera, staying at villas or on board ships owned by friends. His only one man show in his lifetime was at Dowdeswell's gallery in 1904 and featured 55 watercolours of the Italian Riviera.
Tuke was a great recorder of both the local scenery whether it was at home and abroad, people and places that he saw. He also kept a diary and a register of paintings, which add enormous detail to our understanding of Tuke both as a man and as an artist.
Works by Henry Scott Tuke are in public art collections across the world including at Sydney, Adelaide and Brisbane in Australia, Auckland and Wellington in New Zealand and Munich, Germany as well as throughout the UK and Ireland.
Catherine Wallace
Catherine Wallace's is author of Catching the Light: The Art and Life of Henry Scott Tuke 1858-1929
and Henry Scott Tuke Paintings from Cornwall