John Wells

Born 27th July, 1907 in London, John Wells lived in Ditchling, Sussex until c.1921 and studied medicine at University College Hospital, London, 1925-30.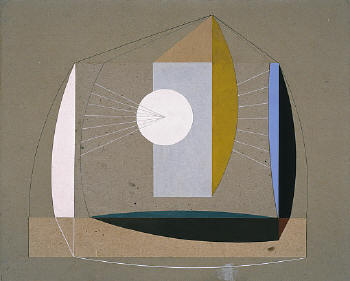 Though his only formal artistic training was from night classes at St Martin's School of Art during 1927-8, he exhibited in the 'Daily Express' Young Artists Exhibition at the Royal Society of British Artists in 1927. During a visit to Cornwall in 1928 he studied briefly with Stanhope Forbes in Newlyn and was introduced to Ben and Winifred Nicholson and Christopher Wood, then staying, along with Marcus and Irene Brumwell, in Feock.
He was in contact with Nicholson throughout the 1930s, though work prevented him from making more than the occasional visit to his Hampstead studio. He qualified as a doctor in 1930 and, after working in a number of hospitals, was the GP for the Scilly Isles from 1936 to 1945. During the war he was able to make occasional visits to Nicholson and Hepworth in St Ives where he also met Naum Gabo, who became a major and lasting influence upon him. At the end of the war, with a new confidence in his recent work, he chose to pursue a career as a full-time artist, buying one of Forbes's former studios in Newlyn.

Though living in Newlyn, Wells was at the centre of artistic activity in post-war St Ives. He was a founder member of the Crypt Group in 1946 and of the Penwith Society of Arts in Cornwall in 1949. He shared an exhibition with Winifred Nicholson at the Lefevre Gallery, London, in 1946, showed at Downing's Bookshop in St Ives in July 1947 (with Hepworth, Nicholson and Lanyon) and June 1949 (with Sven Berlin and David Haughton), at the Salon des Réalités Nouvelles, Paris, in 1949, at the 1951 Sao Paolo Biennale and at the Durlacher Gallery, New York, in 1952, 1958 and 1960.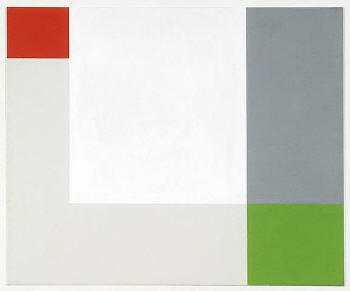 During the 1950s he was included in mixed exhibitions in Britain and abroad and, in 1958, was awarded the Art Critics' Prize, British Section, by the International Association of Art Critics. However, always a diffident figure, Wells resisted joining a gallery until, in 1960, the Waddington Galleries gave him his first one-person exhibition in London. Despite the success of that show, a second in 1964, in which Wells showed more 'austere', 'hard-edged' work, roused scant interest amongst critics or collectors.
In 1965 Wells acquired a second studio in Newlyn which he shared for nearly thirty years with the sculptor Denis Mitchell. After 1964 his work had little exposure outside Cornwall until the revival of interest in St Ives artists, marked most clearly by the Tate Gallery's 1985 exhibition St Ives: 25 Years of Painting, Sculpture and Pottery, which included seven works by Wells. Although critical opinion of Wells's work has varied, Alan Bowness suggested in 1972 that his 'paintings and constructions ... have a purity and a quality that substantiate the claim that he is the most neglected major figure of the period' (Decade 40's: Painting, Sculpture and Drawing in Britain 1940-49, exh. cat., Arts Council 1972).


Chris Stephens March 1996