Naum Gabo


Naum Gabo changed his name from Naum Neemia Pevsner to distinguish himself from his artist brother, Antoine Pevsner. Gabo was born on August 5, 1890, in Briansk, Russia, an area now known as Belarus. He was the son of an executive in a copper refinery. In 1910 he went to Munich to study medicine, but after a year he switched to engineering and physics. While in Munich he attended lectures in art history by the celebrated scholar Heinrich Wölfflin. Gabo met Wassily Kandinsky and was enthusiastic over the exhibitions of the Blaue Reiter group, to which Kandinsky belonged.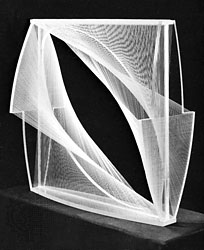 In 1913 Gabo went to Paris to see Pevsner, who had a studio there and who introduced him to friends involved in the modern movement in art. Gabo and Pevsner went to Oslo after World War I was declared, and there, in 1915, Gabo made his first sculptures. These pieces were cubist. He used sheet metal and celluloid to build abstract likenesses of human beings; one example is his Head of a Woman (1916), composed of opaque celluloid cut, bent, and attached to a flat plane to become a high relief extending from a flat surface.
In 1917 after the Revolution, Gabo and Pevsner settled in Moscow. Gabo by this time had developed a distinct style of his own. They renewed their acquaintance with Kandinsky, who introduced them to Kasimir Malevich, Vladimir Tatlin, and other avant-garde artists. Gabo established a studio and accepted students. At first he and his brother supported the Revolution as a liberating force, not only for social good but for the welfare of art. There was a move, however, toward the use of art as propaganda to further the aims of the state. Certain artists, Tatlin among them, insisted that this was essential and supported the politicians.
Gabo and Pevsner maintained that art must be autonomous and rise above temporary demands or it will cease to be art. In their Realist Manifesto published in the form of a broadsheet in 1920 they stated that space and time are fundamental to life and that art aimed at being one with the essence of the real must accept this basic premise. Art should concentrate on the dynamic aspects of life and reveal its energy, force, and rhythm. To accomplish this, mass must be abandoned as the basic element in sculpture and new materials used to make manifest the modern spirit. Consistent with the program of the manifesto, Gabo in 1920 produced Kinetic Composition, a construction that used a motor to rotate a steel blade; this piece is the earliest known example of kinetic sculpture.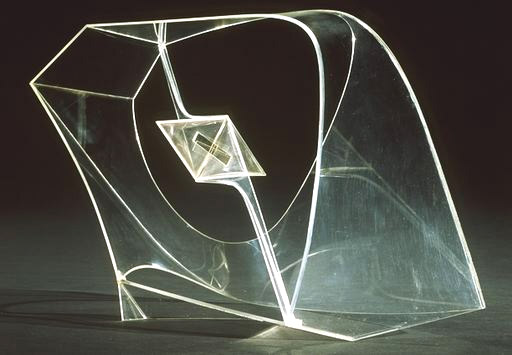 In 1922 Gabo and Pevsner left Russia. Gabo spent the next decade in Berlin and exhibited regularly with the Novembergruppe. His work acquired architectural characteristics and monumentality. These developments are evident in his Column (1923), a shimmering upright sculpture of intersecting glass pieces on a metal base. He also used sheets of clear plastic scored to catch the light and create linear patterns. He and Pevsner collaborated in designing sets for Sergei Diaghilev's ballet La Chatte (1927).
Gabo lived in Paris for four years, exhibiting with the Abstraction-Création group, but after meeting Barbara Hepworth and Ben Nicholson at the Lefevre Gallery, settled in London in 1936, where he met and married Miriam Israels. The couple stayed there till the outbreak of war when they moved to Carbis Bay outside St Ives. Gabo used the studio behind the Red House, the Lanyon family's St Ives home, during Peter Lanyon's time in the army.
Gabo's sculptures at this time continued along the path established in Paris, but he exploited materials further. He was introduced to perspex, a new plastic from Imperial Chemical Industries, and used this material in some of his best-known works, including a number of smaller delicate works made in St Ives (pictures above). He used transparent plastic tubing or plastic sheet made into warped, parabolic planes shot through with parallel nylon threading. The taut, delicate webbing of strings crisscrossed as the sculpture was moved. In some pieces he incorporated silver, gold, and aluminum wire; when set against a dark ground, they appeared ethereal.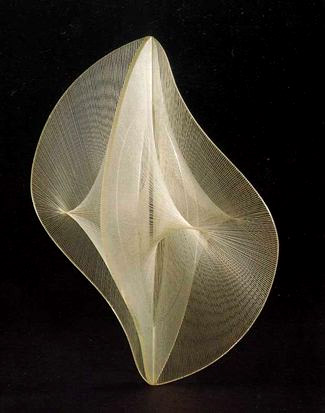 Gabo left St Ives and settled in America in 1946, as he had planned to do so before the outbreak of war. Following an important exhibition of his works in 1948 he began to receive commissions for public works. He completed his Construction Suspended in Space for the Baltimore Museum of Art in 1951. He taught at the Harvard University School of Architecture (1953-1954). One of the monumental pieces he executed is his 81-foot construction that stands in front of the Bijenkorf Department Store in Rotterdam (1955-1957). This work is composed largely of a bronze-coated steel mesh that adheres to a skeletal frame resembling an upright seedpod. About the same time, he executed a wall relief for the U.S. Rubber Company in Rockefeller Center, New York City, and another one for the Baltimore, Maryland, museum. Also during the 1950s, Gabo took up wood engraving to explore the same concepts as his sculpture. He used this technique in his work through the mid-1970s.
Gabo's attempt to explore the fourth dimension, kinetic effects, as put forth in his Manifesto, was not literally followed up in most of his works. The Monument for the Institute of Physics and Mathematics (1925) contains rotating elements, and the Vertical Construction No. 2 (1964-64) is rotated by a motor, but otherwise motion is generally restricted to hanging sculptures that rotate freely. He received many honors including the American Art Institute's Logan Medal (1954), the Brandeis Award (1960), and a Guggenheim Fellowship. A retrospective exhibition of his work toured Europe in 1965-66. Gabo died August 23, 1977, in Waterbury, Connecticut. He was 87.