Born 8th February 1918 in St Ives, Cornwall, the only son of W H Lanyon, amateur photographer and musician, Peter Lanyon was educated at St Erbyn's School, Penzance and Clifton College. He studied under Borlase Smart in 1936 and in 1936-37 he studied at the Penzance School of Art. In 1937 he met Adrian Stokes who helped introduce him to contemporary painting and sculpture, and who advised him to go to the Euston Road School. In 1938 Lanyon studied there for four months under Victor Pasmore, before meeting Ben Nicholson, Barbara Hepworth and Naum Gabo who had moved to St Ives on the outbreak of war.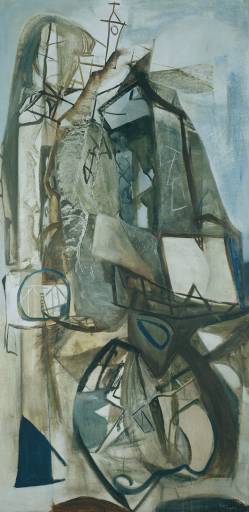 Lanyon received private art tuition from Ben Nicholson. As a result the character of his work changed considerably. He learned to think abstractly in terms of shape and space while still relating ideas to landscape. Throughout the forties his works, made of rich crusty surfaces and deep colours such as black, greys and blues, show a strong influence not only by Nicholson, but by Naum Gabo as well. In fact, in those years he took up making construction as preparation towards the painting which, often built from fragile material and rarely exhibited, were initially very close to Gabo's sculpture. As he would affirm in a recorded talk in 1962: 'for me painting is not a flat surface. I've always believe that a painting gives an illusion of depth'.
During the second world war Lanyon served in the Royal Air Force in the Western Desert, Palestine and Italy. In 1946 he married Sheila St John Browne, and had six children born between 1947 and 1957. Between 1946-47 he was, with John Wells, Sven Berlin and Bryan Wynter, an active member of the Crypt Group of Artists, St Ives. In 1949 he was a founder member of Penwith Society of Arts in Cornwall, and he also had his first one-man show in London at the Lefevre Gallery.
In 1950 Lanyon was commissioned by the Arts Council to contribute to their Festival of Britain exhibition, and developed the painting 'Porthleven' (right) from a large number of preparatory drawings.
The same year he had an argument with Nicholson regarding the latter's intention to divide the Penwith Society of Artists into two categories: figurative and non-figurative. Lanyon firmly believed the distinction to be false, as he later (1961) wrote reviewing a show at the St. Ives School: 'They use abstraction as a method and landscape experience as a source. An artist who remains where he was born cannot see his country from the outside, he already knows it in its bones. These paintings reflect what appears be an irreconcilable conflict; an abstract style appropriate to the international scene with a local source...due to a false idea that abstract and figurative art are so different as to be irreconcilable.' As a result Lanyon joined, in 1953, the Newlyn Society of Artists.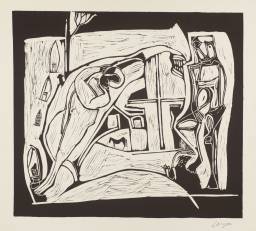 Lanyon's work in the fifties has a radical political undercurrent. References to historical events such as the flooding or abandonment of a mine, and depopulated farms and villages, that is to events implying the capitalistic exploitation of the region by powers from outside the region and against the interests of the locals, became frequent in his paintings. As the critic Andrew Causey has pointed out (1990), 'for him the land was a resource belonging to the community with a character related to work and everyday life rather than leisure'.
Lanyon ran an art school, St Peter's Loft at St Ives, with Terry Frost and William Redgrave between 1957 and 1960, He visited New York for his first one-man show there, with Catherine Viviano Gallery in 1957, and met Rothko, Motherwell and other artists, critics and collectors. He saw a similarity to his own work in the new American painting, and Rothko visited St Ives as his guest in 1958.
While Lanyon was becoming increasingly conscious of the English landscape tradition American art speeded his development towards a looser and more open kind of painting. In 1959 he began gliding, as he explained 'to get a more complete knowledge of the landscape', and in 1961 he was elected Chairman of the Newlyn Society of Artists. in 1962 Lanyon spent seven months painting mural commissioned for house of Stanley J Seeger, New Jersey.
In 1964 he died 31st August at Taunton, as a result of injuries received in a gliding accident.
written with reference to Painting the Warmth of the Sun and St Ives 1939-64